Veronica Rivers: Portals to the Unknown
Explore the Portals to the Unknown with rescue pilot Veronica Rivers in this mysterious Hidden Object game! Uncover equipment and clues as you search the world for a missing team of geologists. Exciting mini-games challenge you to unlock the secret power of the portals. Exotic and dangerous locations will test your eye and your courage as you draw closer to solving the puzzle of the Portals!
Thrilling storyline
Beautiful, atmospheric worlds
Unlock the power of the Portals!
Game System Requirements:
OS:

10.4, 10.5 (recommended)

CPU:

1.83GHz

RAM:

512 MB
Game Manager System Requirements:
Browser:

Safari 4.0 or later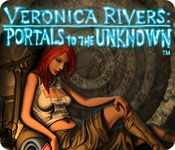 NEW299
The Big Fish Guarantee:
Quality tested and virus free.
No ads, no adware, no spyware.

Reviews at a Glance

Veronica Rivers: Portals to the Unknown
0
out of
5 (
0
Reviews
Review
)
Customer Reviews
Veronica Rivers: Portals to the Unknown
16
16
Entertaining
One of my favorite game, fne story, locations and grafic, good variation in the game
November 20, 2011
Fun Game
Story: Veronica is a rescue pilot who goes in search of an Alaskan geologist expedition gone awry, but she is so multi-talented, she may actually be a former Navy Seal. There are 14 chapters, each in different locations and with 3-5 scenes and mini-games. She travels through harsh winters, hot deserts, outer space, humid jungles and underwater as she visits the 14 separate locations (there is no backtracking). I played this game a little over a year ago and it still is a fun and entertaining game ? not too easy but not so challenging as to get exasperated. Variety of well-done HOS: list of objects, silhouettes, photos, collect hidden evidence, etc. Nice thing about the silhouettes is that they appear in the scene the same way they show up on the PDA. Everything that you find has some relevance to the story and a little commentary appears at the bottom of the screen as items are found, You also have to copy runes and find differences (but the differences are things are added to only one picture - no different colors or shapes to find). Puzzles are nothing new and although not too challenging, they are fun and they do become a little more complicated as the game progresses. They include several variations of stone games and untangling lines in order to connect to navigation satellites to know where Veronica is going next. Hints are useful and recharge rapidly, but each chapter adds a few seconds to the recharge time. There appears to be no penalty for misclicks (maybe there are if you go wild). The developers put a lot of thought into this game; it does everything very well from the story to the gameplay. Artwork, animation and sound effects are fantastic and work together to create a terrific atmosphere for the storyline. Once you?ve completed the game, you can play any portal (i.e., chapter) in any order. If there is one negative, it's that you cannot control the dialogue (written) and it sometimes goes too fast; you cannot repeat it so you could miss a small part of the story if you read too slow. Also, some people may find that each chapter follows a pattern of presentation too closely. The good side is that the end of each chapter presents a good breaking point for picking up the game a few days later.
August 27, 2012
Dear to my heart
Let me admit I have a soft spot for this game because it's the first one I bought from Big Fish. I probably wouldn't buy it now, but it does have some good points. 1. The story line works. It's very linear: basically you follow some geologists through mysterious portals until a final denouement. 2. The cut scenes which more recent games do as video clips are more like cartoons but work well. 3. The portals are admittedly quite similar but get more difficult as you go on. I love the way they spin and turn when you've got them right. 4. The sense of humour! (see below) Things that might put you off: 1. You basically have two kinds of HO scenes: one where you find things and the other where you compare scenes. But you also have to take photos and find the place in a scene, and to find alien artifacts. Each time you find an object in one of the main HO scenes Veronica makes a comment about it, which I find quite amusing. 2. The mini games are rather repetitive. You have to draw alien symbols (that bit I DON'T like as it's easy to get them wrong and you might have to draw one a few times), locate your GPS position (untangling lines) and open 3. The locations are ok but the 'African' desert should be somewhere in North America (I think her GPS cracked up on that one). I can see that some people might find it boring, but on the other hand you don't have to spend time trying to work out where to use an object and wandering back and forwards between scenes. As I said, I still have a soft spot for a game which I have played more than once.
February 6, 2012
Better Than Expected!
After reading the reviews, I was not expecting much, but I really enjoyed playing this game! The HO were challenging enough and the games were fairly simple, but overall I found the game entertaining and fun.
December 25, 2013
Ahead of its time when it was created!
I have had this game for awhile but just played it today knowing that it is almost 4 years old on Big Fish. With that in mind, I thought the game was ahead of its time when it was released. Yes, there are better games out there now and thankfully some of them are by the same company! Cons: o One cut scene preceding spot-the-difference repeated each time. o Some of the graphics could have been clearer. o Some of the movements in hidden object scenes were a little nauseating. Pros: o Works for lefties. o Fast game play, i.e., able to click items quickly in succession. o Graphics were fairly decent. o Good action in cut scenes. o Able to use hints and or auto-draw throughout game especially on spot-the-difference & copying symbols. o Loved the portal puzzles. o Story, even though a little disjointed, was intriguing to me. All in all, given the age of the game, I thought it was a decent way to spend an afternoon and is much better than a lot of games being released now!
August 11, 2012
Fun game initially, but becomes repetitive
I really liked this game initially. The hidden objects are challenging but not impossible, and there are some interesting variations on the puzzles. Unfortunately, the same puzzles were repeated in each chapter, so the game become boring. The graphics are nice.
December 5, 2011
Barely making it
Although I'm recommending this game, I almost didn't. As others have pointed out, this game shows its age. But then again, it still looks good & plays well... Gameplay-wise, the game is a straightforward HOG. You're railroaded through a bunch of scenes where you need to find items from a list or names (or silhouettes), plus a couple simple puzzles. The only part that was fairly original was having to take photos (which amounted to finding a specific part of the image). If you like good storylines, be warned that this game's, beyond its sci-fi theme, still seemed far-fetched. ("Oh, look, everybody's missing, and I just found this mysterious portal. Guess I *could* report to my superiors... Naaah, let's step right through instead!")
July 30, 2012
Fun But Old
Based on the completed game. This is a "true" HO game. There are lots of them here interspersed with some easy puzzles. Very relaxing because there is nothing particularly challenging. The artwork is good; the sound engaging. This is definitely an "old" game, however. There are many chapters, taking the heroine to many places in the world and out of it. But each chapter is the same. One or two HOS, and the same puzzles. Each of the puzzles gets a bit harder and a bit more complicated in each scene, but they are still the same. I found this OK, because I could go away from the game at the end of a chapter and come back and know exactly where I was. Some of the HOS were lists, some were silhouettes. One has the objects to find moving in and out of the scene, so you have to look at the right time. Lots of fun for people who like to relax and not complete a game in one sitting. Not fun for folks who like the newer games with more complex practice.
August 20, 2014
Completely outdated !
I bought this game in 2009 ... Today I played again ... What a disappointment! Could not play more than 15 minutes! Excessive HOS, not challenging. Mini games easy. No dialogue or story that keeps attention. Anyway, comparing the games developed nowadays, it has become obsolete.
June 5, 2012
if you only like HOS this is for you
I played it because of the maker. They do have good games but not this old thing. Very old type game with no adventure. Just HOS which very which is good. Just nothing else. Small items and hard to find. Not even good for free.
May 10, 2013
The Apple logo is a trademark of Apple Computer, Inc.
The Windows logo is a trademark of Microsoft, Inc.