Cate West: The Vanishing Files
Police are baffled by a series of unexplained cases dubbed, The Vanishing Files. These unsolved cases have paralyzed the city. Enter Cate West, celebrated novelist and insightful visionary! Help Cate find clues, compile evidence, track down the hideout, and name the culprit! Are these mysterious crimes connected? Featuring loads of locations to search, an engrossing storyline, and addictive gameplay, Cate West: The Vanishing Files is an original whodunit!
Unique gameplay
Gorgeous graphics
Multiple game endings
Game System Requirements:
OS:

Windows XP/Vista/7/8

CPU:

1.0 GHz

RAM:

256 MB

DirectX:

7.0

Hard Drive:

81 MB
Game Manager System Requirements:
Browser:

Internet Explorer 7 or later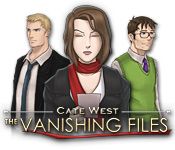 NEW299
The Big Fish Guarantee:
Quality tested and virus free.
No ads, no adware, no spyware.

Reviews at a Glance

Cate West: The Vanishing Files
0
out of
5 (
0
Reviews
Review
)
Customer Reviews
Cate West: The Vanishing Files
12
12
Excellent story line and characters
Love Cate, she has a believable persona and Ben well, he is just dreamy to look at....as well as his other partner...hehe! I played the sequel 1st and wish I would have gotten this one 1st, but thats the way sales go.... The game play is repititious and the HO;s can be hard to find, but to me the story and characters more than make up for it so I will not give less than five stars. The music is relaxing and there are very brief voice-overs, I think they could have had complete voice instead of written dialogue, but that is just now beginning to get good in the newest games. I really hope to see more Cate West....I have played many female lead HOG's, she is by far my favorite....dev's please keep them coming....but for gosh sakes, give the poor girl a new outfit next time...she wore the same one in both games...geeeesh! Gamers, if you can catch both this and Velvet Keys on sale....I'd grab them up!
January 1, 2012
PUT THE THUG BEHIND BARS
Cate has visions from seeing and touching articles. She is aiding the police in solving a variety of crimes ? pick out the culprit and put the thug behind bars. From the clues discovered during the investigations, you eliminate the innocent people from the suspect pool until left with the guilty party. The process for each crime is the same, so if you reached the point in the demo where you identify the guilty and liked it, you will like the remainder of the game. A nice blend of different puzzles and HOS. There are spot-the-differences, put articles back where they belong, traditional HOS and find fragments for each case you investigate. The dialogue is written but what little voice acting there is, it's overdone. Artwork is quite detailed but some parts of the HOS are crowded, and music is okay (not too sleepy and not too peppy). The fact that each case stands alone leaves a handy break point, so you can start fresh when you come back. Relaxing game ? no sense of urgency as in some games. Rather lengthy as you have a few crimes to solve.
October 23, 2012
Cate West is a challenge
This is a HOG with some fun twists. Objects are either really easy of somewhat hard to find. There are the type of mini games that I enjoy mixed in with the HOG. Story line is not hard to follow. I don't listen to any games so I can't comment on sound effects, music or dialog. I haven't finished but I can say it has kept me occupied for a while. It is easy to leave and come back to because there's nothing to backtrack on or try and remember from other levels. A good bang for the buck.
March 7, 2012
A well-rounded HOG
I've given this game 4/5 on pretty much everything, and that's really how I feel about it. It's not quite perfect in any way, but the overall result is quite enjoyable. Gameplay-wise, the game is broken down into chapters, and each chapter follows a strict routine. Part 1 works like a traditional HOG, where you need to find N objects total, spread across M different scenes. Part 2 is a bit similar, except that now you're looking for broken pieces of a given object (one object per scene, with pieces being duplicated). Part 3 has you finding the differences between two photographs. Part 4 is the most original of the lot - you have to pinpoint a suspect based on a series of cryptic clues. Finally, in Part 5 you need to compare two copies of a scene, placing objects back where they're missing. As for the plot, it has a couple holes (either that, or the story happens in some parallel universe where psychic powers are commonly accepted), but remains quite interesting to follow.
July 20, 2012
didnt like the voice overs
I just could not finish this game. I did not like the characters saying one word and you finished reading the script. Would have been alot better to not have voices at all. Too many spot the differences and deducted waaaaaaay to many points for misclicking! I dont know what the points have to do with the game, but deducting points takes the fun out of the game.
November 26, 2011
I just got boored
Just was not that much fun for me. Not that hard of a game just got tired of finding easy clues. Too many great games out there.
August 23, 2012
Cate West: The Vanishing Files
Cate West is a novelist who has the gift of visions simply by touching items. The city has a bunch of unexplained cases dubbed The Vanishing Files and Cate West is the man (woman) for the job. You need to find hidden objects that are on your list and weed out the innocent people until you find the guilty party. There are mini games such as spot the difference as well. No voiceovers so you need to do a lot of reading other than that it's a nice deductive hidden object who dun it game, enjoy!
April 21, 2014
Cate West: The Vanishing Files
This game is fun but repetitive. I give it 6 out of 10, a detective story with biblical elements.
September 24, 2012
Keeps repeating!
This game really has 5 types of games within each "case" you have to solve: 1. Hidden object game: Each "case" has a certain number of hidden object scenes to complete. These are a pain because the graphics aren't that good and sometimes junk is just piled on top of other junk to make your eyes hurt just trying to find the item you are looking for and there are no new scenes after a while. Just the same scenes but you are looking for different things. I hate Hidden Object games like this one is. Oh, and if you click a few times without finding an object, you get points taken away. 2. Find the differences: If I wanted a Find the Differences game, that's what I would've paid for. I really hate these and sometimes the difference is so minor, you hurt your eyes trying to see it, even after the "hint" narrows the area down by a fourth of the entire scene. Hate these immensely. 3. Find the pieces! This is the easiest game, in my opinion. You have an item that is seperated into pieces and strewn about a scene and you click on all the pieces of the object you can see, and then you have to click the hint because they bury at least one piece so well that you will not find it on your own. 4. Who's Guilty? In this game, Cate touches each of the objects you just spent time looking for pieces of to give you hints about who the guilty suspect is out of a field of suspects to choose from. Most of the time, the suspect that fits all the hints isn't the guilty party, so you lose points then as well. 5. Match the scenes. You have to look at two identical scenes and then put objects back into one image or the other so that they both match. Monotonous and time-consuming and doesn't really make sense why this ties up the case against the guilty party. You do this 15 times in a row and towards the end, the only thing that keeps you going is that you get the big reveal of who the bad guy is which I figured out before they even got to it. All in all, I don't recommend this game to Hidden Object Gamers because you will not enjoy it. I know I didn't and I wish I hadn't wasted money on it.
April 5, 2013
I don't recommend this game.
I liked this game when I first started playing it. Around level 4 of 15 of game play it started getting old. The game is very repetitious. Each level consists of 4 parts finding a list of hidden objects, finding pieces of a hidden object, review clues to pick out your suspect, and find the differences in a picture. As the game progressed objects went from too easy to too hard to find without much in between. It sucked the fun out of the game for me. But I payed for it; so I played it all the way through! The only redeeming factor to this game are the characters and the storyline. The characters are great, but tend to only say one word out of each statement said and there's a lot of dialog. I prefer everything or nothing said. The storyline is great. I can see potential for the other games in the series based on the storyline. I have not yet played any of the sequel's yet.
December 6, 2012