Chocolatier 3: Decadence by Design
In Chocolatier: Decadence by Design you travel the globe in search of flavorful and exotic ingredients to customize your own chocolate creations. You`ll use post-World War II economic and technological advances to customize your very own chocolate creations, assist the Baumiesters, and strive to become CEO of your very own chocolate empire!
Customize recipes
Discover new ingredients
Run a chocolate empire!
Go back to basics in the orginial Chocolatier
Game System Requirements:
OS:

Windows XP/Vista/7/8

CPU:

800 Mhz

RAM:

128 MB

DirectX:

7.0

Hard Drive:

38 MB
Game Manager System Requirements:
Browser:

Internet Explorer 7 or later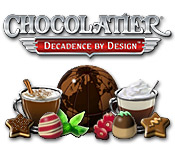 NEW299
The Big Fish Guarantee:
Quality tested and virus free.
No ads, no adware, no spyware.

Reviews at a Glance

Chocolatier 3: Decadence by Design
0
out of
5 (
0
Reviews
Review
)
Customer Reviews
Chocolatier 3: Decadence by Design
37
37
Best Chocolatier yet! Fun strategy game with a little arcade action.
The 3rd of the 3 Chocolatier games (not including the arcade-only time management one): Part adventure, part time management & strategy (though more resources management). Think "Lemonade Stand," the old game from 25 years ago! But with beautiful colors, interesting places to visit, and a great variety of chocolates to be made, with goals being updated constantly to continually challenge you. I have played all 3 Chocolatier games; I definitely recommend playing them in order (Chocolatier, Chocolatier 2, Chocolatier: Decadence by Design), as the ingredients & recipes become more complicated as you go from game to game, and I expect most people will want to continue and play a sequel, so going in the reverse order might be a bit disappointing after the complexity of the later versions. Plus, chronologically, they go in order, and you get to see technology progress as well! Each one takes several hours to complete (longer if you don't quickly figure out how to handle your inventory or if you don't remember where to buy what or don't buy enough and have to make repetitive visits to the same locations). When you've completed all achievements you can keep playing if you wish, and there will be more custom orders given to you, just no more major achievements. This version has a vast variety of ingredients, allowing you to really use your imagination when making your own recipes, and providing a significant challenge for ingredient management. Eventually you get a feel for when certain things peak (some in the summer, some in the winter, etc.) and know when to buy up a thousand of this or that, and you also start to learn how many you should keep on hand of every new ingredient so as not to be too wasteful (if you don't get a recipe that uses them soon enough, they will spoil & your inventory gradually drains to zero) but also to cover your needs if a new order comes in (initial orders are very small, by the end they can be up to 200 cases). No major video sequences or audio, but pleasing to look at. I like having the little arcade-style segments that determine your weekly chocolate output rates from each factory, and if you pay attention in your travels, you can learn the names of some new places and the important buildings in some of the cities! More locations open up as you progress in the game, and some where you would least expect! The ONLY THING I DIDN'T LIKE was the new arcade game for setting production rates for drinks (2 of the 6 types of chocolates you can make). It doesn't work very well; because the target moves among set boxes in the grid, it "jumps" sometimes when you don't expect it to. The marble-popper style of the original game (and what you still get to do here for all the solid chocolates) is much more user- and mouse-friendly (make sure to match colors in the hoppers whenever possible so that you get BIG production bonuses!) I'm all for the match-3-plus style of arcade game, but the interface has to be smoother. This, the 3rd game, has the addition of allowing you to design your own chocolates (12 total). Very fun, makes me want to start making fancy chocolates at home! I tended to put it off a little to see what some of the next new recipes available to me would be, so that I wouldn't design anything too similar. The test kitchen works pretty well; click on the R&D guy's "Taste it" button 3 or more times to see if his comments change...3 really positive, different comments, and you've got yourself a winner! Mmmm, wish I had some of my Berry Burst Pecan Exotics, Coconut-macadamia Dark Chocolate Covered Cherries, Holiday Spice Chocolate Coffee blend, or Decadent Dark Espresso Mousse Truffles right now!
December 23, 2011
Best of the Three
I have played all three of these games. I've enjoyed all three, but this one is by far the best of them. It gets a little frustrating towards the end, but I persevered and it was well worth it.
January 27, 2012
One of my favorites
The chocolatier games are among my favorite games of all time. I especially like the ability to customize chocolates in this one and all of the different places you get to travel.
November 25, 2011
Awesome game!
This game is one of the few on here that's really, really good. It has the length and depth to make it excellent value for money. You can spend hours & hours on this game. There are plenty of goals and quests and the game isn't too linear - you can take your own course.
December 30, 2011
Excellent Game - My Favorite
I adore this game and have played it many times. Everything about it is outstanding - the story, the opportunities for creativity, the graphics and music, the control you have over your character's choices, even the "arcade" style way of making the chocolates. The best features are: you can make your own chocolates and coffee drinks - choose your flavors, colors and even name them. I love how each locale has its own music native to that region. And I loved haggling to buy and sell. A good investment if you want a game you can play many times and enjoy every time.
January 30, 2012
Chocolatier: Decandence by Design
I love this game better that the other chocolatiers, you can make chocolates, invent recipes and travel to many places. It's also a good game, because of the storyline of Sean was missing and the History of the bamaustiers (Sorry i spelled it wrong. A game where you can be inspired and creative, also i want to eat some of that chocolate 0_0.
December 27, 2011
LOVE
I just love these games - all three are the best. I like this version better than the other 2 because it's newer and more going on. I have played these games over and over - they never get boring! WHERE IS THE NEXT ONE???????? THE WAIT TO WAY TOO LONG!
December 17, 2011
Keep coming back for more
A good game for me is one that I can come back to after I've finished it once and still have enjoyable gameplay. The Chocolatier series does this and then some. This installment really made me feel a part of the Chocolatier story. Every time I play, I feel like the game is novel and different even though the base story is the same. Highly enjoyable and one of the all time greats
February 14, 2012
Favourite game
This is one of my favorite games to play, I bought it! I wish they would come out with one every year! I like the storyline and going back and forth to the cities, making my own chocolates, the whole game is great!!
June 11, 2013
PLEASE MAKE MORE!!!!!
MORE CHOCOLATIER PLEASE! Finished all the games. Please make new editions. I can't get enough of this game! Very obsessed customer!!! and I want to be the first to know when you make it. Please notify me.
December 14, 2012