Serpent of Isis
In the early 1900's the legendary artwork, the Serpent of Isis, was stolen at the grand opening of the Egypt Museum in Cairo. Originally discovered by your grandfather, you have been searching for the missing masterpiece your entire adult life. One day, a mysterious letter arrives indicating that the person who possesses the artwork can be found on board the Mont Palu Express. Catch the train and solve the ancient mystery!
Solve intriguing puzzles
Find bonus items to earn extra hints
Beautiful locations
Game System Requirements:
OS:

10.4, 10.5 (recommended)

CPU:

1.83GHz

RAM:

512 MB
Game Manager System Requirements:
Browser:

Safari 4.0 or later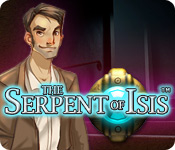 NEW299
The Big Fish Guarantee:
Quality tested and virus free.
No ads, no adware, no spyware.

Reviews at a Glance

Serpent of Isis
0
out of
5 (
0
Reviews
Review
)
Customer Reviews
Good Beginning to go into Adventure Hidden Objects
Nice start if you wish to get into the Hidden Object Adventures. -Good Graphics (Though Some items are hard to Find.) -Great sound Effects -Good story line if you are into old Egyptian History. -Mild Puzzles (ranging from Easy to Mediumish) Cons:Hints are Limited but a twist to finding more Hints. Conversions aren't easy to skip either.
October 31, 2012
Enjoyable Game
I liked this game. The story line flowed well and fit the graphics. The HO scenes were clear but not too challenging. The special objects were hard to find and the hints were not very helpful. I had to refer to the walk through a few times to get through some areas where the next step was hard to figure out and the clues didn't help.
July 29, 2012
Serpent of Isis
The game was ok, way to much talking for my taste. The hidden objects, wow some of them you needed to use a magnifying glass to find. Need to put a "skip" button for the talk scenes.
January 26, 2012
HOG for sure
My only complaint was no help button or help walk through. I did get hung up a few times and had a hard time without the help. BUT is a truly HOG
August 8, 2012
IF YOU LIKE A LOT OF HOS, LOOK HERE
There is a nice ratio of puzzles to HOS once you board the Palu Express train to find the pieces of an artifact being smuggled by 5 passengers across Europe. You make 6 stops and try to investigate the crafty villians. Besides the standard HOS list, you are given suspect cards for each of the 5 culprits and you can get additional hints by finding items related to them (such as cigars, paintings, fortune cookies). You can get an enlarged view of the HOS using the magnifying glass or you can mouse over the location to find out where to use an inventory item. Inventory items can be combined. You can play timed or untimed (you get plenty of time in timed) and get two types of hints (location and quest clues). Plays in widescreen. Graphics are average. A very annoying thing I found was the frequency of popup windows that had to be manually closed whenever using an inventory item and putting an object into a puzzle. This was so annoying that I deducted 1 1/2 stars since you had no option to avoid it. Even though there's a semblance of a story and a number of puzzles, while I was playing the game, I felt I was actually playing a straight HOS.
September 17, 2013
Hidden Object game ..Surpent of Isis.
I think this game has great potential with a few changes. Other games I have played have ? to click on which tells you what you have to do to solve a puzzle. This one I feel leaves the player feeling stumped and the hints are not always helpful. story line is good. The clues or lack of have spoiled this game I feel. Other games I have played from Big Fish have gotten better with giving clues and direction. but still making it fun to play.
September 22, 2012
Oh my eyes what tiny hidden objects
I have had this game on my screen for a long time. I had loaded it for the hour Big Fish offers. When I had a free game ticket I bought it. The story is good with a twist at the end. The reason I had this game on the backburner was for these reasons: Firstly: The timed element was a nightmare. In the end I played the game untimed and got through it. It certainly was more relaxing without a clock going off. Secondly: The hidden objects were so miniscule and camouflaged at times I had to peer at the screen with my spectacles off - a pair of bifocals. Even my husband who has better sight than I have couldnt find them. Thirdly: The music after a while it was dreadful. On the train it seemed I could hear a small boy going yeah or all the time. I turned it off when I was there. Fourthly: I found some of the games too difficult I decided to skip them In my case I couldnt care less if I got twenty minutes or three hours added to the game. It didn't give you any extra awards for doing it in a time limit anyway. The redeeming features of this game was the storyline. I found it really interesting. I also liked finding the items belonging to each of the five suspects. For the chinese lady a fortune cookie. For the gambler a chip. There were also cigars, telescopes and artist's brushes to find. These would give you extra time in the timed mode or another hint in untimed. I actually didnt find them all so I probably lost out there. I shall the next time I play go to a help site as I was fascinated by some of the games I skipped. I skipped the last two because I just wanted to finish the game and get it out of the way. In a couple of days I shall tackle the sequel and see if that's any better.
July 31, 2013
elementary
This one was a little amatuer-ish, but you need to play it to get to the 2nd game- Your Journey Continues. Which was very well done. So worth the time to play the 1st one!
July 15, 2012
Tedious
Don't get me wrong, I enjoy hidden object games, but this one - what a disappointment. Some of the objects are very tiny and you have to click dead on or you don't get the object. If you use up all of the hints and still haven't found everything then you have to repeat the level - fair enough, but the hints don't refresh so you repeat it without any help at all. Okay if you're feeling up for a challenge, but not if all you want is a relaxing game. I agree with the previous reviewer regarding the appearance of the main character, he's certainly no Mr Darcy! Looks more like a 'baddie' than a 'goodie'. Also, it seems rather lazy on the part of the developers to have quite so many of the same objects to be found in the scenes. Personally, I recommend Mystery PI The London Caper, or the Jewel Quest Mysteries - play them as a tough challenge or have a more relaxing game if you want to.
May 2, 2012
Gave me a migraine
I really do like this game. I have to agree that character graphics could be better, but that doesn't really bother me. The storyline is fun. The level of play is quite challenging. The HO scenes are my biggest complaint. The visual quality behind these scenes leaves a lot to be desired. It is hard to enjoy a game when you can't find what you need. Many of the scenes are so dark that it is nearly impossible to find things. Try finding a black fly against a very dark background - IMPOSSIBLE!!!. And when you need to find coins or scraps of paper, forget it. They are so small I found it hard to believe that what I clicked on was what I was looking for. You have to use hints or you will never finish a level. And the clicks must be so very precise. I had to stop after about 1/2 hour of play because I started to develop an awful migraine due to eye strain (no lie). This is the first time I have felt that a game from BF is not worth the money. I really believe the developers should do some revision and lighten up some scenes and make some objects bigger. If this happens, then I will be more than happy to revise my review. But for now, I my disappointment stands.
May 26, 2012
The Apple logo is a trademark of Apple Computer, Inc.
The Windows logo is a trademark of Microsoft, Inc.