Nostradamus: The Last Prophecy
Step into some of the biggest shoes in history, as Nostradamus` daughter, Madeleine, attempts to help her father lift a deadly curse. As members of a powerful family are murdered, it is up to you to solve the riddles and puzzles of Nostradamus` world. Disguise yourself as a man, to further interact with characters in this Historic Adventure game, and solve the mystery of Nostradamus: The Last Prophecy.
Solve a dark mystery
Don a disguise
Meet historical figures
Game System Requirements:
OS:

Windows XP/Vista/7/8

CPU:

800 Mhz

RAM:

128 MB

DirectX:

9.0

Hard Drive:

1650 MB
Game Manager System Requirements:
Browser:

Internet Explorer 7 or later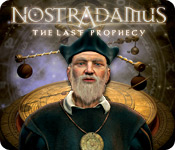 NEW299
The Big Fish Guarantee:
Quality tested and virus free.
No ads, no adware, no spyware.

Reviews at a Glance

Nostradamus: The Last Prophecy
0
out of
5 (
0
Reviews
Review
)
Customer Reviews
Nostradamus: The Last Prophecy
20
20
Challenging Adventure Game!
If you like lots of things to do, or tasks to complete before going forward in a game, you will like this game! Prepare to gather herbs in various places throughout the town to make potions in Nostradamus's lab room. Search the night skies in his observatory. You will be doing everything in this game! You really have to think of what you need to do next, and where you should go in this game. It's a good adventure game, rather than HOS type. The graphics are beautiful - my only complaint is that the town is so inviting, I'd like to explore more there! Settle in for a long day (or several days) of game play. If you finish this in an afternoon, I'd be surprised. (And suspicious!)
January 15, 2012
Love Adventure Games, but Hate HOC's?
I loved the Syberia games, and had yet to find an equally enjoyable adventure game until now. Objectives were challenging but not impossible, and I appreciated that you are not babied with a "Hint" option. I hope the creators of Nostradamus come out with more games on a similar platform, if they have not already. If you like adventure games, you will not be disappointed.
February 26, 2012
If Only There Were More Games Like This!
I. Loved. This. Game!!!! I keep trying to think of something negative, but I really can't. Except, perhaps, for the rather out of place reference to the Sidhe (spelt 'sidh' in this#. That seemed kind of odd to me, because the Sidhe #and forgive me if I mess up, I am not an expert on them# are Celtic fairie/ almost god-esque things that are very powerful, particularily when it comes to time. I didn't really get how it tied in. But, it was a small thing. Now we go back to the good~~! I got to make potions. Not only did I get to make the potions and grind up the ingredients and boil them in a pot and track down the recipe and hunt for the herbs; I got to use the potion afterward! I would play this game again just for the expertly designed potion and elixir making aspect. There are also alot of other types of puzzles in it, and all of them involve thinking. If you do not like having to figure out what to do next, you will not enjoy Nostradamus. If you, however, hate being told exactly what to do where, then you will adore Nostradamus. One thing that I must mention is the severe lack of accuracy regarding historical ways of life in fiction would push me to insanity if I did not avoid it. In Nostradamus:The Last Prophecy I had no problems. At all. I was shocked. This is the first time I have never had any complaints about historic inaccuracies in something other than a book. This is miraculous. The only reason I gave it Good instead of Excellent on level of challenge is because I had to look up some things. I was not sure what I had to do on the final puzzle. This game is amazing. I, for one, cannot recommend it enough.
February 14, 2012
Great all around game!
From start to finish the graphics and the audio were unmatched by any large file game I've played to date. (And I've played several). The plot of the game is VERY good! This game is suspenseful and challenging. The puzzles, while not impossible, make you THINK. Had to refer to the walkthrough a couple of times, but I usually do if I get really stumped with any of these games. I don't consider it cheating. It just reduces the frustration factor. I highly recommend this game. Right up there with the Syberia I & II, as well as Mysterious Island and Return to Mysterious Island!
February 8, 2012
360 degree movement
This is one of those games where I wished I had searched for comments rather than reviews. There is no demo available, you either buy or not & after reading how great the game was in the reviews I bought. The initial opening cut scenes were really lovely & I really looked forward to playing but once the gameplay started it was impossible for me. The screen juddered badly & instead of remaining static as you move the mouse the screen moves, nausea set in & I couldn?t even get out of the first screen before having to leave the game. I wish I had known that this was one of those games where the screens are mobile; I would have known not to buy. I definitely do not recommend for players like me who cannot take 360 degree movement.
June 4, 2012
Too Challenging for Me!
If you have a lot of experience with adventure games and are confident with obscure challenges, this is the game for you. I love adventure games (having cut my teeth on HOGs) and normally find them absorbing and, quite often, addictive. However, although the graphics are extremely good in this game and frequently very pleasing to the eye, I found I was unable to move forward without constant reference to a walkthrough. It got to the point where my heart sunk when I sat down to play and I ended up feeling that it was a real chore to get through...but I will not give in! The puzzles are generally well thought out, a bit different to other adventure games and relevant to the story. However, as I neared the end of the game, even with step-by-step guidance, the puzzles became increasingly enigmatic. So - I definitely can't say that I enjoyed it but it would suit very experienced gamers.
January 29, 2012
GREAT GAME!
The perfect adventure! Clever solutions, great story line, great characters. WELL DONE! Play - you won't be sorry.
April 6, 2012
Wow, challenging game...
Loved the graphics, storyline,lol, the challenges were fun but were brain busting. Had to go to walk through a few times but just loved this game.
May 14, 2012
Good Old Fashioned Adventure
I liked this game as it harkened back to the old days of PC adventures rather than all these HOGs. I liked the 360 views of my surroundings as I always feel claustrophobic in the "set view" games. I liked the storyline of a prophecy of murders and trying to determine if it was man-made events. I probably was the least enamored with the making of potions, not that it was hard, but just that it seemed tedious. Thankfully it is not a major part of the game so it was not a big deal. All in all, it was worth the large download and I really felt immersed in the settings and the ability to shift between two people to solve the murders. Would recommend if you are an "old adventure game" lover.
August 26, 2012
Very confusing game!
Whilst the idea behind this game is good, the game itself is very confusing. The game took forever to download, and does not have any instructions. I tried to get some hints from other websites, but in the end I just gave up. I could not figure out what I was supposed to do, or how I was supposed to do it! I do NOT recommend this game.
July 12, 2012