Nostradamus: The Last Prophecy
Step into some of the biggest shoes in history, as Nostradamus` daughter, Madeleine, attempts to help her father lift a deadly curse. As members of a powerful family are murdered, it is up to you to solve the riddles and puzzles of Nostradamus` world. Disguise yourself as a man, to further interact with characters in this Historic Adventure game, and solve the mystery of Nostradamus: The Last Prophecy.
Solve a dark mystery
Don a disguise
Meet historical figures
Game System Requirements:
OS:

Windows XP/Vista/7/8

CPU:

800 Mhz

RAM:

128 MB

DirectX:

9.0

Hard Drive:

1650 MB
Game Manager System Requirements:
Browser:

Internet Explorer 7 or later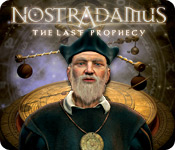 NEW299
The Big Fish Guarantee:
Quality tested and virus free.
No ads, no adware, no spyware.

Reviews at a Glance

Nostradamus: The Last Prophecy
0
out of
5 (
0
Reviews
Review
)
Customer Reviews
Nostradamus: The Last Prophecy
28
28
I loved this game!
This was a very fun game with an intriguing storyline that kept me wanting to continue in spite of some of the difficulties and frustrations. Admittedly, I had to refer to two walkthroughs and the game's forum to get through it, but it was still lots of fun. Probably the most frustrating part is that in certain areas, the sequence of Madeleine's movements, acquisitions, etc. had to be in an exact order. Otherwise, you weren't allowed to continue which resulted in my having to start over, once even from the beginning. My advice: save often and do not override your saves. All in all, a really fun, clever game with some very difficult and challenging puzzles. Buy it, but just know there will be times where you will need to be patient.
January 20, 2013
Exciting and Challenging Adventure
I consider this one of the best adventure games I have yet to play from BigFish. It has many challenging puzzles hours of great game play well worth the 6.99 and I recommend this game to any one that likes puzzles & stratagy games.
June 8, 2013
Good Old Fashioned Adventure
I liked this game as it harkened back to the old days of PC adventures rather than all these HOGs. I liked the 360 views of my surroundings as I always feel claustrophobic in the "set view" games. I liked the storyline of a prophecy of murders and trying to determine if it was man-made events. I probably was the least enamored with the making of potions, not that it was hard, but just that it seemed tedious. Thankfully it is not a major part of the game so it was not a big deal. All in all, it was worth the large download and I really felt immersed in the settings and the ability to shift between two people to solve the murders. Would recommend if you are an "old adventure game" lover.
August 26, 2012
A certain brain teaser
I really liked this game. I liked being able to participate in the gathering of items or ingredients from different places throughout the game enabling you to create items that will help you reach your ultimate end goal.
July 7, 2013
Too Challenging for Me!
If you have a lot of experience with adventure games and are confident with obscure challenges, this is the game for you. I love adventure games (having cut my teeth on HOGs) and normally find them absorbing and, quite often, addictive. However, although the graphics are extremely good in this game and frequently very pleasing to the eye, I found I was unable to move forward without constant reference to a walkthrough. It got to the point where my heart sunk when I sat down to play and I ended up feeling that it was a real chore to get through...but I will not give in! The puzzles are generally well thought out, a bit different to other adventure games and relevant to the story. However, as I neared the end of the game, even with step-by-step guidance, the puzzles became increasingly enigmatic. So - I definitely can't say that I enjoyed it but it would suit very experienced gamers.
January 29, 2012
360 navigation ruins it
This is just the kind of game I love, so I was really disappointed in the 360 navigation. Not only does it make me nauseous, it makes it hard to control the view on the screen. If ever there's a version without 360, I will play it.
August 16, 2012
Unique Authentic Adventure Game...but be prepared to be extremely challenged!
First off, this is a rare game to find -- a true adventure game, no hidden object puzzles. The visuals were good, but at times this game was more frustrating than it was enjoyable. I honestly believe this game is IMPOSSIBLE to do without a guide, walkthrough, or some google research, lol. There are no hints or clear explanation of what to do. At first, the 360 point of view gameplay is hard to get used to (I had to go in the Settings to slow the speed down because it was getting dizzying) but after awhile, you get a hang of the game mechanics. Good storyline, you learn some very neat historical tidbits. But seriously, unless you are an astrological expert, you will probably need to look up a lot of things to complete the puzzles.
December 2, 2013
Nauseous as well as frustrating
I'm no good with 360 degree camera movement - it makes me giddy and sick. So I didn't last long given the navigation on this game. Also, as others have said, it's a tough adventure challenge right from the start. After an initial talk with Nostradamus, I wandered endlessly around the house trying to find anything to get me started. It was frustrating and ultimately maddening. I eventually found a walkthrough that got me started, but I didn't like having to refer to it all the time just to get through the game. The in-game navigation is a bit puzzling too - if I remember you have to press ESC to access the menu and inventory items. Even though I've a one-year old Windows 8.1 widescreen laptop with a decent spec, my graphics card had problems with the game, particularly severe flickering during the dev's logo sequences. All in all, I was left feeling that I was banging my giddy head against a brick wall. I'm sure it's a great game for experienced Adventure players but, sorry, not for me.
June 11, 2014
Very confusing game!
Whilst the idea behind this game is good, the game itself is very confusing. The game took forever to download, and does not have any instructions. I tried to get some hints from other websites, but in the end I just gave up. I could not figure out what I was supposed to do, or how I was supposed to do it! I do NOT recommend this game.
July 12, 2012
Too hard for me
I play these games to relax and this one just stressed me out. The graphics were great and the story line was probably really good but I can't get past the first day. I buy a lot of these types of games and have never had to buy a strategy guide - I bought this one and still can't figure it out. I may try again some day but I have given up for now - walking around in circles trying to figure out what to do next just wasn't much fun for me.
May 6, 2013