Emerald City Confidential
The magical land of Oz has never seemed so gritty! Petra is the only private detective in this reimagining of the Emerald City, so it is up to her to find Dee Gale's missing fiancé. Dive deep into the seedy underbelly of the criminal underground, and track down the kidnappers, as well as learn a few secrets about Petra! This sprawling Adventure game pulls out all the stops!
Film noir style mystery
Beautiful hand drawn art
Intriguing Puzzles
In-game Strategy Guide
Game System Requirements:
OS:

Windows XP/Vista/7/8

CPU:

1.2 GHz

RAM:

256 MB

DirectX:

9.0

Hard Drive:

93 MB
Game Manager System Requirements:
Browser:

Internet Explorer 7 or later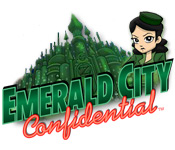 NEW299
The Big Fish Guarantee:
Quality tested and virus free.
No ads, no adware, no spyware.

Reviews at a Glance

Emerald City Confidential
0
out of
5 (
0
Reviews
Review
)
Customer Reviews
Emerald City Confidential
26
26
Quirky characters, excellent playability, highly recommend
This games deserves way more reviews. Each character is related to Oz BUT they all have personalities of their own, even if those personalities are a bit one-dimensional. Petra, you can tell, got special attention to make her a cut above in that she is charming. Just play it for an hour and see what I mean. Don't worry there is plenty of game time after the demo, but I want MORE! When can we get a sequel? Oh, and the best part is the game is approachable to anyone who's heard of Oz, not tedious, and quick to learn on the fly.
April 9, 2012
Great interactive comic/novel pure adventure game (no puzzles!)
It has been well over a year since I've come across an old gem here at big fish and thankfully found this game. How to describe it? Think wizard of oz meets nick chase meets avenue flo and it's put into a comic strip in which you can interact and you get the idea. It's obviously dialogue heavy but you can click to get through it faster - you get "choices" of how to respond but after replaying it and picking different choices it doesn't make a difference only to you playing it and how you would want to respond. The story is that you play as Petra a bit hardened, cynical private detective in the land of Oz. but this isn't the land of Oz that you might think! Whoever came up with the details of the characters (tin man and oil!) and areas is pure brilliant as it was witty, funny and clever. You have 50 quests in the game and hidden buttons to collect throughout and there are medals/ achievements. I had a glitch when I replayed the game and all my medals disappeared at the end. The buttons are actually three different coloured sparkle in some scenes (so are easy to see and I wish somehow it could have been buttons you were looking for) you can change it into concept art in the game in a store but you don't have to as it gets auto changed for you later in the game. At the beginning it was very straightforward hence the 3/5 for hardness, the middle to the end was more medium hardness and at the very end scenes you had to try a few things but as the inventory was limited you aren't lost. New locations open up when you unlock them through conversation triggers so it's very obvious where to go and explore next. Later in the game just keep talking to people exhausting all dialogue and if you concentrate on it, it will give you clues as to who you have to speak to next. Under options you can speed up how quickly people walk, thus speeding up the game, you also have a journal. I will say that the one weak point in the game - as often you did exhaust the dialogue but it didn't go away under the choices of dialogue so it kept repeating needless dialogue. if they removed ALL the choices after you heard it the first time or put it in a different colour to show you had listened to it that would have been better. The part at the university with the knowledge machine was also slow. Also I would have loved if you could also manual save in places as I had to replay the game to get all the medals and in the end got a technical hitch! Time was about 4hrs, if you speed up a lot of dialogue it probably will take 3hrs. If you don't mind a lot of dialogue, want an easier (not very easy just easier) adventure game with no puzzles, don't mind banner pop ups of the quests then I recommend this game to you. I really loved it, something quirky, different and quality - bravo playfirst. Here's hoping for a sequel.
February 1, 2013
Excellent Oz Adventure...
I agree with all of the other favorable reviews but wanted to make it clear that this story draws on the larger world of Oz characters from the many books by L. Frank Baum and his successors. We all know the characters in the movie, The Wonderful Wizard of Oz, but many people don't know that the movie only represents one chapter in a much larger story with many equally interesting and fanciful characters. Baum was an excellent story-teller who loved entertaining children, but who could also create tales interesting enough to captivate adults as well. I was fortunate to have had access to some of the original Oz books growing up, that had the wonderful artwork of John R. Neill. Playing this game brought back fond memories of these stories. I started looking for reprints to read to my kids, but am disappointed to report that the only affordable copies available do not have the original color plates placed throughout the story, if they are included at all. Some versions have only black and white illustrations, and some have no artwork at all. At least our library has some Dover versions that I can share with my kids. Play this game and see if you don't become curious to learn more about some of the characters in it!
July 21, 2012
A great throwback to old adventure games!
This game far exceeded my expectations! I was impressed by how well the Noir-meets-Oz theme was pulled off. The voice acting was great! Which is a must for a game with so much dialogue. I think it is very accessible to everyone and would be a great introduction to people who have never played this type of game as it is not as difficult as many of them. That is why I haven't scored it higher for challenge, but it is by no means a bad thing, just that people who are familiar with the genre shouldn't expect any really complcated lateral thinking solutions to puzzles, which are often typical of point and click adventure games. I think it is better suited to someone who at least knows the basic story of Oz (although the characters and setting have been changed somewhat to fit the Noir mould) and has a loose idea of how Noir works, just because of the fun of seeing the two combined, but i think it could be enjoyed by anyone! I think it is decently long compared to other games on Big Fish. I would go so far as to say it is my new favourite on the site! I very much recommend checking it out.
April 12, 2012
a fun challenge
one of the best computer games I have ever played!!
November 20, 2011
Amazing Storyline!
Wow this game was great. Much better than the boring object finding games. Such a great storyline and memorable characters. PLEASE make more games like this! There has to be a sequel to this ? Lion is still out there right! I'll be first in line to purchase it that's for sure. The only downsides were as I was playing a couple of scenes there were errors in the graphics. However, did not effect my adventure too much! Also, only took me about 2 days to complete the game, I wanted it to last longer cos I was enjoying myself so much.
March 6, 2013
Creative storyline + Excellent play
Great interactive play! Highly recommended.
July 9, 2012
Wonderful story... but slow gameplay
Let's be honest... this IS a wonderful story; playing the game is like reading a book... and it HAS this noirish detective novel atmosphere, the same I found in the Discworld game. But ECC has one major flaw: there are way too much dialogues. All you do throughout the game is talk, talk, talk... asking and answering questions... and in between, you get some things to do. In fact, there is very little action and this saps a lot of the fun from this game. Anyway, I played the game twice, but there will be no more next time. On the other hand, I WOULD like to have a sequel, especially if the dev's come up with another good story AND if they let the gamer do more things instead of being a mere spectator.
August 9, 2012
BORING
i found this game boring...asking questions was so redundant...very few choices as to movement
July 10, 2012
SO much fun! Esp. for fan of Oz!
Having read all the Oz books, I tend to have high expectations, and this met them. It incorporated all the characters you know and love (or if you haven't read the books, some you don't know). My only complaint is that it's not a series. I'd love to follow Petra around while she busts the criminals of the Emerald City.
May 10, 2013
The Apple logo is a trademark of Apple Computer, Inc.