Sherlock Holmes: The Awakened
Travel the world and play as the world's greatest detective, Sherlock Holmes, and his faithful assistant, Dr. Watson. Investigate a mysterious series of disappearances and use your wits to track down a dark group of Cthulu-worshippers. Follow the clues and solve the mystery of Sherlock Holmes: The Awakened, while being fully immersed in this Adventure game. Warning: Sherlock Holmes: The Awakened contains some graphic content and mentioning of the occult.
Interact with an entire world
Incredible Graphics
A dark mystery awaits
In-game Strategy Guide
Game System Requirements:
OS:

Windows XP/Vista/7/8

CPU:

1.4 GHz

RAM:

512 MB

DirectX:

9.0

Hard Drive:

2156 MB
Game Manager System Requirements:
Browser:

Internet Explorer 7 or later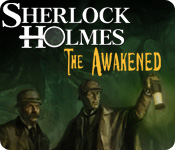 NEW299
The Big Fish Guarantee:
Quality tested and virus free.
No ads, no adware, no spyware.

Reviews at a Glance

Sherlock Holmes: The Awakened
0
out of
5 (
0
Reviews
Review
)
Customer Reviews
Sherlock Holmes: The Awakened
12
12
You will be AWAKENED!!
There are 3 major things you need to know about this "game". 1) It is not for children!! 2) It is extremely graphic, so if you are the least bit squimish do not bother. 3)It is more like an interactive Sherlock Holmes movie than a game and if you suffer vertigo or motion sickness, again it is not for you, as most of it still has to be played in the 1st person. Other than that it is awesome!!, Graphics are a little clunky, but you get used to that fairly quickly. You have to pay attention to this game, read the documents provided to you or you will not be able to complete the quizzes along the way. It is not a mindless HOG, this is a true Sherlock Holmes mind bender and if you allow yourself to be drawn into it you are in for a truly awesome ride. It took me what seemed like 12 hours of game play, so it is a bargain for length of time, and I learnt a very important thing, save the game habitually about every 10 min or you run the risk of getting yourself killed off and having to replay your entire session, yes that happened to me, lol. Some people have complained that the quizzes are too hard, they aren't if you are paying attention!! And the puzzles are quite easy. You just have to become Sherlock and look at everything, leave no stone unturned!!!
December 30, 2012
Wow!!
Probably the best adventure game I have ever played! Frogwares really got it right this time. *warning* Many gory scenes, don't play if you get easily dirturbed or under 14. the first person mode is a real improvement from secret of the silver earring.
January 29, 2012
Edge-Of-Seat Excitement In This Holmes Thriller!
This was a very exciting and foreboding Sherlock Holmes outing. Holmes and Watson travel from England to Switzerland to the New Orleans swamps, replete with man-eating alligators, and to Scotland, to solve this "otherworld" thriller, which ends up in a lighthouse full of "the undead." The puzzles were devilishly difficult at times, while the graphics, sound, and ambience were all excellent. My only complaint was that the navigation was quite clumsy throughout much of the game. I recommend this game only to those who are willing to use their heads, and who have a lot of patience, as there is copious, but needed, dialogue, notes, and reports.
October 21, 2013
Outstanding
I am a seasoned adventure gamer and this is up there with Syberia. At first I was skeptical about the first person angle but as I used it more it became fantastic and made you feel like you were really immersed in the story. The graphics were somewhat outdated but still incredible. This definitely blows those lame HOGs right out of the water. A word of warning, this contains very graphic violence and disturbing images. Disturbing content and storyline overall, actually. Some of the puzzles were just frustrating instead of fun, just saying. I will say I was dissatisfied with the ending and felt like it wasn't explained very well. I think I got most of it, but Holmes' inflated diction can be somewhat difficult to sift through. I'm not stupid, but for pete's sake can he talk in normal everyday words once in a while? I wish all adventure games in the future would model after this one. Total and complete immersion. Make sure you have a nice long day to do this game because you won't want to step away until the end.
November 4, 2014
Fantastic!!!
I am a large file, NON HOG, adventure game kind of person. Right up my alley!! There was no candy coating to this game. Its not at all for children. I enjoyed this game start to finish. I sure wish that Big Fish would provide more games like it.
October 19, 2014
Creepy goodness
Utterly creepy. No hidden object, yay! I'm burned out on hidden object. This is all adventure, like monkey island. If occult stuff freaks you, this might not be for you. It freaked my mom out.
September 13, 2014
A dark adventure for Holmes.
In this adventure Sherlock Holmes and dr. Watson are confronted with a dark enemy. This game has a sinister atmosphere, there are a lot of dead bodies around. A bit too much for my taste. Although I found this game less difficult then Sherlock Holmes VS. Arsene Lupin, it still contains a few very challenging puzzles. Again there is an in-built guide to help you out when stuck. No timed actions. It's however possible to die at certain points in the game. So you sometimes have to reload an earlier saved game. Long gameplay. Good graphics.
April 6, 2012
Sherlock Holmes v. Cthulhu
That's pretty much what this game is. It blends Doyle's characters with distinct Lovecraftian themes, and by the end you wonder if it's a Sherlock Holmes story anymore. Still, I did genuinely enjoy playing it.
November 13, 2011
Wow!
This is a unique adventure game. Very difficult, though it gets increasingly easier once you figure out the game's mechanism. The story, dialogue and voice acting is excellent. The atmosphere is very creepy and the goriness and sheer horrific elements of Sherlock's findings sneak up on you! It makes you uneasy and not for the lay person who just wants a simple adventure, like a HOG. The graphics are unfortunate but this company has probably a low budget. The game makes it really difficult for you to enjoy it for the first few hours because it's had to navigate, find things and it starts off really slow. Bear with it!!!
December 8, 2014
Good game but rating is brought down by a few things...
This game isn't for children! see very end for spoiler on why. I did enjoy this game, I loved the interactions of it, maybe one of my favourites in that area, of the Sherlock Holmes games. There are a lot of different environments which is good. For those that don't like the occult, it is in this game. As this is an older game the controls weren't the best and got in the way of the game. I found in the 3rd person moving around sometimes tedious -somehow a lot of the time clicking at edge of screen didn't work. But being in 1st person was really nausea inducing. At least there was a choice which is good! The graphics also reflect that it's an older game, but they weren't bad. spoiler alert for rest of review as to why it was a bit squeamish - It has a head rolling, dismembered parts of the body and lots of blood splattered around. I am just glad the graphics are 'old-fashioned' so when the close up of the head rolling happened and the rest, it isn't realistic but it still is a bit gruesome - so for the squeamish, kids etc be warned.
November 20, 2011