Sinking Island
A billionaire has been murdered on a tropical island, and it`s up to Detective Jack Norm to crack the case! Walter Jones had planned on opening up a resort for the rich and famous, but was killed before his dream could be achieved. Interview the ten people on Sinking Island to get valuable clues. This Adventure game will require you to use all your wits to solve the mystery and find the murderer! Warning: Explicit Language
Collect clues
Immersive atmosphere
Find the killer!
Game System Requirements:
OS:

Windows XP/Vista/7/8

CPU:

1.6 GHz

RAM:

512 MB

DirectX:

9.0

Hard Drive:

2694 MB
Game Manager System Requirements:
Browser:

Internet Explorer 7 or later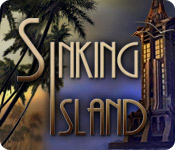 NEW299
The Big Fish Guarantee:
Quality tested and virus free.
No ads, no adware, no spyware.

Reviews at a Glance

Sinking Island
0
out of
5 (
0
Reviews
Review
)
Customer Reviews
Well made old style adventure game
This is a really well made, thought out, detective, who-done-it story. But it's not for those who are impatient and hate reading/ listening to A LOT of dialoge, because there is A LOT of dialoge. And you can't skip it if you want to understand the story. I almost gave up in the beginning because of all the talking and asking questions etc. but it didn't take long before I got completely involved. I used a walkthrough as I don't like to run around aimlessly, and I like games that let me follow along as a kind of "interactive" book with a real story. That's what this game is about. The game has a lot of atmosphere and the "right" kind of background noises that keep you drawn in. A very nice game, and I'm sad it's over.
December 1, 2011
I loved this adventure game
This is not a game for the adventure novice. It requires a lot of planning and thought. You have two options to play - hard and harder. :-) The harder version forces you to carefully consider what questions you ask the other characters because they may become uncooperative and stop answering questions. I did not play that mode. The storyline is very engaging. You are trapped on an island that, due to severe weather, has become isolated and has now begun to sink in the sea. The owner of the island has been murdered and you, as an officer of the law, must determine who the killer is before the evidence sinks into the sea. All is not what it appears to be. I have played this game through once, and am playing it through a second time. Take your time with this game and enjoy it. The story is the puzzle, and you must consider all the evidence to solve the mystery. Pros - Interesting mystery storyline Excellent graphics that can be tailored to the capabilities of your computer Voice actors Play at your own speed Cons - May be overly complicated for novice player
February 17, 2012
Enjoyable crime investigation
I'll admit my bias from the start. I love playing the role of the detective, whether it is a police detective or a private detective, and that is exactly what this game let me do. It is all about conducting detective work, including among other things interviewing suspects, collecting fingerprints and searching the crime scene for evidence. With a good detailed story, a diverse bunch of characters and very good graphics it was an enjoyable game even though the gameplay eventually started to feel a bit repetitive. While the gameplay involves various kinds of detective work, a large portion of it is interviewing suspects. And this is the main weakness of the game for two reasons. First, there is so much interviewing to be done that it does get a bit repetitive. Second, the suspect interviewing parts of the game can be performed by simply asking everyone about everything, and therefore do not present much of a challenge. It also means you have to do a lot of walking between different locations. However, with the beautiful graphics and pleasant music I did not mind a bit of strolling through the gameworld. Also the dialog is interesting enough that I didn't mind that there was a lot of it (and there really is a lot of dialog). The game has a few a bit more challenging puzzles, but since a large portion of the game, as mentioned above, can be solved by asking everyone about everything, the average challenge level is a bit lower than I would have preferred. The story was rather interesting and quite detailed. The characters are a fairly colorful bunch, and also reasonably realistic, and you get to learn more about each of them and their secrets throughout the game. The story lacked any real originality though, which is why I can't give it a full rating. In conclusion I would recommend this game to anyone who, like myself, enjoys playing the role of the detective.
April 2, 2012
A bit heavy going!
SInking Island wasn't as good as I hoped. Long winded and far too much conversation to deal with. Story line was good and the graphics were pleasant but needed a map with shortcuts as it took way to long going up and down lifts and back and forth between hotel and beach with not much to do inbetween. So many unnecessary screens shots to walk/run through just wasted time. Did need the walkthrough an awfull lot which I don't like relying on. So overall a thumbs down
March 19, 2012
Your world gets smaller all the time...
I've played this game in the DVD version. It is a good game, lots of puzzles to solve, not truly mind boggling most of the time, though there are some tricky ones. My main complaint about this game is, because of the story line: Sinking Island, your world gets smaller all the time. This reduces the fun, because there is nothing new to discover. That said, the price you pay at big fish is that low, that it is quite affordable. I would not spent $ 40.00 on this game, but for $ 6.99 you get many hours of puzzles...
March 17, 2012
Liked this game!
This was a great mystery! Yes, it did take some time but very enjoyable. I hope they do another. Games that require thinking and challenge with a mystery to solve are few and far between.
December 24, 2011
3.5 - only for a certain type of player - patient and methodical
I wouldn't call this an adventure game by Benoit Sokal & White Birds but an interactive mystery novel. Most of this game is dialogue - questioning suspects and the rest is running back and forth between them. There is only 1 maybe 2 puzzles in the whole game. So it depends on your taste. I happen to love murder mystery so really enjoyed the change of pace of this game, although I do think the other games by this DEV are better. This game is set on a small island and most of your time you are in the tower building owned by the deceased whom you, as the inspector, are charged with discovering 'whodunit.' In the upper right corner you have a zipped purse which is your inventory and a PPA which you use to gather clues and sort out statements. There are 13 questions/mandates for you to answer and each question you have to assemble the clues and you need to prove each answer by evidence. You can work on multiple questions at once and will finish some questions out of sequence. At the beginning there is a lot of dialogue but as the game progresses it gets interesting as clues are uncovered and you are really immersed in the plot. I would say the plot is not for children, and the bad language I think is only about 5 words. cons (or things to note) -Great voiceovers but their is no lip movement at all - I would have loved a transporter map as there is a LOT of running around. - couple of illogical moments but I think is usual for games - I would have loved the game/plot to be moved forward by telling the story in some cutscenes rather than all dialogue, although the dialogue was very good. - I didn't like the characters - sometimes an answer would be given but the game didn't register and you would have to ask everybody about an item that you knew the answer to. -Best or more interesting part of the game was about 3/4 of the way through it and then to the end. For $6.99 I do recommend it, and it's a bargain. As you get a well thought out plot and long game. So if you always wanted to investigate a crime and love mystery novels then I think you will enjoy it. The learning curve of this takes a while, as you need to get to know your PPA but once you do, it's not that hard compared to other games. So I would recommend this game to beginners or new to LF games. As long as you keep going back to talk to suspects when each thing is revealed, and slowly go over every area to see if there is something to do you should be OK. The hardness is sorting through the clues and sifting them but you get there by trial and error. The second question, I found the hardest but once you get past that you should be OK. I enjoyed it, but I do try and be objective (if that's possible!) with the actual ratings and give you the facts so you can see if it's for you or not.
August 14, 2012
A disappointment for White Bird
I am a huge fan of Benoit Sokal and White Bird, and when I say "huge", I definitely mean HUGE. Syberia is, and remains, my all-time favourite, I like Amerzone, I love Paradise... and so on and so forth... so, how about Sinking Island? Well, sorry ... I can't get into the game. Oh yes, the graphics are absolutely GORGEOUS, but the gameplay is so tedious, so slow, so undirectional... I like sleuthing around, interviewing people, investigating... but aimlessly running around is not my cup of tea... and having to click five times to run along a beach to get from one point to another, followed by the same number of clicks to get from the bottom of a tower to the top, just to ask a few questions to somebody, really is too much ... even if I adore the graphics of the scenes... No, sorry, this is way too slow, way too tedious, way too uneventful for me to be a good game. I cannot recommend this game... please, folks, spend your money on a book by Benoit Sokal, or go for Syberia...
July 30, 2012
Sinking Island Adventure
This an awesome game I loved it a real murder mystery then all the murder mystery games I've played. It's has an awesome story line, though I had to use the walkthrough to complete it lots of suspects to interview if u like that type of mystery games, lots of evidence to collect to find the murder. your in huge mansion with like over 15 supescts to interview etc. its a awesome game I recommend this game if you intrested in a long murder mystery game play.
June 28, 2012
Excruciating and slow...
I love mysteries and this would be a good one were it not for the slow movement in the game. Whenever Inspector Norm has to walk anywhere, it's as though he's walking the last mile... Also, I missed some stuff out of sequence and it became, "Too bad, so sad, you don't get to solve the mandate". I considered starting over to resolve this but decided not to, since it would mean another several hours of "We're walking, we're walking, we're walking..." I don't recommend this game unless there is absolutely nothing else going on in your life.
June 17, 2012