Sinking Island
A billionaire has been murdered on a tropical island, and it`s up to Detective Jack Norm to crack the case! Walter Jones had planned on opening up a resort for the rich and famous, but was killed before his dream could be achieved. Interview the ten people on Sinking Island to get valuable clues. This Adventure game will require you to use all your wits to solve the mystery and find the murderer! Warning: Explicit Language
Collect clues
Immersive atmosphere
Find the killer!
Game System Requirements:
OS:

Windows XP/Vista/7/8

CPU:

1.6 GHz

RAM:

512 MB

DirectX:

9.0

Hard Drive:

2694 MB
Game Manager System Requirements:
Browser:

Internet Explorer 7 or later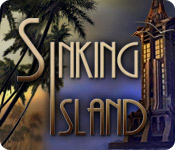 NEW299
The Big Fish Guarantee:
Quality tested and virus free.
No ads, no adware, no spyware.

Reviews at a Glance

Sinking Island
0
out of
5 (
0
Reviews
Review
)
Customer Reviews
very hard
I mostly enjoyed the game, with the help of hints and walkthroughs. There were parts I would not have been able to do without that help. The story was pretty good...interesting and complex. The graphics of the island and tower were good, though it bothered me at first that the mouths of the characters did not move. Later into the story, I got used to that and didn't really notice it anymore.
August 23, 2013
3.5 - only for a certain type of player - patient and methodical
I wouldn't call this an adventure game by Benoit Sokal & White Birds but an interactive mystery novel. Most of this game is dialogue - questioning suspects and the rest is running back and forth between them. There is only 1 maybe 2 puzzles in the whole game. So it depends on your taste. I happen to love murder mystery so really enjoyed the change of pace of this game, although I do think the other games by this DEV are better. This game is set on a small island and most of your time you are in the tower building owned by the deceased whom you, as the inspector, are charged with discovering 'whodunit.' In the upper right corner you have a zipped purse which is your inventory and a PPA which you use to gather clues and sort out statements. There are 13 questions/mandates for you to answer and each question you have to assemble the clues and you need to prove each answer by evidence. You can work on multiple questions at once and will finish some questions out of sequence. At the beginning there is a lot of dialogue but as the game progresses it gets interesting as clues are uncovered and you are really immersed in the plot. I would say the plot is not for children, and the bad language I think is only about 5 words. cons (or things to note) -Great voiceovers but their is no lip movement at all - I would have loved a transporter map as there is a LOT of running around. - couple of illogical moments but I think is usual for games - I would have loved the game/plot to be moved forward by telling the story in some cutscenes rather than all dialogue, although the dialogue was very good. - I didn't like the characters - sometimes an answer would be given but the game didn't register and you would have to ask everybody about an item that you knew the answer to. -Best or more interesting part of the game was about 3/4 of the way through it and then to the end. For $6.99 I do recommend it, and it's a bargain. As you get a well thought out plot and long game. So if you always wanted to investigate a crime and love mystery novels then I think you will enjoy it. The learning curve of this takes a while, as you need to get to know your PPA but once you do, it's not that hard compared to other games. So I would recommend this game to beginners or new to LF games. As long as you keep going back to talk to suspects when each thing is revealed, and slowly go over every area to see if there is something to do you should be OK. The hardness is sorting through the clues and sifting them but you get there by trial and error. The second question, I found the hardest but once you get past that you should be OK. I enjoyed it, but I do try and be objective (if that's possible!) with the actual ratings and give you the facts so you can see if it's for you or not.
August 14, 2012
Your world gets smaller all the time...
I've played this game in the DVD version. It is a good game, lots of puzzles to solve, not truly mind boggling most of the time, though there are some tricky ones. My main complaint about this game is, because of the story line: Sinking Island, your world gets smaller all the time. This reduces the fun, because there is nothing new to discover. That said, the price you pay at big fish is that low, that it is quite affordable. I would not spent $ 40.00 on this game, but for $ 6.99 you get many hours of puzzles...
March 17, 2012
A disappointment for White Bird
I am a huge fan of Benoit Sokal and White Bird, and when I say "huge", I definitely mean HUGE. Syberia is, and remains, my all-time favourite, I like Amerzone, I love Paradise... and so on and so forth... so, how about Sinking Island? Well, sorry ... I can't get into the game. Oh yes, the graphics are absolutely GORGEOUS, but the gameplay is so tedious, so slow, so undirectional... I like sleuthing around, interviewing people, investigating... but aimlessly running around is not my cup of tea... and having to click five times to run along a beach to get from one point to another, followed by the same number of clicks to get from the bottom of a tower to the top, just to ask a few questions to somebody, really is too much ... even if I adore the graphics of the scenes... No, sorry, this is way too slow, way too tedious, way too uneventful for me to be a good game. I cannot recommend this game... please, folks, spend your money on a book by Benoit Sokal, or go for Syberia...
July 30, 2012
A bit heavy going!
SInking Island wasn't as good as I hoped. Long winded and far too much conversation to deal with. Story line was good and the graphics were pleasant but needed a map with shortcuts as it took way to long going up and down lifts and back and forth between hotel and beach with not much to do inbetween. So many unnecessary screens shots to walk/run through just wasted time. Did need the walkthrough an awfull lot which I don't like relying on. So overall a thumbs down
March 19, 2012
Excruciating and slow...
I love mysteries and this would be a good one were it not for the slow movement in the game. Whenever Inspector Norm has to walk anywhere, it's as though he's walking the last mile... Also, I missed some stuff out of sequence and it became, "Too bad, so sad, you don't get to solve the mandate". I considered starting over to resolve this but decided not to, since it would mean another several hours of "We're walking, we're walking, we're walking..." I don't recommend this game unless there is absolutely nothing else going on in your life.
June 17, 2012
Gave up in the end....too frustrating.
I bought this game even after reading some of the negative reviews because I thought I would give it a go and I had a free game to use. First of all, I chose the hardest option (against the clock) for gameplay. I've never had to worry before, and I know I'll find a walkthrough to help if I really get stuck. Unfortunately for me - most of the reviews are right with this game... it is a game that has so much potential ruined by the slow pace of the characters and screens. It is so boring to just mouse click to move a few paces to go through 5 or 6 screens until you finally get where you want to go. I had to use the walkthrough for almost every scene - which I hate doing! - and even then I ran out of time and was told that I should start again. I'm not sure I want to. On the plus side - the very clever PPA for analysing clues was a plus and the graphics of the scenes (and believe me you see enough of them) was great. Overall too much dialogue, too much 'going nowhere' screens. The developers should take it away and re release it with a map so you can skip to the various places, and skim down the dialogue to the iterrogation questions that are only relevant. I've already bought my next game, so I will play that now and keep Sinking Island for another time when I am desperate.
October 6, 2012
Another fine Benoit Sokal game
As a fan of the games mastermind Benoit Sokal. I can say I enjoyed this game. But not as much as I did Syberia and Paradise. Sinking Island is an old school adventure game. Point-and-click, talk to a lot of people about everything, collect everything you can grab, go up and down the stairs like 5 billion times and try to find what's going on. It was a bit long and boring. I personally think conversation parts could be little shorter but still, amazing graphics, amazing storyline, characters with actual character development and an unusual ending. I would recommend Sinking Island to those professional adventure game players. Stay away if you like cheesy hidden object stories...
January 20, 2013
Very Lonnnnng Game, Great Storyline
Loved the premise of being a detective on a murder/mystery, playing in the first person mode. PROS *Great graphics. *First person character player. CONS *Too much character dialogue too have to remember- take good notes when playing!! and do not leave game for any length of time or you will forget important character info. *Limited environment interaction, to filter game in a desired direction.
June 20, 2013
not worth it
getting from one area to another takes forever! should have some type of shortcut. they repeat the same lines over and over and over again.... just could not get into this game.
July 2, 2012