Fishing Craze
Catch a boatload of fishy fun in this original Arcade game! Crisscross the country in a series of tournaments that will put your angling prowess to the test! Cast your line in colorful locations like Bullhorn Lake, Golden Corn Lake, and Wicked Mansion Lake. Catch fish to earn points and climb to the top of the rankings in the amateur, pro, and elite circuits. Your fellow fishers are sure to keep you on your toes as you start a Fishing Craze!
Fast-paced gameplay
Fancy fishies!
Start a Fishing Craze!
Game System Requirements:
OS:

Windows XP/Vista/7/8

CPU:

1.0 GHz

RAM:

512 MB

DirectX:

7.0

Hard Drive:

65 MB
Game Manager System Requirements:
Browser:

Internet Explorer 7 or later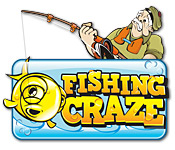 NEW299
The Big Fish Guarantee:
Quality tested and virus free.
No ads, no adware, no spyware.

Reviews at a Glance

Fishing Craze
0
out of
5 (
0
Reviews
Review
)
Customer Reviews
Love This Game!
Many have said this is a kids game & not thrilling enough for adults, but I really enjoyed playing it. The game itself is a simple catch fish kind of game, with added obstacles & targets to meet. True it's not that "thrilling", but it is great if u want a nice, relaxing game instead of the intensely challenging games.
February 5, 2012
Loved It!!!
This is one of those games that you download just to see what it is like, but then I was playing & was like "OH NO" when my free hour was up and had to go and buy it right away!!! Yes, it does get frustrating when your fishing and a bird drops a brick into your boat & your boat springs a leak or a pelican steels your fish or a shark drags your boat across the lake to the other side, but I thought that was some of the fun from this game....If it wasn't kinda hard, it would be just like a fishing Gold Miner game...I JUST LOVED THIS GAME & WAS HAPPY I TRIED IT OUT BECAUSE I WOULD HAVE MISSED OUT ON A FUN GAME! Enjoy & have a good day!!
April 30, 2013
super game for all ages
this game is awesome! my 6 year old love it too!
January 28, 2012
Love it...something the whole family could have fun playing!
Biggest trick is timing it right to drop your line. Most important part is making sure your boat is underneath the fish you caught so it lands in the boat and not back in the water. Everyone could get into this. Pretty fun game.
November 27, 2012
Surprizingly fun game
Normally i do not like this type of game, but this one kept my interest enough to purchase it! Challenging goals that are obtainable with a little skill and a lot of luck! gameplay changes as you go along so it does not get too repetitive.
November 27, 2011
Fun game, but it can be annoying
I saw the sample video of this game, and at first thought, "No, it doesn't look like a game I would enjoy." Boy was I wrong. I love this game! As others have said, you are in a fishing tournament and you get points/money based on how many fish you catch. That sounds easy enough, but at times, to me, it was highly annoying. That darn birds snatched most of my fish (I guess I hadn't gotten the swing of using my mouse correctly to catch the fish). What's more, there are other enemies you have to battle in order to catch fish. I think some developers of games, in an attempt to make a game challenging, go a little to far. Even though I enjoyed the game, sometimes, especially with those darn birds, it would make me a bit frustrated. Also, there are other things you have to battle as well, and all at the same time! Anyway, I would recommend this game if you have patience.
January 10, 2013
fun GAME
VERY FUN BUT NOT LONG ENOUGH YOU BEAT IT VERY QUICKLY
September 14, 2012
No stories for fishers
The storyline is poor. You enter a fishing contest and your real goal is to reach Platinum for all lakes. The animals try to stop you from earning points. Pelicans eat the fish you reel in. Piranha-like fish jump on your head, you lose points. Swordfish slice your line, whales blow water which throw you in the air, seagulls drop bricks and get a leak in your boat, Neptune throws spears, dolphins jump on your boat and knock you out, sharks take the bate and knock you out by swimming fast to the side and electric eels electrify you. Did I miss any enemy? When you set your boat to the side where you drop of your fish, you are safe from some enemies. Whales, piranha, seagulls and Neptune won't hurt you there. The dolphins don't either, most of the time. So, that's a plus. The game is tough in the beginning, when you learn. But when you got the touch, it is easy to beat. It is a real timekiller when you are bored. The game is addictive, somehow. I like it a lot. I like the fish, the points, the lake and the enemies. Although sometimes there are just too many enemies. The storyline is poor, as I said in the beginning. That's why it is missing a star. And also because of the low challenge when you got the feeling. You can make it harder for yourself though. Try to catch more than one fish at a time. You get bonus points for extra fish: 2 fish in one haul means 20 bonus point, 3 fish in one haul means 30 bonus points, etc. And you can set a point goal for yourself. Have fun!
July 27, 2013
AJS's: Fishing Craze Review
This game lasts for a fair-amount of time, assuming you won't play this game for an extended amount of time. The only real challenge to this game is trying to get your fish in the boat without pelicans swallowing them or getting your line sliced by a swordfish, and all of the animal-like 'bad guys' can become annoying and very frustrating if your not to skilled and quick with that computer mouse. The graphics and gameplay to this game are very cartoonish and the game is more focused for younger children but it can still be fun to play, I enjoyed it, although there isn't much to do once you beat the game. I wouldn't recomend this game at full price, but it's a nice change of pace if you enjoy arcade games with upgrades and simple objectives.
January 14, 2012
Just like real fishing!... not.
When I first started the game I was like, "Are you serious? This has to be a joke!". But as the game added in obstacles and different elements it did grow on me a little. In this game you are competing in fishing tournaments around the country, each fish you catch awards you points. You can upgrade your boat and lures as you collect enough money. Nothing was really challenging, mostly just annoyances with birds eating my fish. I did find it funny that there were sharks, porpoises AND whales in a Texas lake! Wow, whoulda thought?! Not a terrible game though, I would consider buying it if it was on a good sale. Probably more for my kiddo than me.
February 17, 2012