Around the World in 80 Days
You only have 80 days to circumnavigate the globe. Think that sounds easy? Travel back in time to the late 19th century and get ready for spectacular adventures on land, sea and air together with the English daredevil Phileas Fogg and his loyal French servant Passepourtout. Use the unique chance to visit four continents and complete the inconceivable journey in this outstanding puzzler based on the classic adventure novel by Jules Verne.
Outstanding storyline!
Marvelous adaptation.
Bonus animated screensaver!
Game System Requirements:
OS:

10.4, 10.5 (recommended)

CPU:

1.83GHz

RAM:

512 MB
Game Manager System Requirements:
Browser:

Safari 4.0 or later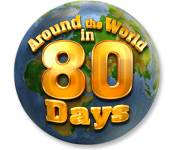 NEW299
The Big Fish Guarantee:
Quality tested and virus free.
No ads, no adware, no spyware.

Reviews at a Glance

Around the World in 80 Days
0
out of
5 (
0
Reviews
Review
)
Customer Reviews
Around the World in 80 Days
39
39
A charming little Playrix game
This game has all the things which usually annoy me in a match 3: the whole game consists of dropping objects off the game board, you have to wait while tiles finish cascading before you can make another move, and the game board is not very big. But Playrix have overcome my prejudices. All their games are visually delightful and usually just about my level of difficulty - their Fishdom and Gardenscapes series have long been some of my all time favourites, so thanks again Playrix and Big Fish!
July 20, 2013
fun for awhile then you feel like an idiot
When you start out, this game is absolutely fun. Great graphics, nice story line and fun match-3 dropping elements to bottom of board collecting items to progress in your journey. When you get totally immersed into the game half-way through, specifically China, it just is downright too hard. You have no other option to complete the game, so you just try over and over and over again getting the same results. My definition of an idiot. Maybe some have succeeded, and if you think you can be one of them, go for it. But be warned it is not easy with that timer ticking AND scarce power ups. I only recommend it to an expert M3 player.
March 11, 2014
Ok game
If your looking for a nice relax, somewhat challenging game, this is the game for you. I didn't like the fact that I couldn't blow up the rocks, but over all an OK game.
March 29, 2012
An very frustrating game
I really liked this game in the beginning. However for the last 4 days of the 80-day trip, it was impossible to finish. The difficulty is that the blocks can't be moved while other blocks are falling and the game is making its ambient noise, mostly whooshing. Consequently, you sit there watching and waiting while the clock is ticking. I tried five times to get to the end from day 76. After losing all my lives several times and having to repeat the whole section again (about 8 days not just the one day), I finally dumped the game.
February 19, 2014
This game is not fun
Game is fun only for those who love to be challenged and still lose. It is not a game for relaxation or for a sense of accomplishment. It is timed so by the time you get through all of the barriers and almost winning you run out of time and lose a life. After you go through your lives you lose Everything you accomplished just to start all over again. Also, to get tips on how to beat some of the days you have to research. Just a frustrating game. I wished I would have passed on this one.
June 21, 2013
HATE THIS GAME
I am an excellent match 3 game player but what made me hate this game is the fact that if you don't get an artifact on one of the levels it doesn't allow you to restart just the level with that one particular artifact but makes you restart the entire country. Also some of the pieces are placed on the board with no way to work them out and even with the bomb being active you can not blow the artifact piece out of the corner or so on. I wish I had not bought this game!!!!!
March 23, 2013
Stupid Game
Maybe it's just me, but there were so many times I simply did not know what to do. There is no adequate hint for when the player is completely perplexed. For example, I am stuck in the jungle on an elephant trying to get to Calcutta. If I follow the arrow to the right (according to the map), I end up in a dead-end. If I take the arrow to the left, it takes me back to the village where I started. Stupid, stupid, stupid. When I ask for a clue, it tells me that I need to buy a new means of transportation. I just bought a stupid elephant that I thought was my new means of transportation! I'm not the sharpest pencil in the box, but a game that takes a player around in circles and does not explain what he needs to do is a total waste of time and money.
August 19, 2012
Rename this to "Partway Around the World then Get Scammed Outta your Game Money"
Okay I am mad now....HOW can you plunk a solid stone wall at the bottom of a Match 3 game and then NOT ONE of the four power-ups works to destroy it? Huh? Not even the bomb? Huh? Do developers think this is fun for a gamer? Wrongo! I am commenting mainly on Level 49 in China: Before that, the game was exciting and fun, even challenging but still do-able. But Level 49 had all the needed components stacked into a 1-tile-width passageway with an unbreakable wall at bottom. WHAT? Yes, I could have worked each separate artifact tile waaaaaay around the wall match by match [when 1 finally came along] but it would have taken forev even if you could switch to untimed mode though there wasn't one. Grrr. This was a great waste of my time to stop mid-game but even worse, what a great waste of the other talents that created this game: wonderful graphics, music and different scenes. Tbh, I really loved playing until China was reached but then the challenges were like omg ridiculous. BAH!
April 1, 2014
No Timer Option Ruined Game for Me
I foolishly purchased the game after the demo because I told myself I could play it well even if it was timed. Well, I messed up and wasted my money anyway. Thank you, game developers, for taking peoples' money and not offering a choice for timer/no timer.
January 28, 2013