Virtual Families
Adopt a character you connect with and help them live their life! Dictate everything from their daily routine to their career in this addicting Simulation game. Earn money to decorate the house, buy groceries, and other essentials. Shape your character`s personality by rewarding certain behaviors and punishing others. Find suitable mates for all of your characters and start perfect Virtual Families!
Real-time gameplay
Charismatic characters
Start a Virtual Family!
Game System Requirements:
OS:

Windows XP/Vista/7

CPU:

800 Mhz

RAM:

128 MB

DirectX:

7.1

Hard Drive:

68 MB
Game Manager System Requirements:
Browser:

Internet Explorer 7 or later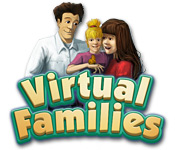 NEW299
The Big Fish Guarantee:
Quality tested and virus free.
No ads, no adware, no spyware.

Reviews at a Glance

Virtual Families
0
out of
5 (
0
Reviews
Review
)
Customer Reviews
Amazing!!
I love virtual games and i love this!
August 30, 2012
It's a very nice game
Nice and easy game ! I liked it very much!
July 21, 2012
my life
Hannah Dave Jessica Jay Mack Steve
May 28, 2014
Good but...
Yes, this is really good game but in this game there are some minor deficiencies. For example, you can't decorate the house. You can do limited activities and you can only watch. You should play but after a while the game is getting boring.
February 7, 2014
SUPER GAME!!!
I recommend to Sims fans! great game, and addictive too. Create a family and have fun!!!!!!!!!!!!!!!!!!!!
January 28, 2014
Fun Family Game
it is a very good family game.
July 17, 2013
Great but getting old
Now that we have number 2 it's old. It's addicting but the songs are so sad. IT IS SO NOT CHALLENGING!!!! IF YOU ARE LOOKING FOR A HARD GAME THIS IS NOT IT! The saddest part is when they die! If you dont want them to die or you want a challenging game this is kinda your game. I reccomend it and i dont
May 28, 2013
3.5 although I really enjoyed it there are a few cons
I loved the sims, all the upgrades, expansion packs things to do so I know I am a bit hard on this game regards to those things. If you are a sims player you may be disappointed in the following - cons - -They never go out, speak to anyone, have anyone over. -The things they can do aren't that much- work (kitchen, workshop and office) watch TV, cook, work out, play chess etc, pull weeds, water flowers etc. Even with the swimming pool it's very small and they don't change clothes! -You don't even have to get your friendship meter up with your partner to have a baby. -You can't decorate* the home - choose what wallpaper or carpet you want, or place things you buy in your home. It is what it is and you are stuck with it. -There is no phone to employ a maid, gardener. -Your family grows really fast and within (I think) 4 days my first couple were dead. -You don't play this for long periods of time as it then gets like watching paint dry. Now the good. It's not the sims so as long as you don't expect that, then it's a good start. The premise of the game is 'have you ever wondered if people live in your computer, what they are up to.' So if you view this as a quick go and see how they are doing twice a day for 5 mins at a time you begin to understand how to play the game. What is REALLY good about it is that they continue to make money and live while you are not playing so you can save up money for things at the store. STORE - There is food that you can buy, always something on sale. There is a section that changes every 4 hrs for things you may need in the game and a section for medicines. Another section for luxury goods like treadmill, swimming pool etc. And lastly there is a choice of upgrades for your 3 work place - *new kitchen (choice of 2 preset). There is a praising glove and a scolding glove to try and encourage behaviours. I love that concept. There are achievements (trophies) which do pass down from generation to generation so you can accomplish them all. Things to collect (pieces of photograph, old coins, bugs and twigs) which pop up around the grounds but do disappear if you don't collect them quickly enough. This is a very simple game which is good for kids or if you are like me and just like to pop into a game for 5 mins it's good that it is simple. If you remember to stock up your fridge so they don't get hungry, you should have a happy family. Just don't stock up too much or you get some funky odours! If you get this on a DD or coupon you will get a very long lasting game that keeps going as long as you want, it need never end! As long as you don't expect to sit down and play it for hours at a time or expect sims choices, I think you will enjoy it for what it is.
July 4, 2012
Why couldn't this be more realistic?
This game would be more enjoyable if we were allowed more choices.For instance why can't we name our little people ourselves? Maybe choose what they look like? Give them real jobs? Beginner Soup Taster? Seriously? And wouldn't it be better if they started out already married and instead of them living in big house that they couldn't afford in the real world,have them live in an apartment? And instead of having them wandering around the house all day bored and depressed,actually have them leave to go to work and maybe invite family and friends over for dinner? Also give them a starting salary of a few thousand dollars.At the rate my little people are "earning" money...well, quite frankly I am surprised that they aren't on welfare. lol. This game would be more productive and fun if the game makers had actually put more thought and logic into it. :\
May 15, 2013
things i hated
How am I going to fix and rehealth my people if u woot let me use medicine only full version
January 3, 2013
The Apple logo is a trademark of Apple Computer, Inc.