Laura Jones and the Secret Legacy of Nikola Tesla
Help young adventurer Laura Jones and her grandmother discover Nikola Tesla's greatest invention! After receiving a mysterious package full of clues from the late Tesla, the hunt is on! Solve puzzles, collect the parts needed to start Tesla's invention, and pass the extraordinary trials. Laura Jones and the Legacy of Nikola Tesla will test your Hidden Object skills as you race against time and the other people chasing down the invention!
Quirky characters
Immersive atmosphere
Discover Tesla's secrets!
Game System Requirements:
OS:

Windows XP/Vista/7/8

CPU:

800 Mhz

RAM:

256 MB

DirectX:

8.1

Hard Drive:

106 MB
Game Manager System Requirements:
Browser:

Internet Explorer 7 or later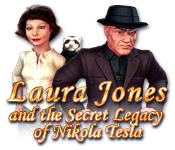 NEW299
The Big Fish Guarantee:
Quality tested and virus free.
No ads, no adware, no spyware.

Reviews at a Glance

Laura Jones and the Secret Legacy of Nikola Tesla
0
out of
5 (
0
Reviews
Review
)
Customer Reviews
Laura Jones and the Secret Legacy of Nikola Tesla
15
15
Awesome Deal for DD at $2.99!
Game is by Astar Games, Nevosoft, also the makers of Mushroom Age, Vampireville and the part one of this story but they can easily be played out of order. I actually think it is better NOT to play them close together as they seemed to create characters that looked VERY similar. So one stories "bad guy", looks like the other stories "good guy"...a bit confusing. The main character is Laura Jones, a young adventurer who is accompanied by her pet ferret, "Ferris", who loves to play hide and seek. Laura picks up a puzzle box, left to her Gramma, by Nikola Tesla. Nikola Tesla invented something that if it fell into the wrong hands,could be quite dangerous. To help safe guard the item the parts are divided up and given to several of his friends or associates who promise that they or their desendants will safeguard the item they have been given and they are to put any person requesting the item through some creative tests. I almost deleted the demo when I had to search her bag for the third time, and again when trying to get into Gramma's house but I am VERY glad I stuck with it through the demo. I purchased as a DD and played straight through. The music was annoying at times so I turned it down low. I also noticed 1 "bad word" near the beginning for those with children. You can choose to skip the mini games and do a HOG instead, but I loved the mini games. I checked the table of contents page once I completed the game and found that there were 14 levels and 18+ various mini games. Ten of the games were available to play seperately once you finished that level but you can also go back in and play any level so you are still able to replay the parts you like without having to replay much of the other parts of the game if your favorites are not one of the 10 offered. A few of the games are new to me but most are commonly seen. Some of the HO's are small or difficult to find. Most of the mini games are well explained and not too difficult but a couple take some real thought. For example, I was playing the extras after I completed the game and I came to an "untangle the string" that had 30 starting ports and up to 8 strings on each port...Yes, that one took awhile, but I love this kind of challenge! Mini games offered *Untangle the string *Catch the Mouse- Hat Drop- new to me *Lock *Block the Motorcycle- new to me *Gears *Tangram *Reversi *Pipes *Catch the falling Eggs *Puzzles Other games occuring within the game *Find the Difference *Crystal Gem, Knock out *Ball Bearing through A Maze *Catch the Mice- slightly different than the other mouse game *Globes in Order *Hangman *Balance weights *Cooking *Fireworks Dragon- new to me Though the graphics and story do not compete with ERS games, this game has good replay value since you can choose to play through the story line choosing to play only the HO scenes or just play the mini games. Plus you also have the extra games available when you access the mini games from the menu page. Throw in that this game is being offered as a DD for $2.99 and it is an AWESOME Deal!
May 21, 2012
GOOD INTERACTIVE GAME
I enjoyed the involvement that was had in playing this game and also the lack of wandering around wondering what next to do. The tasks were somewhat difficult as the hint was not always helpful and you were left wondering what to do with the pieces; also sometimes it was a bit confusing as to what pieces you needed to pick up; though, once started it was easy to continue on. The last set of mini puzzles have NO SKIP to them so be prepared to spend some serious time in putting the last picture puzzle together; referring to the walkthrough as to what it's to look like was very helpful. The other mini-puzzles were not difficult -- at least not for me, anyway. All in all, the storyline was good, the voice-overs very good, and the tasks were credible.
May 27, 2012
Action packed adventure
Once I figured out the last puzzle at the end, I really liked this game. It's light, fast paced and no back tracking like many of the other HOGs. There are some sticky spots, enough to keep you interested but not totally discourage from moving to the next level, the hints button is a bit slow but in the meantime you can pick up a missed object while it recharges.There was an error in the last puzzle but I've posted the correction on the forum. Most of the trials were easy enough but if you didn't want to do them there was an alternate HO scene you could do instead. Be warned, at the last puzzle if you leave without finishing a level it will reset & you'll have to start over and redo the ones already completed. I finished most of it in one night and came back the next afternoon to try to complete the last level when I found the error, after that it was a quick finish. Overall, it's a good family type game without any occult overtones other than sneering villains out to get the invention. One thing I didn't like was the ferret. OK, he was cute but wasting time chasing him around was a bit overdone.
May 21, 2012
Not an average HOG at all!
I bought this on sale and I'm so glad I did. This is much more an adventure game than an HOG. Playing for more than an hour I only had one HOS I call regular (find a lot of this and that for no obvious reason) and that was because I skipped a minigame. You got the HOS challenge instead. Apart from that it's been finding things for a purpose and playing hide and seek with Laura's gorgeous ferret a couple of times. The sound and voice over and the character animation is very good, but finding stuff can be a bit hard sometimes 'cause the background graphic is not as good. On the other hand it's a lot of interactive scenes to find things in which makes it really fun. Absolutly worth not only sale but full price!
May 22, 2012
Great fun and storyline; immersive atmosphere.
LOVED the ferret! I know another reviewer was bothered by the ferret, Ferris, but we enjoyed his antic, comic relief. This IS a traditional HO game with some great mini-games thrown in (could have had some more of these). The graphics were atmospheric and beautiful. The story line and eccentric characters made for quite an adventure. I actually played this sitting side-by-side with my partner (a game beginner), each of us taking turns playing scenes or one of us finishing up an HO or miini-game when the other one got stuck. We've been so hooked on this game that we've hardly gone out of the house. The theme referencing the great inventor Tesla warrants bonus points for this game!
May 24, 2012
Tons of fun!
Enjoyed this one very much.... It had me chuckling a good bit! Loved the ferret! Good mix of HO and mini puzzles with very clever twists on the puzzles.... and some I've never seen before --not your same ol' same ol'. If you skip a puzzle, you must complete a junkpile HO scene.... Thank goodness I only had to resort to the skip once, because you have to find a LOT of items in an extremely cluttered junk pile! Other than that, the HO's are not junked up. Most are finding several of one item rather than the seek and find. I'm not real patient, so I made use of the hint button, which refills kinda slowly, but is unlimited... ;) I usually had to use it only for the last item and sometimes not at all. The dialog can be skipped but I found it to be very entertaining. The voice overs are excellent. I always turn the music down so I can't really speak to that.... Some puzzles were incredibly easy -- others not so much -- and some were just downright fun... Catching the mice was my favorite.... One tip -- when you've completed the game, be sure to go back and replay the puzzles -- they are different than when you did them in the game and have a few extra levels to them... Don't miss the mouse catching one especially -- three additional levels to what you originally played. The game is not akin to solitaire where you're just relaxing and don't have to think much, but you won't burn up a lot of brain cells either -- it's in between and just a very enjoyable experience.... Length of gameplay is average.... I would have loved much more. Really enjoyed this one!
May 20, 2012
An adventure with emphasis on HO Scenes
Although counting a number of improvements over the first installment Gates of Good and Evil, the game remains very traditional in concept and design. The visuals are still good and bright, and the HO Scenes just as overcrowded as before with many objects difficult to spot. The same scenes tend to come back several times; a greater variety would have been welcome. HOs are given in lists or as silhouettes. Hints are more generous. Tasks are less straightforward than in the first installment and somewhat more interesting. But there is no way you can travel freely around the different locations. Minigames are classics: maze, pipepline style, tangram, hangman, find the differences, etc.. They can be skipped. There are not many of them though, as the emphasis is placed mainly on hidden objects. The storyline is fair and the game fairly long. The Legacy of Nikola tesla is bound to appeal to HO lovers more than to adventurers
January 30, 2012
Nice game
This is a nice HOG that will keep anybody busy, it has a nice story plot and it develops nicely as you go along in the game. Is not very difficult or challenging but still a very nice game to play. If you truly like HOG this one is for you.
December 31, 2011
Laura Jones, the hippy, the tattooed man, gramma, & the Cop
At first, I thought this was a children's game, but the puzzles are too difficult for kids. Many of the puzzles don't have a skip button, so it's do or die....or go read the walkthrough. Some of the mini-games have a skip button, which I tried, and each time I was directed to the same junkpile to find miniscule items. And each time I tried to skip a game, they added LOTS more items for me to find. Also, in that junk room, translations and spelling were a bit loose; ie. a "tube" was really a tuba, and a "web" was a ball of string. The game was bright and cheerful, however; and there was some thinking to be done in order to decide what to do next. Also, there are lots of charming rooms to visit and the story progressed nicely. There are about 4 "find 30 balloons, birds, etc." and some very different and fun things to do. This is a great family game, young adults would love it, I think, and even lil ole me liked it a lot. No skulls, graves, or lost relatives!
May 20, 2012
Laura is games are fun.
This Laura Jones game is a fun game. It is a lot like the original . It is a good game for beginners or an old pro who just wants to relax and play a good HOG.
May 20, 2012
The Apple logo is a trademark of Apple Computer, Inc.