3 Stars of Destiny
The evil orc Ozur has discovered some powerful energy that will make him completely and totally unstoppable! It's up to you to prevent Ozur from gathering this energy as you quest to the 3 Stars of Destiny! Customize your character's abilities and skills in this exciting role-playing game. Explore mysterious lands as you travel far away from your home and finally confront Ozur. Can you stop his evil plan?
Customizable characters
Immersive atmosphere
Save the world!
Game System Requirements:
OS:

Windows XP/Vista/7/8

CPU:

800 Mhz

RAM:

256 MB

DirectX:

9.0

Hard Drive:

79 MB
Game Manager System Requirements:
Browser:

Internet Explorer 7 or later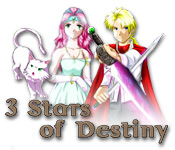 NEW299
The Big Fish Guarantee:
Quality tested and virus free.
No ads, no adware, no spyware.

Reviews at a Glance

3 Stars of Destiny
0
out of
5 (
0
Reviews
Review
)
Customer Reviews
Fun and challenging
Another great game from the creator of Millennium: A New Hope. If you are more into puzzle/adventure I would suggest you to try Millennium first, if you prefer RPG, than 3 Stars of Destiny is your game. A complex battle system, lots of fights, some of them are very hard (but there's selectable difficulty, so you don't need to struggle if you don't want to), lots of equipp (relics, artifacts, armor sets), secret rooms, very interesting and variable locations and complex dungeons. Completing the game takes around 30 hours and it's really hard not to miss something, which makes for a good replayability. Graphic might not be as good as Millennium, but it still looks nice, music is good and the story also has quite a few twists you wouldn't expect. To sum it up - one of the games I will always remember. P.s. I will add that the story of 3 Stars of destiny preceds the story from another similar game - Laxius Force, so if you want to know more about Random and his friends, you know what game to play next...
December 15, 2011
Adventure Game!
This is a 2D game with all the packed power of secret rooms, magic and fighting skills to learn, ingredients to gather for some side-quests. This is also the second rpg I've ever played and you just may get hooked like I did. There's great music and wonderous places to go. You'll meet a very young and powerful trio, tho they don't know it yet. Want to find out more, you'll have to try it.
December 12, 2011
The Incredible 3 Stars of Destiny
Several years ago, when I first joined BFG, I ran across 3 Stars, and thus began my love affair with RPGs. I have played every one I could find since then, but none can compare with 3 Stars, except maybe Laxius Force by the same creator! This game is incredibly stocked with secrets and challenges which compel you to seek them out! It is massive in scope, yet easy to follow, with ample clues to guide you if lost. Indinera of Aldorlea Games, has an incredible ability to create a story which engages you, and characters that you come to love and empathize with. Then, he carries the same characters forward into the amazing Laxius Force Series. And, the replayability is the very best available! I have played numerous times, and found something new each time! Talk about getting a value for your money ......there is none better!
December 24, 2011
Never loved an RPG so much
This game was absolutely great, it's a true gem in the universe of RP games. - great characters, very well defined and each one with her/his/its peculiarities (I liked Sarah and Random at most, but what about the bitter humour of Guanidia, for example?) - excellent storyline, with many twists - huge world to explore - a lot of armors, weapons, items, artifacts, spells... - very interesting and innovative level system - good background music - a lot of good games, when the end approaches, lose quality maybe due to budget or strict schedule. This is not the case: 3SoD keeps the same good level till the very end. I am very happy that the next chapter in the saga - Laxius Force - is available on BFG. I also hope that LF2 and LF3 are added soon or late. Five stars! (because I can't give more...)
August 13, 2012
Best Game Ever.
It was extremely addicting and very hard. But fun I had a great time playing it.
May 23, 2012
Great game
this game was so much fun and it is really long as well.
January 28, 2012
A great prequel to the Laxius series!
If you played the three Laxius Power games and the first Laxius Force ones, you won't be phased by the gameplay and by the background of this huge and quite entertaining RPG. Playing as Random, Sarah and so on is as funny as usual, and the game is long enough to satisfy you during several dozens of hours of quests, fights and land exploration! Definitely worth the try!
December 31, 2012
An Epic RPG Adventure
3 Stars of Destiny is a prequel to the Laxius Power and Laxius Force series of RPGs (role-playing games). Without a doubt, it is an epic RPG adventure that reminds one of the old school RPGs such as The Legend of Zelda. With countless side quests in addition to the main quest, you are looking at over 30 hours of gameplay time, which is incredible for the casual game market. One of the areas in which the game shines is its story. You play as a team of heroes, including humans, an elf, a minotaur, a talking chameleon, and even a talking baby flame. Throughout the game, they complete quests, battle monsters, gain levels, find useful items, and show some degree of character development. The world the game inhabits draws you into it, and you become invested in it and in the characters. However, the game isn't perfect, and there are a few things that bugged me. For one, you can't see the monsters at all, so encounters are completely unavoidable. There is an escape option, but it doesn't always work, and sometimes you are stuck fighting a battle that you don't want to fight. Not only that, but sometimes you just want to get from point A to point B without having to fight a monster every fifth step. You can control the encounter rate at the beginning of the game (manic, normal, or low), but be forewarned that the "normal" level entails fighting a whole lot of battles (I can't imagine how many you have to fight in "manic" mode!). Another flaw was that there was no shortcut system to help you warp to different places around the world. If you needed to go somewhere, it meant tromping through screen after screen of scenery. It would have been really nice to have the ability to use some sort of transport or teleport. Finally, the characters were, at times, obnoxious. I understand that they are meant to be teenagers and therefore somewhat less mature, but occasionally it was just annoying. By the end of the game, the characters mostly redeem themselves, though. It should be noted that after the main quest has been finished and the big boss defeated, you have the option to continue playing. If you wait through the end credits and right click once you are in the character stats screen, you will end up on a beach with all of your characters so that you can finish a huge number of side quests. I was honestly not crazy about this -- once the game is over, I want it to be over, otherwise I don't feel like I'm working towards anything. But I'm sure that a lot of people will enjoy this aspect of the game, and it is nice to have the option to keep going. The bottom line: If you enjoyed old-school RPGs such as the Legend of Zelda or if you enjoy more modern games such as the Aveyond series, you will surely enjoy 3 Stars of Destiny.
January 11, 2012
intertaning
this game keept me entertained.
September 3, 2013