Virtual Families
Adopt a character you connect with and help them live their life! Dictate everything from their daily routine to their career in this addicting Simulation game. Earn money to decorate the house, buy groceries, and other essentials. Shape your character`s personality by rewarding certain behaviors and punishing others. Find suitable mates for all of your characters and start perfect Virtual Families!
Real-time gameplay
Charismatic characters
Start a Virtual Family!
Game System Requirements:
OS:

10.4, 10.5 (recommended)

CPU:

1.83GHz

RAM:

512 MB
Game Manager System Requirements:
Browser:

Safari 4.0 or later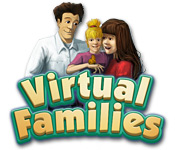 NEW299
The Big Fish Guarantee:
Quality tested and virus free.
No ads, no adware, no spyware.

Reviews at a Glance

Virtual Families
0
out of
5 (
0
Reviews
Review
)
Customer Reviews
fun at first, then disappointing
At first, it was fun to figure out the challenges, see how the characters age, upgrade the house. But soon it just repeats. Find collectables in the yard, pull weeds, fix a leaking sink, put away groceries, watch TV, surf the internet, etc. Not much else to do. Even the incoming emails (for the peeps) repeat themselves. The store is very limited, the house upgrades are dissapointing. I bought the radio/dvd, the peeps danced once when I bought it. I bought a pool anticipating peep fun, but they rarely go there. I put them there, but it is not a family fun. The upgade hammock is far away, the BBQ is in another place. Half way through my second generation, I found myself wishing the parents would die so I could get on to something new. Then I realized it would not be new. Just the same old stuff.
December 28, 2012
Didn't get it?
From the description, it sounded like a mini version of sims, and from the previous good reviews I thought i'd try it. What is up with this game? Each action takes ages.... she carries her baby round with her all the time, and there is no signal to when it'll grow up... they dont ever go out of the house/garden, so all I seemed to do was sit there and watch them... hmmmm....
December 7, 2011
Bored!
I would NOT recommend this game. It's not worth the money. The characters take too long to accomplish anything. I liked the idea of it, but everything is just so boring! You need A LOT of patience. Like day to day patience. I tried to play this game but I can't even play it for ten minutes with giving up. The time runs with real life. You don't want to play a real life, you want fun and other things! It has no challenge at all, except the challenge with how slow it is. I have no idea how this game got such good views. It's so horrible! The only thing I like is the drawn art and the house. The characters are just plain and you can't even customize them.
February 28, 2013
Way too slow
I have even walked away and watched television for a while when I come back they haven't done anything and make money so slowly you can't even buy them anything. I even tried the second one, it is just as bad.
May 15, 2013
Needs better improvment
Now that Virtual Families 2 is out, this game is a bit old. I play Virtual Families 2, and I have to say Virtual Families and the current one (Virtual Families 2) are on different ends of the scale. VF2= Virtual Families 2 Vf= Virtual Families VF2- Dosen't allow you to choose their names. I mean, c'mon, they're OUR virtual family! VF- Allows you to change the name whenever you want. I thought this was based on reality? You don't see people changing their name every few days, in the REAL world, do you? Since this game is based on reality, we should be able to choose the name ONCE and not change it again in the game. You know, like how a family would name a real human baby. VF- When you buy a house, any house, you don't buy it with more than half the rooms COMTAMINATED, FILTY & BROKEN, would you? VF2- You only have updates for work spaces. Boring. Nothing to say. I really wonder why you can't buy a new house, you know, like a mansion or something. At real life prices. VF= This one's the same as VF2. VF2= Same as Vf. Read below. When someone is sick, they go to the doctor. If they are 'gravely ill' and about to die, you go to the doctor, then probably the hospital. If someone is 'infected' you go to the doctor, then maybe a specilist. All they have are a bunch a meds, and a doctors consaltation. It isn't even that useful. More than half the time, it'll say 'This person does not have an infection'. When you go to the doctor, the doctor will tell you which med to take. Doctors don't make us guess and buy all the meds, then find out it's the WRONG ONE. Also, one a peep is having a baby, they should become pregnant for like, I don't know, 9 months in the real world? Which, will be like like ONE day in the game. When the baby is ready for the world, where does the mummy go? The hospital. Geez. I could go on,but those are the mains.
July 7, 2014
This is the first game in series and it is simply too old.
I like to play V. Families 2, and thought I would give this a try since it's a 2 for 1 weekend. For me the graphics are awful. There is no other way to put it. Big Fish has to start putting games to rest.
May 25, 2014
Way too slow
I might enjoy it if it moved faster, but it is as entertaining as watching paint dry.
April 3, 2012
Boring
Moved way too slow for me. Kind of a cheap version of The Sims.
June 19, 2012
i hated this game
I thought this game was simular to virtual game but it is not with the virtual game the game stops when you do not this one if you don't interact with almost hourly the creatures will sicken and or die on you. this happened to me six times before i removed the games completely from my computer and i am glad i didn't have to pay for the game just wish i hadn't used my free game for it.
March 16, 2012
Slow and dated
Well, there's certainly no room in this game for alternative family structures. That's the first big minus. Secondly, could the people walk around any more slowly? And as for a "game" that involves cleaning up trash and checking emails.... uh... that's not a game: it's real life chores!!
June 20, 2012
The Apple logo is a trademark of Apple Computer, Inc.
The Windows logo is a trademark of Microsoft, Inc.