Mystery Case Files: Return to Ravenhearst ™
WINNER! Best Game of 2008!
Emma`s soul is free. But her ghost has delivered a dire warning: evil still lurks in Ravenhearst Manor. Big Fish Games Studios takes you deep inside the cursed estate in Mystery Case Files: Return to Ravenhearst ™, the thrilling sequel. Experience Ravenhearst`s spectral halls as never before with new immersive adventure-style gameplay and an epic original soundtrack. Feel the floorboards creak as you move from room to room solving puzzles and seeking out clues in over 150 detailed scenes.
The biggest MCF game to date
Immersive gameplay
Game System Requirements:
OS:

10.4, 10.5 (recommended)

CPU:

1.83GHz

RAM:

512 MB
Game Manager System Requirements:
Browser:

Safari 4.0 or later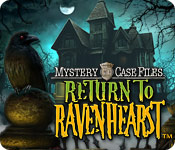 NEW299
The Big Fish Guarantee:
Quality tested and virus free.
No ads, no adware, no spyware.

Reviews at a Glance

Mystery Case Files: Return to Ravenhearst ™
0
out of
5 (
0
Reviews
Review
)
Customer Reviews
Mystery Case Files: Return to Ravenhearst ?
170
170
A good Mystery
I did like this game it was haunting and fun with good adventure, but I thought some of the mini games were too tough and I hate skipping games. Same with their other game Dire Grove. Needed to be a bit easier to really have fun with these games. I don't like going through walkthroughs. I know it is easier to give rave reviews when you like a game, but I know two other people who felt the same way with these games. Great mysteries just make the mini games not so hard and more fun.
October 1, 2012
What a difference!
I was seriously disappointed by the first game in this series but decided to finish it after all because I was intrigued by the reviews for "Return..." and Escape..." - and needless to say it's important to the storyline, which is interesting. "Return to Ravenhearst" is definitely an improvement over the first. The music is great, the graphics are very good and very creepy - the bugs actually gave me chills! Great fun!!!
August 22, 2012
Great Game
This was an overall good HOS game. Nice mix of puzzles and HOS's. Both the HOS's and the puzzles were mostly pretty challenging. Interesting (though sometimes goulish) story line. The only reason I didn't give it 5 stars was because there was absolutely no clue what you were supposed to do on some of the puzzles. I don't want hints to solve but I do want at least a hint of what is supposed to be done to solve it. Also, there was only one puzzle that I can think of that had a reset, so by the time you figured out what you were supposed to do, you had messed the puzzle up so bad it was too frustrating to get it back to a solvable state.
July 26, 2012
Awesome!
I'm so glad that the 2nd part is better than the previous. I loved it and it was challenging too. The storyline was excellent and touching.
May 31, 2012
Challenging and frustrating - A guy's review
*review based on completing the full game* When this game came out I'm sure it was way ahead of its time and probably the best around. That was back in 2008. Now we've reached 2012 and there has been many similar games released over the years. Many, which I find better, but that probably got some ideas from this. Now, I firmly believe that this game has meant a lot to a lot of casual gamers, and I think that is why this has such a high rating, because in no way can I find a reason to give this 5 stars today in 2012. Maybe I would if I played it back in 2008. The graphics are good, especially considering the age, but is at times a bit grainy, especially in the HO scenes. It uses real actors as opposed to animated, and they stick out a bit and could have been integrated a bit better. Reminded me quite a bit about 7th Guest. The HO scenes are clutter scenes, and I found them a bit overcrowded, and some quite dark. Since it is also grainy it might be hard for some to find all objects. Some of them are really well hidden into the scenery. The music and sound effects are very well done, though sometimes a bit dramatic. I ended up turning the music down as it got a bit annoying at times (not meaning bad, just personal preference). Voice-overs in this game is impressive. The storyline is quite interesting, especially as it continues on the story from the first Ravenhearst game. It's an engaging story that keeps you interested. When it comes to the game mechanics, there is a lot of things that could have been better. The lack of any directions at all made it totally frustrating at times. You are left to figure out where to go, what to do with what and so forth, with no guidance from the game but very subtle hints. I like a challenge, don't get me wrong, but there are limits to how subtle one needs to be. I did only get totally stuck once, where I had to assort to a walkthrough to figure out what to do next, but I spent lots of time running back and forth trying "everything" "everywhere". This game is not for beginners of the genre, that much is certain. The hint button works well in HO scenes, but is mostly useless outside of them. You move an item to the "crime computer" and it shows you a picture of where to use it, even if you haven't reached that scene or not. I tried it once, and got more confused after the hint, than what I was before. The hint function never gives you objectives or directions, neither does it show if there is anything to do in the scene you are in. It also recharges slowly, but that I think is a good thing. The puzzles in this game are some of the best I've come across. I think this developer has some of the most creative, original and challenging puzzles out there. You might spend quite a while trying to solve a few of them. Only one I disliked was a "whack-a-mole" type game that you had to be very quick and "on-target" with the mouse. There is only one level of difficulty, and that is rather difficult. There are sparkles on active HO scenes, and also in other areas where you can interact, and as mentioned before, the hint button recharges rather slowly. I recommend this game to HOG fans that like a challenging experience, and to fans of the MCF series. It is somewhat creepy and gloomy, but not too scary. Just be prepared to be frustrated at times. I could not decide whether to give this game a 3 or a 4 star rating, but seeing that it was a bit overrated from before I ended up giving it 3. But I would still recommend it. For the guys: I don't think there is a gender bias here at all. The character you are playing is only referred to as "you". The story suits both genders, but should probably kept clear from the youngest players. Beware if you are a beginner at games like this. TJ
May 29, 2012
Very hard, so not fun
Very hard, so not fun to play. If you don't fallow a walthrought on the web, it's impossible to even get the first/second clue. I tried it all the way throught, but really, it's frustrating. Also, the hidden objects are very small and not that clear compared to the high graffic quality of each scenes and its decor.
July 17, 2012
A disappointing game
Maybe I have played too many awesome games, but one thing I find very frustrating is when games continue to take you back to the same HO area and ask you to find the same objects as the previous time. I think this is lazy game making. I did not buy this game because I was already put off with the demo. The graphics were good, but for me there were too many HO and not enough creativity in the mini games, etc.
June 15, 2012
You will spend your time waiting for HINTS to reload...
I played the demo and it was not the best. Graphics are mediocre, everything is on a greenish-grayish background, so it makes the HO scenes difficult to play - find everything you can and leave the HINT for the most difficult - because it takes 2 MINUTES for the hint to reload (poor design on a 60 minute demo). Mini-games have no help or instructional text so you spend your time trying to figure out what to do. The drab background wears after a while since everything is so drab, rundown and colored to look that way. Perhaps if the graphics were better, it would not wear as much, but you get tired of the grayish background, looking for greenish/grayish colored objects (even the carrots were not that brightly colored!). Overall, I was not impressed at all, spend most of my 60 minutes trying to figure out what to do and waiting for the hints to reload. Definitely NOT purchasing and would recommend passing on this one.
July 14, 2012
Mystery Case fies: Return to Ravenhearst
I'S A GOOD GAME, BUT ME AND MY SISTER TRY AND AT THE END THERE IS NOT CLUE, EVEN THAT I PUT THE BOOKS LIKE IN THE STRATEGY SAID. NO CLUE AND I CANT CONTINUE WITH THE GAME. WHAT'S GOING ON
July 31, 2012
MCF?s 1st HOPA
BASED ON COMPLETED GAME FIRST IMPRESSIONS The change from this game and the previous Mystery Case Files games is enormous. In fact, they are no longer really in the same genre. This is a HOPA, with hidden object puzzles, assorted other mini-games, and a little wandering around style adventuring. The intro made it clear that despite being a continuation of the previous Ravenhearst story, it would not be a simple carbon copy. SIGHTS & SOUNDS Once again, this game?s graphics improve on its predecessors? markedly, but in this case it is the difference between bearable and unacceptable levels of quality. Although the HOP scenes are better than the locations, both are still a little grainy and blurred. However, not enough to detract from the game. There are also a lot of very dark scenes, and they can be annoying. The ghosts are incorporated into the game very well. The creepy music! The ghostly voices! The eerie surrounding sounds. The soundtrack is good indeed. The music sounds almost orchestral, and is richly varied. WHAT?S HAPPENING? Ravenhearst continues to work its (dark) magic on you, and you have come back. Emma says there are other souls to be freed from this evil place. Again you search the manor for clues. This time, though, you are truly part of the story. You must decide where to go next, and what to look at or for. And you, eventually, must face Dalimar. GAMEPLAY This is no longer just a HOG, so it is a much more complex game to play. Most of the game still consists of HOPs, with those puzzle boards again. But there are less of them than in the past, because now you must find your own way around. The HOPs are now zoom-in windows, there is occasionally a little animation (bugs crawling around ? ick), and are only visited twice . Hint shows you where an inventory item can be used. I hate this type of hint. Usually, it doesn?t help at all, because the area is not yet opened up. And hint takes 5 (!!) full minutes to refill. The puzzles other than the boards are not that easy, and there?s no instructions with them, but you have a skip for them. Skip is quick. 30 minutes is added to your time, but there are no time restrictions for it to make a real difference. I found the adventure game play very hard. There never seemed to be anything I could do. The journal is quite good, but there?s no map. Somehow, however, I battled on without the walkthrough. COMBINED IMPACT This is the first Mystery Case Files game that is a HOPA, and I imagine it caused quite a stir at the time. While I still am uncomfortable with the graphics, this game is doable. But it is also a tough game for those of us spoiled by all the help we get today. It really isn?t my cup of tea, but as a DD or punchcard game, it?s not bad. Particularly if you like dark games, or are a collector.
January 21, 2014
The Apple logo is a trademark of Apple Computer, Inc.
The Windows logo is a trademark of Microsoft, Inc.