Mystery Case Files: Return to Ravenhearst ™
WINNER! Best Game of 2008!
Emma`s soul is free. But her ghost has delivered a dire warning: evil still lurks in Ravenhearst Manor. Big Fish Games Studios takes you deep inside the cursed estate in Mystery Case Files: Return to Ravenhearst ™, the thrilling sequel. Experience Ravenhearst`s spectral halls as never before with new immersive adventure-style gameplay and an epic original soundtrack. Feel the floorboards creak as you move from room to room solving puzzles and seeking out clues in over 150 detailed scenes.
The biggest MCF game to date
Immersive gameplay
Game System Requirements:
OS:

10.4, 10.5 (recommended)

CPU:

1.83GHz

RAM:

512 MB
Game Manager System Requirements:
Browser:

Safari 4.0 or later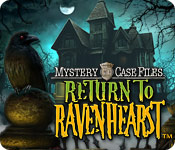 NEW299
The Big Fish Guarantee:
Quality tested and virus free.
No ads, no adware, no spyware.

Reviews at a Glance

Mystery Case Files: Return to Ravenhearst ™
0
out of
5 (
0
Reviews
Review
)
Customer Reviews
Mystery Case Files: Return to Ravenhearst ?
171
171
Utterly Frustrating!
I do enjoy a challenge, but I don't like to be frustrated. I completed the first Ravenhearst with no problems and enjoyed it enough to get the second game. This one, though, does not allow you to SKIP all puzzles, just certain ones - and provides no hints when you get stuck! There is no blog. You are stuck buying the strategy guide which costs as much as the game. I was very disappointed - I'm at a level that I can't get past!! It loses points in Fun Factor for being so annoying.
November 25, 2011
Bad game
The HOS in this game are obscure, and the hint button not only takes forever to charge, it shows a very large area that you still have to search through. There are no hints, maps, etc. to help you, as well as no instructions on puzzles. The skip button is fairly fast charging though. The story is dumb. The music is annoying. I found this whole game to be annoying as a matter of fact, and not fun at all.
March 24, 2012
Ditto what the others are saying.
Wish I hadn't wasted my money since there are not enough clues about some of the puzzles. The further you get in the game, the less clues there are until there's nothing to go on at all. I'm stuck in a spot & unless I buy the Strategy Guide (not spending money on that when other games give you a free blog walk-thru!) I can't finish this game.
April 6, 2012
Only for HOS-obsessed players...
...which is okay if you are. But I felt driven to write a review based on the demo - which I *never* normally do because I feel its only fair to play all the way through - but games like this get inflated ratings because the people who prefer a balance of HOS and other features can't make it past the demo and end up never reviewing it. Then more and more of us HOPA-lovers get caught up when we see the great reviews and think, what the heck, I'll give it a shot!...just to waste our time. If you love HOS-centric games, this is for you. It has slightly more adventure than the original Ravenhearst (from what I could tell#, but that's not saying much since there was zero adventure in the original. I read a bunch of the reviews for this follow-up game and everyone said it was better than the first and not as HOS-centric...but again, I think that's just a comparative thing. The music, creepiness, acting, etc. - all fine. I just can't stand slogging from one HOS to another - more time spent in the HOS during my trial run than anything else. Sorry, I know it's personal preference, but that is way too mind-numbing and tedious for me. I like HOS - in moderation - and intermixed with lots of adventure, story, and puzzles. I wish more people like myself had forewarned me about this one before I wasted an hour of my life on a game that looks like it would be wonderful - minus the HOS. PS - Why, oh why, is it that we can skip mini-games #which I rarely do) but never HOS??? At least then I could have found out the details of what happened in the original Ravenhearst, and this one.)
January 22, 2014
What happened in Blackpool should have stayed in Blackpool
I couldn?t remember if I liked this game as it as been almost 2 years since I first played it. So, I played again today and found that I really don?t like it. The graphics are better than Ravenhearst, but there are still grainy, unclear HOScenes that really strain my eyes. By the end of the game my eyes were burning and incredibly tired. I liked only a few of the puzzles in this game. But, perhaps one of the reasons for that is that there is no help feature in the puzzles. Your only options are to exit the game and try to find help in a forum or skip the puzzle. I could have finished all of the puzzles if there had been a hint feature nudging me in the right direction. I know this because I did exit the game a couple of times and found a solution. I was very close each time, but just needed a little more info to figure out not the solution, but how the game was to be played. The hint feature in the HOScenes was horrible. It took 5 minutes for it to reload. FIVE minutes of sitting and waiting for it to reload so that I could use it again for something else too blurry to be recognizable. I actually found my stepladder and changed a burned out light bulb in less time that it took for the hint to reload. The hint feature in the regular game play was also sorely lacking. If you ?showed? it an inventory item it would give you a snapshot of where that item is used. No text, just a picture. The item I tried this on was used in an area of the game that I hadn?t yet received access to so this was a total waste. Then I had to wait 5 minutes for the hint to reload. There was no hint feature that helped you when you needed to know what to do next. Again, if you were stuck you had to exit the game and try to find someone?s forum or walkthrough. The soundtrack was OK, but I did have to mute it couple of times as it was getting on my nerves. The storyline was OK, but nothing exceptional. On the whole a wasted purchase for me.
November 21, 2011
HOPA, Heavy on the Hidden Objects!
Review of entire game, NOT the demo! This game is the sequel to Ravenhearst as most people know. I honestly want to know what the attraction is to these first two games in the Ravenhearst series. They are not as great as the rave reviews state. I am hoping the third installment improves greatly as so far I am not impressed. This installment is a Hidden Object Puzzle Adventure game with the majority of the emphasis on Hidden Object scenes that are blurry and cluttered junk piles. I seriously do not like Hidden Object scenes where items to find are A.) defying gravity (a doughnut floating in the sky, really??) and are B.) historically inaccurate. The puzzles were not very challenging either. In honesty, the main challenge was trying to find the Hidden Objects but that was due to eye strain with the graphics. The hint did not really help to much and when you utilize it or a mini game skip it tacks on 30 minutes to your cumulative game play time as if to punish you. The game only took me 3 hours to complete (I timed myself with my iPhone) but my total game play time upon completion was nearly 10 hours! On top of the hint/skip use penalty the time to charge between uses was insanely long. Overall, I do not recommend this game unless you like Hidden Objects with a passion and even then I'd wait until the game is on a Daily Deal.
November 26, 2012
Horrible Game, Torturous Pace
I know the Ravenhearst franchise is liked by many and did well, I can't argue with that. But the problem I have with this game was the pacing. Let me explain. While ADVENTURES is my favorite genre and should be at a slower relaxed pace, this game just occurred in starts and stops. You would visit one location, then BAM get hit with a hidden object screen. Go to the next location, then BOOM another hidden object screen. And so on for most of the game. Worse, the hidden object games were very difficult and the graphics were dark and blended in, pure torture!! Most of the time the inventory held almost no objects, giving the game a linear, boxed-in feel to it. And even worse, the puzzles were almost completely illogical. I just gave BLACK ISLE a 10 out of 10, play that game instead. This one feels like it was just "thrown together" out of having to fulfill a franchise obligation.
April 14, 2012
I just wanted to be over
I play many MCF and I like them all so far, but this one, was tedious. The story line was pretty good but some of the hidden scenes are fuzzy and hard to make out at times. I understand they want to make things challenging but its puzzle within puzzle within puzzle with very little clues. For experts it might be good not for casual players. It just didn't keep the game moving for me and I lost interest in it fast and struggle to complete the game.
May 13, 2012
waaaaayyyyy to many HO's
I enjoyed the puzzles that weren't HO's and a few HO's are fine but there were about 5 times as many HO's then other puzzles and what makes it really bad is that half the items are near impossible to see, either to small, to covered up, or the part that makes the item recognizable is hidden, also I never heard of many of the items. The labeling of the item in many cases was horrible to. And then when I was so sick of HO's and just wanted the game to end, what do you suppose the finale is? ALL HO's. you get to revisit every place that has a HO and do it again. They also need to add different music as well because it gets very repetitive very fast. So if you absolutely love really challengeable HO's and don't mind the same music and sounds over and over, then this one is for you. I also had pretty much the same issues with the predecessor to this, ravenhearst.
August 24, 2013
Worst Ravenhurst out of the three
This was the worst Ravehearst game of the three. First two held my interest and was looking forward to this one. Boring from the first chapter. If this is the best they can do, I hope they don't do any more in this series. Did not like morphing scenes replacing hidden objects. One every now and then is fine.
January 29, 2013
The Apple logo is a trademark of Apple Computer, Inc.
The Windows logo is a trademark of Microsoft, Inc.