Pahelika: Secret Legends
Long ago the ancient book of legend, Pahelika, was used to defeat an evil warrior-king. In order to protect the book, it was hidden and guarded in a secret temple. As the descendent of the original wielder of the book, it is up to you to prove your mind, body, and soul worthy of the magical artifact! Advance through unique tests, and travel to a mysterious world in Pahelika- Secret Legends, an exciting Hidden Object Adventure game!
Clever puzzles
Detailed environments
Find Pahelika!
Game System Requirements:
OS:

Windows XP/Vista/7/8

CPU:

600 Mhz

RAM:

128 MB

DirectX:

7.0

Hard Drive:

89 MB
Game Manager System Requirements:
Browser:

Internet Explorer 7 or later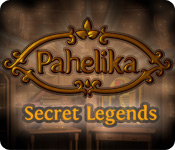 NEW299
The Big Fish Guarantee:
Quality tested and virus free.
No ads, no adware, no spyware.

Reviews at a Glance

Pahelika: Secret Legends
0
out of
5 (
0
Reviews
Review
)
Customer Reviews
Pahelika: Secret Legends
19
19
Twisted from reality
What an interesting game. You really need to have your wits about in order to progress. But, so interesting and good excercise for the grey matter.
March 13, 2012
Tough but fun
I am not sure why I liked this game so much but I did. It makes you think a LOT and as you go along you get better at it. I needed the walkthrough a few times, and even a youtube video once for a slider (no skipping allowed) but the help was there, and there were even a few hints given after a time on some of the puzzles, automatically. I adored the guy's voice and always looked forward to him talking. No graphics to speak of, no cutscenes..just a really puzzleful game of good length and quite addicting. I truly think you need this game before going on to the second one which I am starting now as just finished this one. Surely, not everyone's cup of tea, but I truly enjoyed it, and I am one that usually does not like puzzles much at all.
March 23, 2013
Fun
I really liked it. it was a series of point and click rooms which I'm totally into.
April 3, 2013
This is mainly a puzzle game
I would not class this as an adventure game at all but more of an point and click, interactive puzzle game. So for puzzle lovers, who are tired of hogs give it a try. If you don't like adventure games because you don't know where to go next this is for you. It starts out very easy but then slowly gets progressively harder, but the hardest bit was trying to find the items and go through all the combinations of combining!** There are 6 different self contained chapters or small areas. In each area there are a series of things to find, combine or use in solving or finding a way out of an area. And most were sort of a step by step puzzle. In amongst these chapters there were mini games. Jigsaw, slider and guess the next sequence, you had to play each of them 6 times. There was also a match pairs which you played twice (I think). This took me as long as a good length HOPA, so don't go expecting a long adventure game but it is a good length game. I am a puzzle lover, but sadly everything in the garden isn't rosy - Sadly it doesn't give you an option to play without sparkles and they are everywhere! Once you drag your mouse through part of a scene that will be interactive it will keep sparkling. But for those of you who love sparkles don't think great, as weirdly enough there aren't sparkles on most things you have to pick up and the sparkles actually distract your eye making it harder to find some items. Also some items are really hard to find and tiny. The curser doesn't change to let you know if you need to pick up an item or place it somewhere. Sometimes I had the right idea but just was an inch to far, so some hot spots are hard to find. But thankfully there is no random click penalty. You combine certain things in the inventory but you have to try dragging "B" onto "A" as well as "A" into "B" or it won't combine, this was a bit frustrating.** The plot was weakest part, it was told through cartoon cutscene with a voiceover so if plot is vital for you, you will be disappointed. Throughout the game there were a mixture of 'riddles' but mostly these were illogical. I love the concept of the game, but all those negatives REALLY distracted from my enjoyment and so I was frustrated at times. Those sparkles gave me a headache! But if you don't mind the above and are a puzzle lover then I do recommend it for you.
August 18, 2012
I lost interest
What at first seemed to be an interesting, promising and challenging adventure game, finally turned out to be an empty shell. I raced through the first chapters... no challenge, no difficulty at all ... and then the same puzzles came back again and again ... everything repeated itself, chapter after chapter. I don't mind the absence of hint buttons, maps or other "goodies" to guide you through a game - there were none of these in Myst or Syberai - as long as everything is logical and doable. The only idea the dev's of Pahelika thought of to make their game more "difficult" is to face the player with three digit locks without indication anywhere of how to deduce the solution... which leaves you with nothing but a tiresome trial and error. Same story with other "puzzles" where the logic is totally absent. Add to this the poor graphics and a non existant storyline, and it is clear why I didn't finish the game a second time... I lost all interest.
August 16, 2012
Short and Dull
I wanted to like this game but it was over before any interest developed. I certainly don't think it was worth the price. It was very short and very easy although not always logical. I prefer adventure games to HOG but there are so few offered that I decided to try this one and was disappointed with the gameplay, the puzzles, the graphics, and the storyline.
March 27, 2012
AWFUL
I lost interest in this game when some of the scenes you cannot figure out!! You try everything and nothing works!!! would not recommend this game!!
October 27, 2013
What a silly game
I get the feeling this one is geared more toward children than adults. There isn't much of a story, you just sort of wonder to these magical times/places and solve some puzzles to bring you back home. The puzzles are easy, and the narration is dumbed down. I gave it an extra star for pretty good visuals. But no go for me.
January 26, 2013
Thought it would be like Myst... WRONG!
I was very disappointed. I had hoped for a Myst-like adventure game with sophisticated mechanical puzzles and unique scenery, but this was definitely not it. This is obviously an old game. Graphics were fuzzy, objects were mostly tiny and unrecognizable. Puzzles were not fun and very dated. It appears that the creators used the Myst concept -- the book, falling through a void to different locations -- but the artwork was comic-like and the locations were not attractive. I was glad it was so short... really could not have stayed with it much longer.
June 28, 2012