Aveyond: Lord of Twilight
Young Mel, a common street thief, is about to have her life turned upside down. An evil vampire is poised to take over the world and all of humanity, and only Mel can stop him! Explore lush tropical forests, arid deserts, and mystical woodlands as you battle monsters, collect gold, and solve puzzles in this exciting Strategy game. Aveyond: Lord of Twilight takes you into a fantasy world full of fun and excitement in the first chapter of the Orbs of Magic series.
Explore dozens of lands
Raise pets and collect eggs
Save the entire world!
Game System Requirements:
OS:

Windows XP/Vista/7/8

CPU:

600 Mhz

RAM:

128 MB

DirectX:

6.0

Hard Drive:

72 MB
Game Manager System Requirements:
Browser:

Internet Explorer 7 or later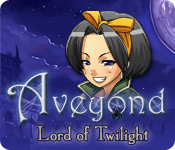 NEW299
The Big Fish Guarantee:
Quality tested and virus free.
No ads, no adware, no spyware.

Reviews at a Glance

Aveyond: Lord of Twilight
0
out of
5 (
0
Reviews
Review
)
Customer Reviews
Aveyond: Lord of Twilight
8
8
You'll find no better story-based game on Facebook.
Aveyond would have been phenomenally popular back in the late 80s & early 90s. It's definitely up there with Zelda & Final Fantasy 1-6. Aveyond's humble beginnings started with a freeware game called Ahriman's Prophecy, but it had a terrible interface & frustrating controls (but it was still worth it). Each game was considerably better than the last. Aveyond 3 was broken into 4 episodes & together make one exceptionally long game. When it was over, fans insisted that the developers make a 4th game, which is begin worked on now. Aveyond 3 game saves can be transferred & loaded into other Aveyond 3 games, so all your inventory, party, & story choices pick up where you left off. The order of the games is Aveyond: Lord of Twilight, Aveyond: Gates of Night, Aveyond: The Lost Orb, & Aveyond: The Darkfthrop Prophecy. The characters are amazing & the story really grabs you. You can also make choices that effect the game in small ways. If there was a novelization of this book, I would absolutely read it.
May 19, 2012
Vampires, Magic, Thieves, Oh My!
This is an excellent start to an excellent series. Each character has their own personality, which is a welcome treat when many games just don't expand enough on character development. Most of the challenges found in the game can be completed with ease, though some do take a bit of work (particularly in the first stages of the game). There are even some hidden surprises if people want a faster, easier play through. I'd say that this is a definite must for anyone who loves RPGs. :)
March 20, 2012
Aveyond series
Think of this game as Aveyond 3, part 1. I recommend starting here to understand the storyline, as there are four parts to this version in the Aveyond series. (all four can be played as stand-alone however) Great old school RPG game. Excellent gameplay and storyline (love the vampire humor) I highly recommend all games in this series, including Aveyond 1 and 2
June 18, 2012
excellent RPG- you'll be hooked on the series!
A must for RPG fans, the first of four (so far). All the things you love about RPG, weapons, quests, items, magic, etc. So much to do, you need to explore and reexplore to do everything! The characters are interesting and imperfect, esp Mel. A game you can play again and again, with different choices. There are 3 levels of play, easy/normal/hard. There are also well hidden "goodie caves" that basically give you the best equipment,spells,etc- however to me that ruins the fun of advancing level by level. Still it's an interesting touch for those who like that sort of thing or are stuck in a battle. Definitely recommend starting with this one and playing in order the "named" Aveyond games (Lord of Twilight, Gates of Night, Lost Orb, Darkthrop Prophecy). Aveyond 1 and 2 do not need to be played in order to play this, but they are good RPGs also
February 20, 2013
Amazing Series!
A great beginning to a great series! Aveyond continues to impress with a great balance of storyline and RPG style fighting. Choose your difficulty level, transfer your characters and their inventories from one game to the next within the series, and made decisions that affect the storyline.
July 3, 2014
Great RPG
My first RPG and now I am hooked on the world of Aveyond! The characters are so much fun to play. There is a good balance of difficulty in new areas so you can level up adequetly mostly by just fully exploring each area before moving on.
December 3, 2012
all aveyond series
brilliant game easy to play and very colourful
November 15, 2011
The Minority Report
Okay, I see I'm the minority here in thinking that this game wasn't all that great. I heard so much praise about it, that I thought it had to be at least decent. So I got it, and I really did try and like this game, but, erm, no. Fortunately, there were some good parts about the game that I did like: -I liked the music and how it ranged from sweet to somber (Heck, some of the tunes were even catchy!). -Big points to the ambient sounds that played when in a cave or forest. I thought that was a nice touch. -The graphics were actually quite nice and at least the portraits didn't look like they were drawn by a 12 year old who decided to use their non-preferred hand to draw. -I also liked the detailed layout of each town, forest and cave. Feels like time was actually spent on planing and organizing each layout. -You can see the monsters walking around with you, so you can avoid battles if you don't feel like fighting. -The actual battling is like "Meh". Didn't hate it, but didn't love it. -And huge points for being able to play a female protagonist! -I liked the idea that the game was broken down into a series of games to explain all of the lore from past to present [But, I don't want to learn any more about the lore, thank you very much -_-]. Sadly, these things weren't enough to keep me playing. I had to start forcing myself to play the game until I just couldn't take it anymore. And here's why: -While the music was nice, the same track was not only too short (Thus, repeating over and over again!), but was played too often in different towns and scenes, making me want to mute the sound. -The storyline was waaay too cheesy and waaay too clunky feeling. It seemed as if the writers didn't know how to transcend from one event to the next, so, well, they just sorta skipped it. Without giving anything away, one scene in particular that they skipped was one that I felt could have been an excellent way of not only adding to the plot, but also used to build up character, friendships and thus helping us to get to know the NPCs a lot better [Due to this lack of story/character development, this also made the 'romance', in my opinion, come off as really immature and juvenile]. Also, didn't seem to care about what was going on. I just didn't want to find out, and the plot seemed to be lacking urgency. -Speaking of lacking urgency, I think this was because of the characters, who I started to feel like I wanted to kick in the side of the head for their behavior. They all seemed to range from "Anime", "Cliche" to "Realistic" at random intervals, making it hard to like them, or even get to know them. ALL of the characters I came across suffered from Passive-Aggressive problems, and could be summed up as: "I love you-but I hate you!", "I hate people-but I help everyone!","I can do this on my own-But help me!", "I'm super smart-but too stupid to spot the bloody obvious!". -I'll spare you my long rant on this matter, but somehow the males within the game managed to undermine all of the female characters in and out of battle. Just...wow! -You have to go up and out of your way to train your characters up on this game (Which I love to do). -The scaling of the sprites and maps were a bit too small, having the environment come off as way too big and overwhelming to explore. It was like they were given a preset amount of layout space, and because the sprites were so small, it gave them more room, and more room meant more stuff was added to fill all that space. At times, it felt like a chore to walk around in a town. This is pretty much all I could think of. But these reasons alone are why I wouldn't recommend this game.
November 16, 2012