World of Goo
Drag and drop living, squirming, talking globs of goo to build structures, bridges, cannonballs, zeppelins, and giant tongues! The millions of innocent goo balls that live in the beautiful World of Goo are curious to explore, but they don't know that they are in a game, or that they are extremely delicious. This addicting and awe-inspiring Puzzle game will set you on an adventure that you'll never forget!
Clever physics system
Unique gameplay
Live in a World of Goo!
Game System Requirements:
OS:

Windows XP/Vista/7/8

CPU:

1.0 GHz

RAM:

512 MB

DirectX:

9.0

Hard Drive:

79 MB
Game Manager System Requirements:
Browser:

Internet Explorer 7 or later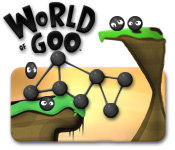 NEW299
The Big Fish Guarantee:
Quality tested and virus free.
No ads, no adware, no spyware.

Reviews at a Glance

World of Goo
0
out of
5 (
0
Reviews
Review
)
Customer Reviews
One of the best physics based games ever!
Obviously one of those games with a lot of thought put into it, kudos to the developers of this one! Physics based games are some of my favorites and I rank this one up there among the top, easily the best one for PC! The look of it is very stylized and fits nicely together with the storyline, music and overall tone of the game. On top of that the game play is very smooth and easy to pick up on, but the levels are still challenging enough to provide a little exercise for the old grey matter. Clues along the way are provided by the mysterious "Sign Painter" character and help nudge you in the right direction but without giving away the answers outright. Easily one of the best games I have played all year and my only complaint is that now that I've beat it I have no new levels to look forward to :( They should definitely make a sequel! In the meantime, I guess I'll just have to work on getting the OCD achievement on all levels ;)
April 4, 2012
My favorite game
I have spent many more enjoyable hours on this game than any other in my collection. I bought it off the shelf before BF offered it. I reached the end at least five times and yet I go back and try to improve on every stage that I've finished. Finishing is fairly easy but improving on your former finish is as difficult as you want to make it for yourself. The animation is crude but the artistry is cruder and it took me a little while to accept it's eccentricities. But then the music becomes part of the tone of the situation and you are off to solve another structure riddle. One of the best parts is that you can continually build a goo tower and compare the elevation you achieve in real time with other tower builders from all over the world! There is no intimidation. Just build a tower. There are always shorter and taller ones. This game might not be for everyone. I enjoy problems involving physics. Goo ball properties include weight and sag and elasticity and gravity and wind and adhesion. It sounds complicated but I found the learning process to be both painless and entertaining. I feel a need to emphasize how mesmerizing the music is. I thought MHO was my own until I found the following that TWOG music has generated. Fans have been begging for a sequel for years. I highly recommend this game. There is nothing objectionable about it for any age. In fact, I encourage my children to try it. Except they are in their 30's and don't always take my advise.
May 19, 2012
Why has this game not got a 'hot' rating yet?
It should have! This game is amazing....stunning original graphics and soundtrack, darkly humorous, sort of Tim Burtonesque, while being a real challenge for children and adults alike. My husband is a structural engineer and wishes this had been part of his degree coursework. One of the only games that truly fits the 'brain teaser' category while being fun. A complete break from hidden objects and match three rubbish.
April 13, 2014
Very interactive game
Love the little goo guys. Very interactive, and easy to navigate. My young teen loves it as well.
November 7, 2013
Challenging, but fun game!
This is a wonderful game! World of Goo is challenging, beautiful and fun. The point of the game is to get cute little goos (yes, they are cute) across the map and to safety. It's not as easy as it sounds. The goos face many hazards on their path and there are several types of goos, each with different attributes. Don't play this game thinking it will be easy. There's no quick way to get through the challenges. You have to work each of them out yourself. If you are ready to challenge yourself and play with the cute little designs, then please check out this game! :) A side note to fans of this game. You might check out Your Doodles are Bugged, which I linked on the side. It has many elements very similar to this game and is also a lot of fun.
March 29, 2012
ok game
this game is ok fun yet a small bit boring so i gave it a liked it rating.
April 21, 2012
Better than my imagining games!
Sooo cool! please put the FV free! ( FV i really mean F ull V ersion )
December 24, 2012
The game king
I played it.I beat it.SWEET!Loved absoulutely loved couldn't find a better game.This game, is the king of all games,it was THE BEST game I've ever played in my life.I played part two to it was stupid, a peice of stupidness, but anyway this is the sweetest game I've ever played so far other than BioShock but we're talking a bout computer games.I want to say my final thing which is the following: Who in the world wouldn't play THIS game.I definiely reccommend THIS.
July 13, 2012
great game
i think it's a very nice game the charecters and the scene it loojks that it will be from the best games
September 28, 2012
Cute game
I thought this game was really cute because of the talking "goo" balls you build with. It starts easily enough, but gets far more complicated- including grinders to kill your goo. It also has a feature where if you collect excess goo balls on a level they go to a seperate room, where you can build a tower and see in the background if your tower is bigger than someone in your, or another, country. The game's fun for kids as well as adults : )
February 16, 2012
The Apple logo is a trademark of Apple Computer, Inc.