Enlightenus
A reclusive author has asked for your help! Travel to the mysterious world of Enlightenus and use your detective skills to track down Edgar Lee`s missing novels! Explore an entirely different maze full of perplexing puzzles and intricate locks, as you collect each chapter of the missing books. This unique Hidden Object Adventure game challenges you to solve each riddle in order to escape the land of Enlightenus!
Unique gameplay
Find the missing novels!
Game System Requirements:
OS:

Windows XP/Vista/7/8

CPU:

800 Mhz

RAM:

1024 MB

DirectX:

9.0

Hard Drive:

164 MB
Game Manager System Requirements:
Browser:

Internet Explorer 7 or later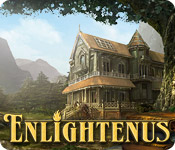 NEW299
The Big Fish Guarantee:
Quality tested and virus free.
No ads, no adware, no spyware.

Reviews at a Glance

Enlightenus
0
out of
5 (
0
Reviews
Review
)
Customer Reviews
This Game Felt Like A Big, Warm Hug
If anyone that knows me personally sees the title of my review, they'll probably have a heart attack because to say such things is NOT in my nature. I'm not a fan of HOG games but this is basically an un-HOG? A de-HOG? Anti HOG? You should check out to see just how lovely (omg I said lovely) Enlightenus truly is. It had a kind of a homemade feel, if that makes sense. In fact, at the very end of the game I guess we DO get proof of the individual care that went into making it. I'm really surprised. I hope that other developers can learn a thing or two from these guys.
January 26, 2014
A change of pace
I recently found this game, and it is absolutely wonderful. So very different. It is an older Blue Tea game, but the visuals and music are great. The puzzles are very very challenging but fun. You are putting items back into scenes to recreate pages missing from books. If you haven't yet tried this game, I highly recommend at least playing the trial. I loved it
February 3, 2014
Very good pastime
A trip back in time leads to search a way to help a writer to come back to his time, because his time machine has broken. A game that brings something new, fun and different: instead of finding hidden objects, the challenge is to place objects in scenes, in the right place.. The bad part is that the scenes in which objects should be placed repeated a lot, although the objects and their places are different. In each chapter, when you complete what has to be done, you get chips (concerning one or more subjects, such as "profession") that will be place next to a picture. When the frame is complete, the location change. Graphics are clear and well done and sound is really pleasant. The game itself is not a big challenge, but it is very relaxing and entertaining!
January 24, 2012
Something different!
Sometimes it's nice to play something thats a bit different to the usual formula. In this game instead of taking objects out of a scene you put them back in. For example you have a banana in your inventory and you look around the scene until you find a 'hungry gorilla'. My only complaint is that it isn't long enough, I completed it in around 3 hours. If you are looking for a relaxed and fun game you won't go wrong with this one!
November 28, 2011
Fun Hidden Object Game
I enjoyed playing this game, although sometimes I found it to be fairly simple. The hidden object scenes are variation on the norm with a twist, you have to match the picture in your inventory with an item in the scene - the items aren't an exact match, but a relationship match, like putting flowers in a vase. My only dislike of these scenes is when you revisit them the 'fixed' items are re-broken. The game also has great graphics & fairly interesting mini-puzzles for the most part. Not bad for an older game.
November 22, 2011
Please .... Enlighten Me!
I read all the reviews that said this was a fantastic game ... an easy game ..... HOGs and mini games and not much more. I found it extremely difficult. I'm sure I am in the minority here. Storyline: A renowned author has asked your help in restoring his books. he invented a machine that takes him to all sorts of times and places and that's what he uses to write his books. Unfortunately, something went horribly wrong and all the pages of his books are scattered. Not only that, but the stories are not in the correct books! Find the pages and put the stories in their correct order. That's what I got out of the opening scene. Graphics: Seemed very old. Everything is dark and dreary. Sound: The background music was fine - not annoying at all. Really, nothing regarding sound effects. Game Play: Here's where I became completely lost. According to the opening scene, I needed to help the author find his book pages, then resort the chapters in their correct books. However, nothing in the game play was even remotely book related nor page related. I went from room to room, after being transported .... somewhere .... than the machine broke. In each room, I played and HOG, received items, went to find the place to play the mini game and move on. I just didn't get it. HOGs: Not your run-of-the-mill HOG. Instead of looking for an itemized list of objects, you had objects you had to place in their proper location. Some quite unique. For example, put the heavy stone in the basket, which lowers to show a carrot hanging from a tree. Put the bunny on the hanging carrot - now you have placed 3 items and have a hanging bunny. Ok, someone has a sense of humor. The HOGs were very dark and muddled with dozens upon dozens of objects. I found it somewhat difficult to do - definitely took brainwork and patience and time (not enough in the demo to finish many of these). Mini Games: You receive buttons upon completing the HOGs and have to find out where to put them - correctly. Then, the mini games - no instructions whatsoever. You seriously had to figure out what to do and how to do it. If you choose to skip the puzzle you lose all your "E" cards. Don't the know the purpose of those either. Someone said they were hints but that's not true because when I used a hint I didn't lose an "E" card at all. Hmmmm - another mystery. This game just had no direction at all. While I thoroughly enjoyed the HOGs and figuring out and completing the mini games, this game left me entired confused. Neither the HOGs nor the mini games seemed to have anything to do with the storyline. For this reason, this Glam-ma will not be purchasing this game. I do, however, encourage everyone to try this game. The demo is a free hour of play and you just might be able to figure out what I couldn't. LOL Happy Gaming to All!
June 18, 2014
Enjoyable
I'm not huge on HO games myself, but I enjoyed this one. I thought the HO's were different and interesting. The game itself wasn't very long though which would be why I didn't give it a higher rating.
April 3, 2013
Don't Bother!!
There are a LOT of HOS games I absolutely love but this one I've wasted my money on. Don't get me wrong; if you love looooooooooots of HOS then you will really enjoy this game. In fact that's just about ALL you do here. Yes, they're a different type of HO, some are a challenge and they'd be fun to do IF you didn't have sooooooooooooooo many of them. There was hardly any real story....it was just HOS. Try the demo before you buy. I can guarantee by a few little chapters you'll be fed up with HO. The game is also very short in comparison to most other games. Don't take my word for it.....try the demo.
November 11, 2012
No junk piles!
There's one good reason to play the game. The objects are hidden individually, which I loved. What ultimately dissuaded me from buying the whole game on PC, is that it just wasn't beautiful enough. It's a good game for an iPod, and I'll make sure to get it on there if I can. But one of my criteria for a PC game is that it be visually stunning, and this one falls short.
June 15, 2013
EXCELLENT GAME FOR BEGINNER
This game was beautifully done with plenty of HOS. However, it is an extremely easy game and doesn't take long to play. It's very enjoyable and I think a great game for someone new to the genre. This game is artistically exquisite, keeps you involved until the end and offers plenty to the casual gamer. I would have given it more stars had it been more challenging. If you're looking for fun, give it a try.
May 7, 2013