Return to Mysterious Island 2: Mina's Fate
Exclusive
Help Mina and her monkey, Jep, escape a Mysterious Island! After being trapped on the island, and discovering its ancient secrets, Mina is finally able to send out an SOS and rescuers soon appear. Return to Mysterious Island 2: Mina`s Fate finds these castaways barely making it to their seats, when a missile strikes the helicopter and sends it into free fall! Escape from the wreckage of a helicopter and return to civilization in this Large File Adventure game!
Game System Requirements:
OS:

Windows XP/Vista/7/8

CPU:

1.6 GHz

RAM:

256 MB

DirectX:

9.0

Hard Drive:

3411 MB
Game Manager System Requirements:
Browser:

Internet Explorer 7 or later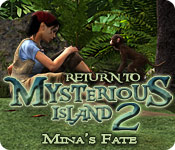 NEW299
The Big Fish Guarantee:
Quality tested and virus free.
No ads, no adware, no spyware.

Reviews at a Glance

Return to Mysterious Island 2: Mina's Fate
0
out of
5 (
0
Reviews
Review
)
Customer Reviews
Return to Mysterious Island 2: Mina's Fate
19
19
Just... WOW.
What an adventure! I was hooked non-stop for 3 days. I played the first game and liked it a lot, but this one was just FANTASTIC! (Not necessary imo to play the first game to understand what's happening and get into this game) If you like adventure and a good story you should play this! I am so glad I put my reservations aside about purchasing a game without a trial and went for it. It's also a very long game and I mean long, so you definitely get your money's worth. Graphics, controls, voiceovers, story, etc... were wonderful. Got to play as both Mina and her little monkey friend which was fun. It was definitely a challenge at times and I did have to look up a strategy guide a few times, but it was still an extremely enjoyable and relaxing game. This game is most definitely in my personal top 5 favorite games of all time. Right up there with Syberia (if you are a fan of Syberia then this is a must play game, even gameplay imo is smoother as far as moving around, using inventory etc) I want more games like this one for sure. And it's family friendly, my toddler enjoyed watching the monkeys interact :)
March 30, 2012
Great adventure game
I recommend this game because it has: very interesting story, beautiful music in the background, nice graphic, many puzzles, two playable characters and we can combine items to make tools. Many hours good fun :)
November 15, 2011
Wonderful sequel to the first part of Mysterious Island
This game is the sequel of "Return to Mysterious Island". It all starts with the end of Part one, the rescue of the main character. By accident she could not be rescued and together with her ape (which she made friends with in part one) she has to solve more riddles to get in contact again to the outside world. As in part one some riddles are easy to solve, others are quite tricky. In this game you have to decide which of the characters you play. Depending on that you can or cannot solve some things. As already in part one, you have superb graphics, full of details. You will be caught by the setting once you play. Although this game can be played by itself, I recommend that you should play "Return to Mysterious Island" first, to get the story.
April 2, 2012
Better than the first game in the series - play that first
I finally got this game working after years, (found the right nvidia driver to roll back to) and just finished it. It took me on a journey with highs and lows and I ended up loving this game far more than the first one, which I really, really recommend you play first although I really enjoyed the first one as well. This KHEOPS game follows off immediately where the first game ended, stranded again on the island. This time you play both as Jeb the monkey who was in the first game and Mina. In case you are wondering if the game would get boring as you are back on the same island, it?s not. There are plenty of new areas to explore, different characters, even some arcade style games all this coupled with playing as Jeb makes this ?new? and fresh. Although arcade mini games are my least favourite type of game, it does have an option to play them in easy mode. Like most LF games you can?t skip any puzzles and you do have to do manual saves. It is a 360 game but you can slow down the camera under options in the main menu and this DEV is the only 360 game I can play because of this. This is really a non linear game and it?s a challenge but if you have played the first game it will really help you out and make that side of it easier. It?s a true adventure game as you have to examine everything, explore everywhere and try everything. If you do you will get extra points from some of your choices. The plot is well rounded and fleshed out and everything explained near the end. There is also a choice of endings and if you didn?t save just beforehand they give you a choice to play the alternate ending. To combine items just drag one on top of the another in the inventory and if there is more items that can be combined with it, it will go into the big box beneath the inventory with a ??? which tells you that you can drag other items onto it as well. I didn?t realise that this box where you combine things had a scroll arrow at the side, so do remember that there could be things there waiting to be combined and you can?t see them! To make Jeb or Mina eat or use some things you can also drag something from the inventory onto their icon in the inventory as well. I thought at the end the game allowed me to use something that I needed but it didn?t (it was hidden in the combined area) so don?t worry the game won?t allow you to do that or it will give you an alternative that you can use. To get high points play around with the inventory ? you can cook and bake! I love that this game has shortcuts that opens up ? transporter map so you can ?jump? from place to place and cut back on the backtracking. This game I wouldn?t recommend for the non patient or those that have never played a true adventure game before, it?s a challenge. I rate it 5/5 for a reason and I play a lot of these! But for ?experts? I didn?t find it frustrating (bar the first nut arcade challenge which I hated and wouldn?t work one time and some other arcade mini games) it was mostly straightforward and I found it the perfect level of challenge. So sorry it's over as it's definitely in the top 3 best ever large file game, I have played here at BF if not the top.
May 12, 2012
Excellent adventure game
This is a true adventure game. You play as Mina and have to search a deserted island for clues and items while trying to solve puzzles. The storyline is immersive; it really draws you in and you feel as if you are part of the story. When I think of adventure games, this is the type of game I think of. It is an excellent game and well worth the price in terms of play time. Pros - Interesting storyline Good graphics Voice acting Immersive experience Progress as slow or as fast as you want to go Cons - Can be a bit challenging to those not used to this style of game I enjoyed both this game and it's prequel, and I highly recommend both.
February 17, 2012
Unforgettable game
This was one of the best series I have ever played. I defy you to play this game and not be touched at the end. It's a beautiful, fun playing game with lots of interesting puzzles and challenges.
February 22, 2012
the best game in big fish really it is
i keep thinking about the game and have to play it again its the best game ever
November 28, 2011
Excellent adventure and puzzle game
I would recommend this game to anyone. Its fun and challenging and you can't beat it really fast so it lasts longer.
January 13, 2012
As good as the 1st one!
This is in my top 5 games to play! It's a MUST purchase!
May 19, 2012
Large file but excellent game
I love large file games. They're like a movie where you interact with the characteres.
November 15, 2011