Return to Mysterious Island 2: Mina's Fate
Exclusive
Help Mina and her monkey, Jep, escape a Mysterious Island! After being trapped on the island, and discovering its ancient secrets, Mina is finally able to send out an SOS and rescuers soon appear. Return to Mysterious Island 2: Mina`s Fate finds these castaways barely making it to their seats, when a missile strikes the helicopter and sends it into free fall! Escape from the wreckage of a helicopter and return to civilization in this Large File Adventure game!
Game System Requirements:
OS:

Windows XP/Vista/7/8

CPU:

1.6 GHz

RAM:

256 MB

DirectX:

9.0

Hard Drive:

3411 MB
Game Manager System Requirements:
Browser:

Internet Explorer 7 or later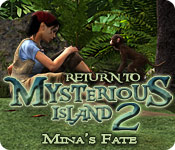 NEW299
The Big Fish Guarantee:
Quality tested and virus free.
No ads, no adware, no spyware.

Reviews at a Glance

Return to Mysterious Island 2: Mina's Fate
0
out of
5 (
0
Reviews
Review
)
Customer Reviews
Return to Mysterious Island 2: Mina's Fate
19
19
Once Again, A Great Victory for Kheops Studio!
Kudos to Benoit Hozjan, Executive Producer and Managing Director of Kheops Studio, Located in Paris, France. They just keep giving us one brilliant game after another, much like HER INTERACTIVE does with the NANCY DREW SERIES. This sequel to "Return to Mysterious Island" is far more complex and even more interesting than its predecessor. Kheops even managed to bring Michel Ardan and his Selenites (Moon People), along with their voices, to this game. I was both surprised and elated! This game is LOADED with puzzles and mysteries, both underground -- in caves -- and on the surface. Mina even has to go underwater with her diving equipment to fix critical wreckage that is blocking the safety of all on the island. She and Jep are confronted by a veritable "army" of vicious and warlike simeons, and even have an "official" council meeting to see what they can do to confront this very real problem. There are alternate endings, and, without giving anything away, I must say that, no matter what your choice, you'll probably want to change it. This was a large and very difficult game that will keep your engine racing right up to the last scene! BUY IT! BRAVO, BIG FISH GAMES!
September 15, 2012
Can I Be Mina Please?
If ever you dreamt of being on a deserted island and living rustically, then this game will immerse you into that environment like no other. I first played Return to Mysterious Island a few years ago when I came accross it at the computer games shop. I was totally wrapped by the gameplay and have played it numerous times since. When I saw this sequel I was overjoyed and knew I had to have it. Immersing yourself in the deserted island life is a fantastic experience and thes games have the ability to really draw the player into the environment. Although there are no hints, etc. it doesn't matter, all the better really as it keeps you guessing and brings out your imagination on how you would carry out the tasks you need to carry out. The tasks etc are so realistic that you can just imagine yourself in the scene. The graphics and sound quality is great. Although not entirely necessary to have played the first game to undrstand this one, having played the first part of the series - Return to Mysterious Island adds more meaning and structure to the gameplay and makes a few things in the storyline easier to understand. I am thankful I was able to reimmerse myself in the island, discover new locations and build on things I had done in previous gameplay.
July 16, 2012
Im in love with this game!
With Return to Mysterious Island, It took me a bit to sink my teeth into. It was just so different for any other game on Big Fish. When I got use to the 360 degree views and the combining of items to make others, I found myself forgetting that I was playing a game. It was like a movie that I couldnt take my eyes off of. I thought, how can they out do themselves with a part two? Let me tell you, First time ever, I just finished part 2 and Im going to start all over again with one. Im sad that its over and want to do it all again. A very long game, ya gotta use your brain for sure, but I would have paid twice what I paid for this game. SOOOOO worth every single penny! I want more games like this Big Fish.....pretty please:-)
October 16, 2012
Love this Game
This game is a s close to the old style RPG as it gets. Great game.
October 14, 2012
The very best!
This game is so unique!!! I've never seen one to match it. It was the most challenging & interesting game I have ever played in Big Fish. The inventory is huge and you combine items to make things that you then combine for even more items. So cool. I don't usually RE-play games but I am on my 3rd time around with this one. Even the 3rd time playing, I still needed a walk-through to help me combine items. It is so intricate. Loved it. If you are looking for an unusual game with hours and hours of playing time...this is the one!
September 5, 2013
FUN with ethics and choices.
You get to play a person or a monkey. The interactions are limited to character you are playing. The choices you make can determine the difficulty of the game. I really enjoyed the 1st game and could wait to play this one. I was not disappointed. I like the maker of this game and will be looking for their other games, Love the adventure, No HOG. Walkthrough available, if you get stuck. May help in combining items. You can pick your options of speed and such @ the beginning or when you return to game. Helpful Hint: You can also go back to a previous save and start from there if you lost an item you can not get back. HINT Save the game after completing something very difficult, so you do not have to do it again. SPOILER ALERT crossing swamp, once it on map then its ok. If they make a part 3, I'll will buy it.
August 4, 2013
Hours of Fun!
I really liked playing this game for relaxation. It is challeging and fun. It was neat to have a "pet" with you through out the game. I hope they come out with another one similar to this very soon.
June 14, 2013
More island survival fun
The first Mysterious Island game is one of my absloute favourites on this site. This second game in the series I found to be somewhat inferior, in particular because it focuses more on the less enjoyable sci-fi aspects of the story and less on the survival aspects and because the new gameplay mechanic where you sometimes control the monkey is not quite as good as the rest of the game. However, it is still a fun game to play, with many interesting challenges. The story is a direct continuation of the story of the first game and you are once again left alone, apart from your faithful monkey companion, on the island. While in the first game most of the story was focused on surviving on the island and the sci-fi elements only played a minor part and were only introduced towards the end of the game, here they are present from early on. I found these sci-fi elements to the story to be less enjoyable than the survival themed aspects and therefore preferred the story of the first game where they played a smaller role. The graphics are as good as in the first game, with high quality graphics for the game environments and black & white drawings for explaining story progression. The puzzles include crafting puzzles, which was the most fun aspect of gameplay in the first game. However, compared to the first game there is a larger proportion of other types of puzzles, many of which are less fun and some of which feel less well integrated with the story than the crafting puzzles do. In particulare, one new aspect to gameplay introduced in the second game is that you now control the monkey instead of Mina in parts of the game. As would be expected you have less options when playing as a monkey, and I found these parts of the gameplay to be less fun. There are still plenty of fun and interesting challenges to be found in the game, however, even though compared to the first game puzzles are a bit less interesting and fun to solve on average. The level of challenge of the puzzles is roughly the same as in the first game. In conlusion, while not as good as the first Mysterious Island game, this is still a fun game that offers more of what made the first game so great but also has some somwhat less enjoyable parts. I would recommend it to anyone who, like me, loved the first game.
October 13, 2012
Bad experience
I enjoyed the first one of this series of games but this one i could not load up properly it was all jerky even with all the suggestions big fish made for me to do, It takes a long time to install and really wasnt worth the money to me wont play anything like this again.
March 31, 2013