Mystery Masterpiece: The Moonstone
An ancient and priceless piece of jewelry, the Moonstone, has been stolen, and it`s up to you to track it down! Investigate every person who was in the mansion at the time of the crime to solve the mystery and catch the crook, in this Hidden Object game! Explore every room of the mansion to find valuable clues in Mystery Masterpiece The Moonstone, and return the jewel to its rightful owner.
Game System Requirements:
OS:

Windows XP/Vista/8

CPU:

800 Mhz

RAM:

512 MB

DirectX:

9.0

Hard Drive:

172 MB
Game Manager System Requirements:
Browser:

Internet Explorer 7 or later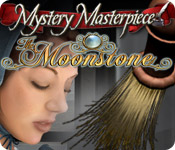 NEW299
The Big Fish Guarantee:
Quality tested and virus free.
No ads, no adware, no spyware.

Reviews at a Glance

Mystery Masterpiece: The Moonstone
0
out of
5 (
0
Reviews
Review
)
Customer Reviews
Mystery Masterpiece: The Moonstone
13
13
Intriguing
I'm finding this game fun & different. It's true that many of the items are hard to find, but that just makes the hidden object scenes more challenging, which I prefer. I haven't failed to find everything in a scene yet. I almost passed this up because of the 1-star and 2-star reviews. I'm glad I didn't! Just goes to show that what floats your boat is different for different people.
June 15, 2012
MID-1800s MYSTERY
Almost 4 hours. STORYLINE: A moonstone diamond for Rachel?s birthday has disappeared and it appears to be an inside job. Help the detective interview the 9 people in the mansion at the time of the disappearance to find the culprit. GAMEPLAY: There are 4 rooms per suspect. The HOS encompasses the entire room, which is somewhat cluttered but orderly. Some of the objects are very well hidden. Occasionally you may need to examine another room to get a tool (such as a scissors, teapot with boiling water) for solving simple puzzles. After each investigation, the detective interviews the suspect and prepares a profile, including his/her testimony and the detectives observations. At the end, you determine who the culprit is. You can skip the interview since it is included in the profile. SUMMARY: Charming and simple HOS with nice voice overs and lovely graphics, appearing true to the mid-1800s circa of the case.
June 1, 2013
Not for the hardcore gamer
I enjoyed the demo very much but read the reviews before deciding to buy, so I used a free game coupon for this and am glad I did. It's not a bad game at all, just redundant in the many times you revisit the same rooms during the game. This got boring quite fast since there are nine suspects to interrogate and you have to scour four rooms for each suspect. Obviously, the mansion has only so many rooms, so you inevitably have to repeat the hidden object searches multiple times for each room. This logic fits the story, however, since the rooms assigned to be searched for each character fits that character's motives so that should count for something on the developer's part. The detective work is done quite well and I think it is the best part of the game. You get a description of each suspect with their possible motivation to steal the diamond from their testimony, and you as the detective come up with your deductions based on the evidence you acquire after doing hidden object searches in the rooms they visited. The adventure aspect of the game comes in the form of minigames where you collect and put together the evidence. You do this by going back and forth between the various rooms where you did the object searches. This is purely a point and click HO game so the adventuring does not come from wandering around the mansion like you would normally do. It works more like a map where you choose which of the four rooms you want to explore first when investigating a particular character. Then you get the investigation report which lists all the information you acquired on each individual suspect, which you can then review when you have to make your accusation as to who you think the thief is. Many of the hidden objects were quite small or hidden a little too well for my liking, but there are many gamers who find this kind of search to be a fun challenge so for those folks, this is the game for you. I love period pieces so the challenge for me was in seeing how different a certain object might look like compared to the modern look I'm used to seeing. The graphics were beautifully colored and I took my time during the searches to look at every little nook and cranny there was because everything was so pretty. However, the graphics in the cutscenes were cartoonish and didn't contrast well with the beauty of the mansion rooms. The other thing I loved was the classical music which played throughout the game. You could mute it if you wanted but I enjoyed it so much since it fit with the time period and overall look of the mansion. Several pieces played and I didn't notice when it looped so it was music that didn't grind on my nerves or annoy me at all. This game is certainly different and not for everyone. I suspect that there has not been much of a demand for it since it's received so few reviews, and most people not recommending it. I'll go out on a limb and recommend you trying it during the demo. Expert gamers who take their gaming seriously will most likely find no challenge in it, but beginners or those like me who like easier games to balance the harder ones may enjoy it. I don't think it's worth paying full price or even half price for it due to the redundancy of the HO scenes, but those who like the demo may find it's worth spending a coupon or credit if either is close to expiring soon. The replayability factor may be gone once you've played the whole thing through since you'll know who the thief is, but I guess that's the case with all games once you know the ending. But do give it a try. It's worth that much.
August 15, 2013
Liked the game
It has a higher level of challenge than most other games in this genre.
February 19, 2013
A fare game
There are a lot of great games out there to play. This one gets boring real fast. I'd spend my money on a better game. check out the best game list and pick something with 5 stars.
August 11, 2012
Different
If you like HO only games, you might like this one. It is different. There is no real story other than that a diamond has been stolen. For each character you search four rooms looking for "clues." The objects are often, but not always, clear and findable, but in my mind they "cheat" in that they will "hide" something completely invisibly in a shadow of something the same color. They are also very clumsy about not putting two kinds of an object in, one by accident. There are times where an object absolutely could be what you are looking for, but they have decided it isn't. The idea of the game is cute but the HOS get pretty boring. After all, you have to go through about 40 of them, with nothing in between. The slightly more complex things are completely unexplained. I would have preferred one room per suspect, not four. Basically I was wishing it would end so I could see what happened. The end was cute but didn't at all make up for the annoyances. Some people might like it - I didn't hate it- and there was not one glitch. Have fun if you try it.
November 6, 2012
Don't bother unless you can get it cheap
The good things about this game: The HO scenes are very pretty, and the music is lovely. HO gameplay is not easy. Many of the objects are extremely well hidden, and this is good if you like a hunting challenge. The bad things about this game: The 'cut scene' artwork leaves much to be desired, and the voice overs are terrible. I skipped all the scenes and opted to read the info instead. Clicking has to be very precise to pick up the HOs, but there is no penalty for bad clicks, so it's not too much of an issue. Hint system does not work well. May as well have not even bothered with that. Story is only mildly interesting. The bottom line: This is a decent game if you can get it on sale. The attractive and challenging HO scenes *almost* make up for the poor story and game mechanics.
July 24, 2013
Average in every way
A good game for a beginner, but nothing to hold the interest of anyone who has played the newer games. I wish they had an option of "Maybe" for recommendation. I'd recommend it for a beginner; also for those who want to play a game that doesn't involve the supernatural.
July 18, 2013
Well, I loved it..
I love this game for one definite reason.. the background music. It really fits the era and setting of this game. I replay this game over and over because of the music. If only I could download them, so that I don't have to play this totally HOG game, I will do it. The hidden object items are same throughout, means it will not go random even though you replay this game again. After several play, you will surely remember where it is. There is mini game but super mini as it only involves you using an item found in a scene. I like the ending where you have to guess the culprit but even though you guess it wrong, you can choose another character, and it goes on until you find the right one. Sadly the music itself cannot save this game, so until and unless you have a game coupon or credit to spare, do not buy this game.
July 14, 2012
Frustration Masterpiece
This game should NOT have been included in the Hidden Objects genre! Just because the player must search for every item needed to progress beyond standing still does NOT make it a hidden object game! This is a BUT FIRST...game--you need to leave the roof top, BUT FIRST you have to find a hook...BUT FIRST you have to find a knife to open the satchel that hides the hook...BUT FIRST, you have to find a strong stick to attach the hook to...You get the picture, I am sure. Yes, the graphics were of acceptable quality and yes, I thought the story line/premise of the game was intriguing, thus I downloaded the game (free download only). It was an exercise in frustration for me. I do not enjoy the But First games, they are usually Adventure games. Of the 75+ games I have downloaded/bought/played here on BF, I haven't come across another as frustrating as this one (thank goodness!). IF you like adventure games that involve major amounts of searching, thinking, seeking and putting items together to make another, then this is a game for you. IF you are expecting a lovely bit of HO seeking, this is NOT the game for you! I hope that whoever is responsible for choosing the genres of the games will be more strict on their qualifications in the future. I just wasted minutes of my life I cannot get back because this game was billed as a HO game...instead a got a whole lot of frustration, searching, clicking and finally giving up! SKIP THIS ONE if you are looking for a HO game with some adventure facets to it--this is totally the opposite and I did not come across any traditional HO scenes in the time I played.
March 10, 2012
The Apple logo is a trademark of Apple Computer, Inc.