Nancy Drew: Ransom of the Seven Ships
Solve a 300-year-old Bahamian mystery and save your friend, Bess Marvin, from dangerous kidnappers in this Adventure game! Nancy Drew: Ransom of the Seven Ships sends you out on the terrifying sea, as you try to track down El Toro`s lost fleet and the treasures hidden within. Piece together clues and beat out the treasure hunters! Can you find the goods and save Bess from the scary situation she`s in?
Intense action
Intricate puzzles
Save your friend!
Game System Requirements:
OS:

Windows XP/Vista/7/8

CPU:

1.0 GHz

RAM:

256 MB

DirectX:

9.0

Hard Drive:

1090 MB
Game Manager System Requirements:
Browser:

Internet Explorer 7 or later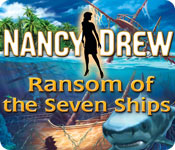 NEW299
The Big Fish Guarantee:
Quality tested and virus free.
No ads, no adware, no spyware.

Reviews at a Glance

Nancy Drew: Ransom of the Seven Ships
0
out of
5 (
0
Reviews
Review
)
Customer Reviews
Nancy Drew: Ransom of the Seven Ships
14
14
Fun mystery to solve, very challenging
Especially compared to other Nancy Drew games, this one was challenging. A funny ending too for long-time ND game players.
April 27, 2012
Awesome!!!!!!!
Really challenging but also fun and addicting :)
July 9, 2012
Nancy Drew: Ransom of the Seven Ships
Personally, being a fan of Nancy Drew and Her Interactive, I thought this game was great. The puzzles were difficult to a certain level and the story line was excellent. The ending is a little inscrutable, but overall a good game.
March 29, 2012
Amazing mystery game!
If you are bored of all the lame mystery games then try this one! Nancy Drew games are fun,challenging,and full of surprises! In this game you talk to other suspects, call friends for help, discover hidden passages, solve puzzles, and of coarse solve the mystery! If you really enjoy this game you should try all 25 of them. Now granite, sometime I get really frustrated on these puzzles, but of coarse there are always cheat codes! Hope you'll love this game too.
January 7, 2012
Keeps true to the Nancy Drew line
I love these Nancy Drew games because they are always challenging but never repetitive. I have been playing from the beginning but decided to get a more recent one to change it up. It did not disappoint!
April 8, 2012
Don't give up!
"Ransom of the 7 Ships" is definetly one of the best ND games I played, and I played more than 75% of BF's ND games. I must admitt, the puzzles are challenging, sometimes really nasty! But there is a lot of help in the www! If you want a lot to do, and a lot to laugh about, this game is a buy for you.
June 8, 2014
Dullesville
After reading the reviews on Ransom of the 7 Ships I almost skipped this one. But since I have played all of them up to this one, I decided to try it anyway. So glad I did! This was a lot of fun to play. I felt like I was actually in the Bahamas with Nancy and friends. The artist's renderings of Bess and George's likenesses were spot on. I've always like the voices they use and the realistic dialogue between them. Using the golf cart around the island, scuba diving through underwater caves, exploring the shipwreck added to the fun. Granted, the parrot needed a script edit, but maybe kids like all that chatter. Also monkey games were challenging!
June 20, 2014
Not the best Nancy Drew game
I was so looking forward to this game but it was disappointing. The driving and sailing mini games (if they can even be called that) were dull and took up too much time. A lot of the puzzles were ridiculous and I frequently had to consult a walkthrough to complete them, which took out a lot of the enjoyment for me and the satisfaction of having completed a puzzle by myself. It was okay, but far inferior to other Nancy Drew games. I also missed having other characters to talk to- George is your main source of communication, and thats pretty much it. Graphics are excellent, voice acting also, but that's all it has going for it.
December 1, 2011
Its' really only worth 2.5 stars
I've been doing all the ND games in order of release, and as usual, the number 1 issue that seems to plague nearly all ND games rears it's ugly head again. Terrible navigation system. Just awful. Finding your way around via golf cart on pathways that unnecessarily take you all over the place before actually going to where you need to go, is NOT a legitimate puzzle. It is nothing more than an annoying time sink. Fun Factor: Not much fun here. Most of the mini-games, puzzles and challenges were actually downright annoying. I think the only one I actually enjoyed was the decoding simply because for the first time, it didn't require 5 pages of hand-written notes. YAY! Only one suspect to speak to? *yawn* and .. well you can't really count George b/c she's pretty much useless the whole time and you only play her 2 times. The parrot.. I wanted to smack it. I don't like simians to begin with so they don't get any cuteness points here. Visual/Sound : the graphics were ok. The sound was ok. Nothing spectacular, just par. Not very immersive. Level of Challenge : There were 3 mini-games with the monkeys; two of which were easy, but the coconut throwing one was a pain. It wouldn't have been so bad if the AI for it didn't cheat! Most of the puzzles were intermediate level, but some of the challenges were downright brutal. Playing colored tile Sudoku under water with the air running out at the speed of light... well jeez... can't imagine why that wouldn't be fun. WARNING: if you are even the slightest bit color blind... just use the walkthrough for this. Then there were the time sinks... like finding the parrot a drift-wood perch, ONE piece at a time.. maneuvering the paths, boating, and all the other back and forth nonsense. Storyline : Ok, so some people may have had a problem with this b/c in actuality it is derived from The Scarlet Hand game which was the 6th game in the series. In essence, it felt like the writers went on strike in the middle of the game development so they short-cut the story. How sad. The history part about the ships was o.k. but not enough to fill the black hole in the storyline. Overall.. I think I will just recommend people to skip this one. I really don't think it would be worth your money unless you get it during a 2 for 1 sale and even then .. nah.. not worth it. To be honest, the best part of this game came AFTER the ending credits. The out-takes were pretty funny. That's about the only positive thing I can really say about the game.
January 2, 2014
Rating is compared to other ND games as there isn't a bad one but....
If you are an arcade & time management player and also love hard puzzles gamer then this is your game and I really recommend it to you but for anyone else unless you play every ND there is, I can't as you can't skip any puzzles. I've never been as frustrated with any game before. The great thing about nancy drew games is the ability to keep the games different. Some are mostly adventure games, others adventure/puzzles with lots of small puzzles in it, here it feels like one long puzzle game with adventure put in occasionally. This is the hardest game I've every played (way more than safecracker) purely because of the type puzzles. If you hate timed puzzles then you will hate this, as there are a lot of arcade or timing puzzles in this and two huge as in hard timed puzzles. A Sudoku one and not giving too much away 'hourglass' one. The sudoku one if anyone can do that in situ in the game and not 'cheat' (take screenshot of it do it at leisure then go back and do it, you deserve title of gamer of the decade!) but at least you can get through it that way. The other one I just couldn't do, my timing is so off and we are talking 1 sec on one aspect makes all the difference type puzzle. I tried all the walkthoughs (which gave me different numbers) and still couldn't manage it, until I did it by fluke. I'm spending so much time in this review mentioning timed puzzles to tell you how hard it was and how many timed elements were throughout this game. The rest of the puzzles were cryptograms, riddles and a lot of reading one book for clues for everywhere else in the game. When I first started playing this I thought this could even be one of my favourite Nancy Drew but the cons quickly detracted from my enjoyment which was a shame as if they were addressed as well as being able to skip puzzles this would have been a very good game. CONS - - Lack of characters you interact with. It's George, Bess and one other, no phone calls or anyone else. - Driving around the island to get anywhere and it's zoomed in so it's hard to remember where everything is. If they had a transporter map, that would have been great. - Sailing. I didn't find it as bad as the driving but I ended up ignoring the co-ordinates as didn't find them accurate so it took up a lot of time. -Plot, the initial why you were there plot was bad as there weren't that many people involved and hated the ending. The secondary plot of treasure hunting was well done and if you like that and deciphering sometimes hard clues (and a cryptogram was hard!) then you will enjoy that part. - In other ND games you know when it goes to the 1D view from the top very basic graphics? Well here it's with the car and boat and a couple of other times. This is a game that I think most people would have to look either at a hint website or walkthrough even if it's to double check puzzles that you've got the objective right. It's one of the later games so no interface taking up half the screen and as usual, there is a choice to play junior or senior. Junior gives you a helpful task list which is useful when you are stuck, and you don't need to look at it but it's there if you want it. Also some puzzles are easier than senior mode. You have to manually save the game (clicking on the save box enables you to write your game save.) There is achievements in this ND games, as with most of them. You don't know what they are until after the credits but if you do an internet search for them you can find out what they are if you want to. I'm just glad I finally finished this game as one puzzle had me abandoning this game for months but hopefully the next ND game will be back to their normal hardness and not all those timed elements! As I can't in good conscience recommend this game to anyone other than a specific gamer (who likes timed puzzle games or a ND fan who will play every game) it pains me to say I can't recommend it and it's the first one I can't.
October 31, 2012