Megaplex Madness 2: Summer Blockbuster
Help put together five different theaters and create your very own Megaplex! Each of these theaters has its own unique theme, complete with decorations and catchy music. Use your profits to upgrade each cinema, and keep your customers happy in this exciting Time Management game. Take a break form the action and play addicting minigames in the arcade. Predict which customers will arrive, keep a cool head, and survive Megaplex Madness 2: Summer Blockbuster!
Classic fast-paced gameplay
Unlock unique upgrades
Game System Requirements:
OS:

Windows XP/Windows Vista/Windows 7

CPU:

800 Mhz

RAM:

256 MB

DirectX:

8.1

Hard Drive:

126 MB
Game Manager System Requirements:
Browser:

Internet Explorer 7 or later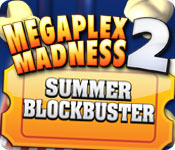 NEW299
The Big Fish Guarantee:
Quality tested and virus free.
No ads, no adware, no spyware.

Reviews at a Glance

Megaplex Madness 2: Summer Blockbuster
0
out of
5 (
0
Reviews
Review
)
Customer Reviews
Megaplex Madness 2: Summer Blockbuster
46
46
Addictive Fun
I really enjoyed this game. The pace was just right getting harder at each stage as most TM games do. There is a chance between levels for some light fun to help boost your upgrades. Be warned once you start this game you will want to play non stop until you finish. Then if you are TM crazy as I am, you will then want to re-start the game in a different mode. There a loads of levels, a great purchase! I hope you enjoy it as much as me.
November 19, 2011
avoid moviegoing crowds by staying home & playing megaplex madness
it's summer and there are not enough theatres in town to meet the public's entertainment wishes (and air-conditioning needs, i assume). in this time management game, you are putting together five cinemas and creating your very own film megaplex. each cinema has its own theme and decorations, but they all have similar customers and mini-games (arcade games) that award prizes that are used to upgrade your cinemas so you can attract more customers. graphics: nicely rendered. there are four levels of difficulty (relaxed, normal, hard and insane) and each level has one of three rankings you can earn based on how quickly and how competently you complete that level. these features add to the challenge since, if you're like me, you'll want to earn the top ranking for every level before you move on to the next one. during gameplay, you can also win coins to play arcade games and the arcade prize winnings are upgrades to your cinema. music/soundtrack: appropriately Hollywood-sounding, catchy, somewhat frenetic, as one might expect from a game such as this. storyline: believable, but not really important to the gameplay. my interaction: in the past, i've played this game as a demo on my iPhone, repeatedly deleting and uploading it since the demo won't let you progress beyond level eight. this was thanks to the astonishing incompetence of iTunes, which made me unable to purchase the iPhone version, so i came to Big Fish specifically to purchase this game for my laptop. this is the one of the first, if not THE first video game i ever purchased for my laptop. since i am still here at Big Fish nearly one year later and i?ve amassed a respectable video game library (which is still growing!), i guess one could say this game was a very successful interaction. in summary: so much fun wrapped up in one silly and addictive game! it's great fun for the entire family and the short individual levels are well-suited for entertainment whilst traveling, waiting in line at the cinema or when trying to look busy whilst goofing off at work.
June 6, 2012
Strangely addicting and totally different Time Management. Love this one!
I just loved this game. I am a time management addict, and a good TM game is something I will play over and over, as opposed to a HOG, which gets one or two plays. This game I've played way too many times. Yes, most everyone can do the easy level, but can you do the INSANE one? It has a different feel to it than any other TM game. You basically are building a movie theatre, by moving the customers from place to place - ticket booth, popcorn, soda, etc, and finally inside the theatre. Each character has their own personality, will talk and make noises, and be more or less patient. There are only four slots of color so getting your long line of excited moviegoers in on time can be quite a challenge! They will walk out if they have to wait too long on line. One of the fun things about this game is each section has a different theme - sci-fi, westerns, action, etc. The decor and the music changes for each one. You have nerds, kids who want the candy counter, pizza addicts, impatient businessmen, old folk, and many others - each movie comes with their little story and their own fans. It elevates the game. Yes, the music is repetitive, but very appropriate - you really can feel the excitement of what would be a movie experience! So cute! I actually don't like romance movies, but that was my favorite movie theatre. Now I will say, however, that when I first started playing this game I had a slower computer and that was a little bit of a problem. This game has a slightly different "engine" that most TM games and you can get a "lag", which seemed surprising to me with a game with such simple graphics - but I did get a better video card along the way and that really helped. There is an extra here I'm sure some people like - the arcades play old videogames very reminiscent of the 70's. You can play them separately if you like. Not my cup of tea, but adds a bit extra. If you like TM, try this one. How I wish they would make another one!
June 6, 2012
Lotsa fun
I really enjoyed this game, pretty relaxing too after a hard day at work. Tho it is pretty repetitive its fun too and the more u go on it does get hard. To combat this u could always play untimed which gives just as much enjoyment - less the hassle and frustration.
March 4, 2012
Surprisingly challenging
This is a great time management game but it has added details that I didn't expect. There are little things you learn by yourself (which is appropriate for a game in which you are supposed to grow#. For example, there are minimal instructions in the arcade games but as you play them, you see how they work and figure out what to do to score #it's not how hight the kangaroo jumps it's how many springs he jumps on#. The storyline is fun. The characters are amusing #a pscho in a butcher's apron showing up for the monster flicks? come'on what's not to love?). The levels are just right.
July 23, 2012
A Brilliant TM Game!!
I absolutely loved this game! It's very unique and for ages I've waited for something like this to come out! Good Parts: The game's concept is really different as you try to manage a movie crowd while trying to meet a daily money goal. The game was very challenging, but not impossible, which I like about games. Upgrading your cinema to match the theme. Colour Combos. Usually I hate this sort of thing but this really helped me with my goals and added the extra bit of fun and frustration to the game. OK Parts: The graphics in the opening scene were good, but in the rest of the game they were poor. Bad Parts: The Arcade Section. There was no time limit, so there was no way to end it unless you deliberately lost, which annoyed me. Apart from this one minor flaw, there's no reason not to buy this game. I loved it and I'm sure you will too.
June 14, 2012
One of my most favourite
Now we can review, I had to mention that I love this, I worked in cinemas in my youth for 11 years and this game brings it all back. Obviously its not totally realistic but the fun aspect makes it extra special. My favourite time management game. The inbetween games really keep you entertained as well, lots of gameplay.
January 6, 2012
Frustrating and tedious
I never got the hang of placing figures, on certain spots, as fast as possible, so therefore never made it past level 10. And that was in Relaxed mode. So my customers wasn't happy at all, and many times left the theater. I really tried but had to give up!
June 13, 2012
need more of this
I wish you could make another sequence to this game. I LOVE IT !!
December 25, 2011
Oh lordie!
There are parts of this game that drive me into a homicidal rage. The people that you have to move around have the standard of patient to very impatient that is seen elsewhere. The different between this game and others is that the people can want something that you can't give them (eg, nachos or something.) You have to shake them (pick them up with left click and shake) to get them to change their mind. The impatients aren't bad. It's the very patients that make me scream and cry. Otherwise, it's a fun and challenging game.
August 16, 2012
The Apple logo is a trademark of Apple Computer, Inc.