Paradise
After her plane is shot out of the sky, a young woman named Ann Smith wakes up in the heart of Africa safely, but is unable to remember why she was traveling through the continent. Help her piece together her past and discover her true identity in this mysterious Adventure game. Track down Ann`s father and learn all the secrets of Paradise by figuring out not only the past, but the future as well.
Beautiful graphics
Immersive atmosphere
Find Ann`s identity!
Game System Requirements:
OS:

Windows XP/Vista/7/8

CPU:

1.6 GHz

RAM:

512 MB

DirectX:

9.0

Hard Drive:

2289 MB
Game Manager System Requirements:
Browser:

Internet Explorer 7 or later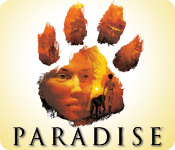 NEW299
The Big Fish Guarantee:
Quality tested and virus free.
No ads, no adware, no spyware.

Reviews at a Glance

Paradise
0
out of
5 (
0
Reviews
Review
)
Customer Reviews
Good, challenging game
I enjoyed the game. It was challenging for me. As the other reviewer noted, there are glitches, if you have the patience to work through them its a great game. Some easy parts and some difficult parts. All in all except for the glitches I would of given it a 5 star. Good Luck!!
December 27, 2011
paradise good
i found paradise to be challenging threw the whole game.the story drug out a bit had a few glitches in it that caused me to stop the game and lose some time but over all i liked it except the ending. i hope there is going to be a second in hope it picked up where it left off to finish the story
May 23, 2014
A fascinating and not such an easy game.
Hi, I have just completed the game. I think it a very hard game and I had to save and close the game lots of times in order to consult the walktrough. Without a walktrough and with the help of forums it is almost impossible to complete it. I think it a minus sign the game has not autosave so you have to save it yourself lots of times and every time you need about 5 clicks to enter into the game again. Yet it is a good game which is more suitable for experienced players. For those people I would like to recommend this game. omaomaoma
March 31, 2012
3.5 Game
Older game... Older graphics.. but still impressive. This is a huge game - took me days. I consider myself a pretty good player, but this game confused me at times on where to go. 1. There are killing and an apparent suicide (But, no blood and guts) 2. There are Glitches sometimes I would have to go back some to be able to go forward.. But, it is workable and I don't have the best computer. 3. If i reduce the game to consult a walk-through which I had to do a few times (which is irritating). When I would go back to the game My character would be solid gray until I went to a new screen. Than she would be back to normal. 4. Harem at the palace with virtually naked women.. very insulted by that. I dropped a star for that. Apparently Sokal's target market was not me! 5. For people who get sea sick with 3d worlds where you can pan around. This game is not like that you can't pan around you only go in one direction. There are some mini games involving your character and the leopard that puts you into a 3D world with panning around some.. but it is limited and kind of choppy. 6. There are some interesting creatures.. that are cute in this game, And the black leopard is beautiful. 7. A lot of dialog in places. Could of been reduced down quite a bit. Also, had a difficult time understanding what some people would say and there were no closed caption. There may have been an option for this - I don't know. I can't recommend or not recommend this game. There are better games. If I had a trial, I wouldn't of bought it. But, since I did buy it, I played it already through. I much prefer the game "Return to Mysterious Island"..
November 29, 2012
Great game but some problems
I loved this game till i got to the part where you had to talk to some women and i couldn't even finish all the game because of the glitches. I was really loving this game.
July 4, 2012
Did not impress me.
Yes the graphics are very good and I loved that it was a 3D game; however, the story started out alright and then slowly deteriorated in quality until it was downright disappointing at the end. When it came to the puzzles, well I just don't feel that finding the puzzle should be part of the challenge let alone getting the darn thing to work. The hotspots are fickle and enough to make you scream. While most puzzles you could solve with some thought, there were some that just made no sense whatsoever. All in all, I would have to say I would not recommend this game.
November 1, 2012
A let-down after Syberia
This game was a let-down. One of the few games I will never play again. The art is good and pretty but the game feels unfinished. My verison was glitchy and froze more than once. The ending too was unsatisfactory for me. After playing this character for such a long game, I would like to have had a say in the game-finale, but all you get is a video that sort of finishes the game for you. The game failed to convince me Anne had to do what she did. Not sure why they bothered with the panther for most of the game. It serves practically no function in the game, aside from some mini-games that feel superfluous.
January 17, 2013
Could have been much better.
I love adventure games like this, where there are no hidden object scenes and you're sort of left to your own devices to figure things out. I loved that there was some kind of underlying mystery that I was working towards solving while playing and that there were so many different environments to explore. My beef with this game is the ending. The ending completely ruined the entire game for me. I don't want to spoil anything, but I wish that in this instance we were left with a choice as to how it would end (like the game Journey to the Center of the Earth). However, it was very sad. I also disliked the fact that there was a black leopard throughout the game that seemingly had a crucial role but after a certain point, it seemed as though it didn't matter anymore. The final thing about the ending is that there's a short cutscene to end the game and that's it. It just stops. No insight as to what happened afterwards or what the main character went on to do or how any of the people in the game ended up or anything. This, I feel, is usually my biggest disappointment with adventure games like this (aside from the Nancy Drew games, they always leave you with something upon completion). Great game to play for the scenery and difficulty, and it lasts a while too! However, I found it to be an extreme disappointment overall.
January 11, 2015