My Kingdom for the Princess
A terrible tornado has been turned the kingdom upside down! The beautiful Princess Helen must return to her sick father, King Olgert, but the roads are in ruins, the hamlets are destroyed, and a hungry dragon circles the skies above. Rebuild the empire from the ground up and fix the destroyed towns. Help the brave and noble knight, Arthur, restore the land using your Time Management talents in My Kingdom for the Princess!
Great graphics
Gripping gameplay
Help the princess!
Game System Requirements:
OS:

Windows XP/Vista/7/8

CPU:

600 Mhz

RAM:

512 MB

DirectX:

8.1

Hard Drive:

103 MB
Game Manager System Requirements:
Browser:

Internet Explorer 7 or later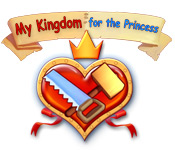 NEW299
The Big Fish Guarantee:
Quality tested and virus free.
No ads, no adware, no spyware.

Reviews at a Glance

My Kingdom for the Princess
0
out of
5 (
0
Reviews
Review
)
Customer Reviews
My Kingdom for the Princess
31
31
A Charming Time Management Game!
I really like this type of time management game. There are 40 levels, and It has some strategy to it. You have to decide what path to take, there are supplies to pick up, roads to repair, wood to chop, gold to gather. If you enjoy games like Zeus, or Roads Of Rome, chances are you will like this game. The music is very nice, I would have liked to see a few different tracks, but it was not overwhelming nor annoying. The graphics are nice, with cut scenes, and a cute storyline. I think there is a very decent tutorial to get you prepared for how the game works, and also a feature of building your castle when you get everything done by nightfall. I wish you could get a bonus hidden level or something fun for getting all the golden trophies, but it is their first game. I have not tried the others yet! If you cannot get everything done in time, no worry the game is rather forgiving and allows you to continue the storyline with a silver medal. If you cannot finish it within that time, you do have to try again, but I never had that happen, there is a tougher time to get the gold medals though. What I did was completed the whole game with silver medals when I did not get the gold, and went on until the end. then went back and got the gold ones later. Sometimes I played this when I was too tired, and just seeing it when refreshed showed me where I went wrong. If you get stuck, check out the forums here, or you can check the internet or even youtube for really great walkthroughs that do not include cheats. I don't like to win by cheating, so I don't look for those. I enjoyed this one so much, I plan on buying the next two. I urge you, save the kingdom and find a princess! You will not be sorry!! Happy gaming!
November 19, 2011
Gotta get that expert time!
Having feel in love with Royal Envoy and had my opinion of all Time Management games being too busy smashed along came this game. It is a building, strategy game with little men you direct to build. To get expert level you need to work out the quickest and best strategy of order in which to do things. It is not a DASH game - it is a thinking persons game. It is a game where you replay, replay and replay either straight away or a couple of months later. Enjoy!
November 18, 2011
Great Game for the Series
If you like Time Management and Strategy games, then this is the game for you. This is the first out of the 3 series of "My Kingdome for the Princess" and it's really fun. The object is to escort Princess Helen back to her castle, and to do so you must clear a way for her. You are subject to many levels on 4 islands, and as you go things get harder and harder as you go. Like I said, the game is based on time management, you must beat the time and not die before sun down, and it's about strategy, you have resources that you must conserve and be smart with using, because you can run out until you get more. What I like about the game is it was a challege for me, because even when I get silver, you can go back and play the levels over so you can get the pieces of your castle, so you have to get gold, and with some good mind skills, it's possible. I love this first game to the series. Try it.
January 1, 2012
I Really Love This Game!
And I mean really really love it. I'm actually so addicted to it the time just vanishes when I start to play - not a totally good thing, as I actually supposed to write University reports... :-) I like Royal Envoy and Roads of Rome, and if you do too, there is a very good chance that you will love this game also. Do try it. I prefer this game to the other in the series, much like with RoR, they got it right the first time. I still buy the others (as I said, addicted), but number one is the best.
May 7, 2012
Fun Time Management Play
You don't realize until you have really gotten into the game that there really is a need to plan a strategy for beating the clock. Some levels I have had to replay more times than I care to admit to in order to finish "before nightfall"!
November 23, 2011
Adorable, but not in a "little kid's game" way
I just purchased this game after playing the demo, and I really like it. Actually got it for free using my punch card coupon! This game is super cute- basically you need to clear any obstacles in the way of getting a princess back to her kingdom. Not only do you need to clear and/or repair things, but there are other objectives added in also, such as picking flowers or accumulating certain amounts of resources. While you're doing similar things in each level, I think the extra objectives keep things interesting enough. You are timed- you must clear the path before nightfall, and if you finish earlier you can get expert. Not only do you get a gold start for being expert, but you also get to expand your own castle. The game is challenging, but not so much that it's annoying. So far I've been able to get expert on many levels, but not all. I look forward to going back and replaying to improve my score. There is some strategy involved- the order in which you do things can have a big impact on your time. The game's length seems good- after playing the demo I still have at least 3/4 of the game left. I do recommend this game, for both kids and adults.
March 19, 2012
Ok for a younger person
This is an OK time management game. Kind of cute, but a little annoying that you can't click ahead to where you want your worker to go. Also the worker must go all the way back to the shack before you can send him to do the next task. I know this is an earlier release of a Time Management game. It is done better in some of the later games such as Legends of Atlantis: Exodus, even Royal Envoy which is cute, but a little short. I recommend it with the knowledge of knowing these drawbacks.
June 20, 2012
Fun Time Management Game!
I had a lot of fun playing all three My Kingdom games! I played Roads of Rome and got hooked. This is a great challenging game. I had to keep re-playing the challenges to get expert!
November 13, 2011
A fun game!
I liked this game. At first I didn't like the artwork but it grew on me and the challenges are very fun.
December 1, 2011
Have all Three and Want More!!!
This strategy game is the best! I love the challenges. I play this game over and over again and never grow tired of any of them. Start with this one and you will be hooked! Go Big Fish!!!
November 28, 2011
The Apple logo is a trademark of Apple Computer, Inc.