Go-Go Gourmet
Go-Go Gourmet, an addictive Hidden Object and Time Management game rolled into one, puts you in the heat of the kitchen. Take the role of Ginger, who seeks master chef training with the nuttiest restaurateurs in town. Fulfill customer orders by searching for ingredients in a food strewn kitchen, slice, fry, boil or bake the ingredients accordingly, and serve the dishes as quickly as possible.
Game System Requirements:
OS:

10.4

CPU:

800 Mhz

RAM:

256 MB

Hard Drive:

50 MB
Game Manager System Requirements:
Browser:

Safari 4.0 or later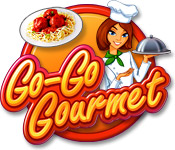 NEW299
The Big Fish Guarantee:
Quality tested and virus free.
No ads, no adware, no spyware.

Reviews at a Glance

Go-Go Gourmet
0
out of
5 (
0
Reviews
Review
)
Customer Reviews
12pfriday
It was a realy fun game! I loved playing it
November 25, 2011
LOTS of replayability
I bought this game years ago - long before Big Fish - then lost it and bought it again...this time on Big Fish!!! It is consistently one of my "go-to" games - whenever I get bored with what is out there, I replay this....and the sequel - Go Go Gourmet: Chef of the Year. If you like TM/HOG games - buy it - you will enjoy it for many years.... Valina
July 25, 2013
Fantastic Game!!
This is a wonderful game with HO and TM all wrapped up together!! I loved the challenge of trying to complete meals, find ingredients and cook all at the same time. Very cute storyline! I loved the second one, Go Go Gourmet Chef of the Year as well! I really, really hope that they release another edition of this game soon!! Keeping fingers crossed!!
August 11, 2012
this a awesome game
I love this game it has everthing i will be buying it
May 18, 2012
go-go gourmet
truly awesome great game fun fun fun
February 11, 2013
Great HOG Meets the Pressure of TM...
I actually played the sequel to this game first "Go Go Gourmet: Chef of the Year Contest" and enjoyed it so much that I had to play this one as well# The ingredients and cooking methods simulated real life cooking and I found it fun to find the various ingredients to make different meals for different customers under 6 different ethnic restaurant settings# The money you earn helps to ultimately build your own restaurant, so you play your final levels there# Along with the regular cooking rounds, there were a few bonus mini-games for each restaurant level that made it a little more interesting# The background music and sounds of cooking were all relatively good and the graphics was detailed enough to be able to find the ingredients# I particularly liked that the picture of the ingredient stayed the same to be able to identify it easier, no matter which level you were playing (sometimes it changed size## Overall a great game, and I also recommend the sequel game too, except make sure that you aren't hungry, because it will definitely build your appetite# But just in case you do, the game actually gives you great ideas on what to make# The storyline in the sequel game is a little more interesting than just the occassional calls to Grandpa on his expeditions in this game# #= Enjoy!
February 20, 2012
Not as good as the sequel, but still provided entertainment
I enjoyed this game but much prefer Go Go Gourmet 2: Chef of the Year Good Parts: A great mix of time management and hidden objects Upgrading the broken down resturaunt Great fun factor A really good challenge, taking on new orders while trying to finish existing ones. OK Parts: While there was a cookbook, it did not tell you how to actually cook the meal in real lie, rather how to cook it in the game. Bad Parts: The graphics were very bad. Every time new ingredients were added, they all shuffled around. It took me quite a while to find them, unlike Go Go Gourmet 2, which they stayed the same. I quite enjoyed this game, but it lacks the fun that the sequel brings.
June 11, 2012
Fun game
If you like TMs and a bit of Hidden Object you will love this game. It is great for boosting the memory as well.
April 28, 2012
Fast Paced & Fun
I enjoyed this one and I had been wanting this game for years and years so I finally used a game coupon on it and I should have bought this a longgggg time ago! Its just one of the funnest kind of games in my opinion. I love when hidden object games get mixed with time management like GardenScapes, Aquascapes, Antique Road Trip etc etc. The game is simple. You grandpa left you a restaurant that needs updating, you help all the local restaurants to improve your skills but also get the money to buy the stuff you need to open your restaurant. You get to decide what items you want to update when you have the cash but you don't get to decide from 3 choices or anything. There is only one option. Also, as time goes on, your kitchen equipment gets faster and Ginger herself gets faster BUT as for manually picking things to get faster or getting a newer oven, that is not an option in this game. But since this is a pretty old one I can forgive all that. What led me to take a star off is the fact you can't queue anything. I know old games are like that but it would have been nice to have more than one grater then or more than one oven instead of having to remember which one to go back to because they both needed to chop and only one grater was available. It would have been nice to click the item it needed next and it would have just worked without having to click the tabs again and again. Also, I wish it would have delivered without me having to constantly push that dish. But despite those two little things, I really enjoyed myself. I felt like the challenge was spot on if not a little too easy. I didn't have to repeat any level except for the last 7 when you finally open your restaurant and then have to feed the chefs who helped train you. Some of the people were from the first couple levels and over time I had forgotten what their dishes were leading to slowness and me having to repeat levels. You can pass levels with a gold, silver or bronze depending on how much money you make and you can keep going and then come back to replay except for the last 7 levels which ask you to replay them until you get the correct amount to proceed. That was the only time I felt truly challenged. Once you learn people's orders, it actually makes the game pretty easy. You get in a rhythm of how to cook sushi or eggrolls. The bread pudding had way too many ingredients and I think my favorite restaurant was the french cuisine believe it or not because I don't know a lot of french foods nor eat a lot of it so making these dishes were a lot more fun than making say a hamburger since it was new to me. I recommend this game and I have the next one but I wish there had been many more!!
December 8, 2013
Fun but just ok
Graphics, wonderful music and the storyline was very good and very cute. Good game but a little dull, not much visual interaction in cooking things like it is with Burger Shop or Hot Dog Dash. While it is a nice story and a fun play, there are better games to spend your money on xx
February 25, 2012
The Apple logo is a trademark of Apple Computer, Inc.
The Windows logo is a trademark of Microsoft, Inc.