Strange Cases: The Tarot Card Mystery
FBI Agent Claire Ellery has a knack for getting assigned strange cases. The latesta triple kidnapping in a small, unknown town. But what initially seems like an open and shut case soon unravels into something much more sinister. Follow the tarot cards left by an anonymous source and search mysterious hidden object scenes for clues to help Agent Ellery rescue the kidnapped girls and stop an evil ritual in this chilling puzzle adventure game.
Investigate hidden object scenes and clues
Solve riveting mini-games
Game System Requirements:
OS:

Windows XP/Vista/7/8

CPU:

800 Mhz

RAM:

256 MB

DirectX:

7.0

Hard Drive:

120 MB
Game Manager System Requirements:
Browser:

Internet Explorer 7 or later
Mild Violence
Tobacco Reference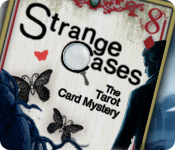 NEW299
The Big Fish Guarantee:
Quality tested and virus free.
No ads, no adware, no spyware.

Reviews at a Glance

Strange Cases: The Tarot Card Mystery
0
out of
5 (
0
Reviews
Review
)
Customer Reviews
Strange Cases: The Tarot Card Mystery
15
15
A Good Game Indeed!
Just got around to playing and I enjoyed game very much, Red, Green and Blue colored Tarot cards indicated items to be found which was a pleasant mix of words, silhouettes or fragmented objects to be played out in each HO scene. Uncomplicated. Very creative. Scenes were clear and mostly uncluttered which I appreciate. Purchased all three of the Strange Cases and have replayed them several times. If you are looking for a game that you haven't played yet, I would recommend giving this mystery a try. Enjoy! -Mama Mia-
September 4, 2012
SHORT BUT NO REGRETS BUYING EVEN AT FULL PRICE
Fun and entertaining except the length comes in at just under 3 hours playing very relaxed. Interesting story where 3 girls are missing, then rescued within 20 minutes of beginning the game. Too easy to be true ? right? Right, because the same 3 girls go missing again. It?s a mystery that the town to which you are sent searching for the girls isn?t on any map and can?t be located with GPS ? yet it has at least 3 police officers as well as a police boat. A further mystery when you discover a similar crime over 100 years ago, only 3 girls were dead and not rescued. Another mystery of who is leaving you tarot cards to help solve all the mysteries. Instead of a transportation map, you get pictures of locations on tabs for fast transport. You have to find tarot cards at each location; sometimes two or three. The tarot cards will have lists of HOs or fragments to find. Objects are large, but some are very well hidden. Good ratio of HOs to fragments. Puzzles are well varied and some were much more challenging than expected. Music tracks change periodically. You do get hints during the gameplay: for example, you find a key and your thought ?Didn?t I see some lockers in the warehouse?? pops up. So you know where to go next. That type of hand-holding didn?t really bother me, because there were a limited number of locations within a time frame to begin with. So you aren?t given a clue that would have left you stumped in a more complicated game. All issues resolved in ending, but didn't want to see game end when it did. Don?t recall whether I paid full-price/credit or got it on sale or with a free game punch. I don?t regret any of them because the game was engrossing, but if game length is important to you when paying full-price, wait until it goes on sale or you have a game punch to use.
June 22, 2013
the tarot card mystery
it was a great game and it mad you think all the time
November 24, 2011
Fun game, but kinda short
I enjoyed playing this game. It did have a lot of hidden object scenes, but they were done in three ways - list of words, shapes, and finding pieces to make an object. I found the story and direction of game play to be interesting and held my attention. The puzzles were mostly easy, but a few were inventive. It is a short game, but it was definitely worth playing.
January 29, 2013
WHAT'S WITH THE FLASHING LIGHTS?
This game has a good storyline wrapped around lots and lots of HOS with a few puzzles thrown in. The HOS are about average; not too hard but with an item once in awhile that is more difficult. Sometimes the scenes were dark or the objects were tiny, which added some difficulty. There were all 3 types of lists; words, silhouettes, and parts of an item, which kept the game play from getting boring. The puzzles are also fairly easy although it isn't always clear when you have to perform other steps prior to being able to solve the puzzle. Movement through locations was fairly linear with little back and forth, hence no map is needed. The hint button works well in the HOS, but provides little help outside them. Inventory items are used quickly and their use is pretty obvious. One of the most distracting aspects of this game was flashes of light in the HOS which served absolutely no purpose that I could tell other than hurting my eyes. These flashes were very annoying and almost made me give up on the game. They did nothing to highlight HO's and were so bright that they actually made it hard to see the HO's. Perhaps that was their purpose; to make the HOS harder. However, the stress on my eyes was substantial and left me with a bad headache. This game will appeal more to HOG lovers than to adventure players. I am one of the former, so I liked this game. I'm hoping the others in the series will be as good.
August 22, 2014
Pretty Solid Hidden Object and Puzzle Game
Although it's not a tarot card game (which is what initially attracted me to it), the theme of the tarot is somewhat prevalent. You have to first find a tarot card before you can find your standard hidden objects. The graphics are neat, and (or is it "but") some of the objects are very hard to find. There doesn't seem to be a penalty for clicking a lot, though. One slight control issue I had is that when you find ANOTHER tarot card to find more objects, your mouse click won't work on the previous tarot card's requested objects. So be sure to select which card's objects you are seeking. The puzzles remind me of old Apple II games (not a complaint). Areas can get locked and unlocked, as the story progresses, although sometimes it's hard to know where to go. Overall, if you can't get enough of Hidden Object games, this one will keep you entertained while you play it.
July 6, 2013
Strange Cases: The Tarot Card Mystery
A fun HOG for me. A good story with nice hidden object puzzles.
November 16, 2011
Solve the mystery
Your goal in this game is to solve the mystery. Three girls disappeared in a town, and your job is to find them. You are helped by finding tarot cards all over the place. There are 3 colors of tarot cards which indicate whether you are to find hidden objects, fragments, or silhouettes of objects. Each time you finish a card you get something new in your inventory that you can use further on in the game. Everything is mostly linear and action takes place in a small area (3 or 4 rooms). When you finish one area then you move to the next one, and each area takes you further towards solving the mystery. I enjoyed playing this game. The hidden object scenes were not always clear, and some were dark, so I often needed to use the hint button. This recharged fairly quickly, so it wasn't a problem. The game was fairly short, and fairly easy. I do recommend this game, as long as you don't mind the negatives that were mentioned.
December 8, 2014
Fun But Easy
This was a fun game with plenty of hidden object scenes, but overall, it was quite easy - I finished it in just a couple of hours. The game really leads you with obvious clues on what to do next. If you're looking for a quick game that you can blow through in an afternoon, this is a good one. The story scenes are a bit slow, but in general this is a fast play.
January 29, 2012
Strange Cases Indeed
I purchased the Tarot Card and LightHouse Mystery games together in a dual pack by Big Fish. I'm glad they came this way and would like to see more games offered this way. I played the LightHouse game first and I have to say that it was somewhat better then the Tarot Card. The story was easy to follow in both, but you could relate more with the LightHouse game plot and it seemed like they advanced the game more. Both games seem to last about the same time and have similiar amount of mystery, mini-games, and hidden objects. There was audio voices that spoke to you in LightHouse, that Tarot Card didn't have. I prefer the audio storyline, than for me to read. LightHouse had a better ending, Tarot Card was alright, but I expected more. Maybe it's because I didn't want the game to end. LOL! I won't spoil the story, but you can tell by the Tarot Card title that it will have something related to this. Some people may take offense to the spiritual (evil) part of these games, so buyer you are now warned. I rated fun, quality, and challenge on the average-middle side because this game wasn't really a high-end HOG like I've seen, but it wasn't the lower end either, were all you do is hidden objects and super easy mini-games. For the advanced gamer this would probably be extremely easy for them. I personally felt it had some challenge, but the helps and tips throughout the game, and the option to skip the mini-games, makes it easier to finish. This has a nice relaxing mode to it, which is always nice. It doesn't keep score or any time. There's a pet-peeve of mine that I don't care for, which is the flashlight and/or dark scenes in a game. Both LightHouse and Tarot Card had a small amount of this in it. Otherwise, the rest of the scenes are well seen. One nice change up with the hidden objects in both of these games, are that they give you text words, shapes, and cut-up pieces to find. The audio is fine, giving you options, but it does get annoying with the same phone ringing in the background throughout several scenes. So, I turned it off completely. I'd still recommend this game, it's an enjoyable relaxing mystery game, but you may want to try it first. I guess I'm spoiled on MCF's high-end HOG games!
December 15, 2011
The Apple logo is a trademark of Apple Computer, Inc.