Mr. Jones' Graveyard Shift
Help Mr. Jones make millions of dollars in the cemetery business, and retire to paradise with the love of his life! Plot and decorate each graveyard with a huge amount of items. Start off with just a shovel and old grave markers and build up to a marble-clad festival of crypts! Purchase enough upgrades to create the perfect resting place for much-loved celebrities, rich royalty, and others in Mr. Jones` Graveyard Shift, a fun Time Management game.
Fast-paced gameplay
Gorgeous graphics
Live happily ever after!
Game System Requirements:
OS:

Windows XP/Vista/7/8

CPU:

2.0 GHz

RAM:

512 MB

DirectX:

9.0

Hard Drive:

100 MB
Game Manager System Requirements:
Browser:

Internet Explorer 7 or later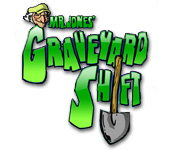 NEW299
The Big Fish Guarantee:
Quality tested and virus free.
No ads, no adware, no spyware.

Reviews at a Glance

Mr. Jones' Graveyard Shift
0
out of
5 (
0
Reviews
Review
)
Customer Reviews
Mr. Jones' Graveyard Shift
21
21
Fun Planning Game!
Great fun planning out the layout of your graveyard! My only complaints are that I wish there was a pause, or super slow speed setting to give me more time to plan, and that I wish the trees didn't block my view, which is always a drawback of isometric views. I've only played the trial so far, but am buying this game and looking forward to exploring and growing my graveyard. Wish Mr Jones had a better reason to make his fortunes than to satisfy that annoying Mimi!
January 20, 2013
Fun, funny low-key time management w/ a creepy, creative twist
I wish they would come out with a Graveyard II! There's something very satisfying about laying out a graveyard and meeting clients' likes and dislikes, all within the time limit. Very lighthearted game with humor and ghosts.
January 29, 2013
Great game
this game is addictive and enjoyable.
January 29, 2013
Great and funny TM
This is one fun game. You need to bury the dead, place tombstones, flowers, etc. You then wait for the funeral to finish and collect your money. It may sound morbid but It's not a scary game at all. They are funny cartoon characters. Even the ghost chasing Mr Jones at night will make you smile. The only thing I did not like was the girlfriend Mimi who keeps asking poor Mr Jones for money. If you are looking for a TM game with a difference try this one. It gets harder as customers want to add more in their lots - benches, fountains, etc. You need to think about the customer you will accept or decline so you do not lose money. Give it a go and enjoy!
October 26, 2013
One graveyard shift that ain't quiet!
Wow! For a subject matter that could be seen to be on the slightly macabre and even distasteful side this game is superbly done. The game is not cartoony or 'over the top', and is programmed to be a proper simulation of this sub-genre within the TM games. The game itself is in my humble opinion almost retail quality and given BF release others (usually HO games) to the mass retail market, I am sure that this could also be released albeit at a budget price (though I suppose the subject matter may have put a 'kybosh' on this particular release). The graphics (resolution can be changed to suit fairly modern resolutions) and the sound is good. The voice overs do for me unfortunately let down the game-play and whilst I know it is a SE game and not a CE game thus the VO are a bonus, for some of the voices they seem to not quite 'fit' for the particular character or the infliction in the voice is not quite there. Saying that though that is just an extra and is not detrimental to the game. The game-play itself is to me a unique sub-genre for BF (I have not seen another of this type), and is very well executed. There are three modes, and me being me thought that as I had the measure of this type of game and started on the 'master' level, this was not perhaps the best move as you start with lower money thus it is harder to complete the funerals as well as to satisfy your girlfriends requests (demands take your pick), I then started again on the 'normal' level which gave you a bit more cash, but not enough to get complacent. The game is basically fulfilling requests with regards to requirements for funerals (the names are the kind of 'jokey' names that raise a smile), some want specific flowers, or ornaments, and the more you adhere to the request the more money you get. I would give a tip here and if you think you can't fulfill a request (particularly early on in the game), then decline the job, as if you take and fail your reputation will suffer, but if you don't take at all then nothing will happen. I would also be careful with regards to placing graves near other graves (particularly on the harder levels) as this may cause a 'zombie' to start to awaken and this is of course bad for the reputation thus you need to try and rectify the situation before it becomes out of control. Also a final tip, when it starts to become dusk, I would fairly quickly go to your house and 'bed for the night' as the game-screen gets dark very quickly and it could be a tad tricky to see exactly where the house is. I would never have probably found this gem of a game, if it hadn't been for the promotion BF are doing this weekend with regards to building games, and I was browsing the list, when I saw this and thought it seemed different (though I have to admit I thought it would be done in a 'tongue in cheek, almost comedic way, how wrong I was), I am so glad I downloaded and this is definitely a purchase for me. I would DEFINITELY recommend this game.
May 5, 2013
A different take
Ghoulishly fun...try to earn enough $ to satisfy yr sweeties demands and retire as a successful graveyard attendant
May 5, 2013
Mr. Jones is Awesome!
Really Enjoyed this game!!!!!!!!!!!
December 7, 2013
Who would have thought making graves could be fun
How odd to enjoy a game where you dig graves. I actually thought this one was fun- sort of an odd concept, selling grave plots so you can earn money to buy your spoiled girlfriend gifts and go on vacation ? but the actual creation of the plots allows you to make a lot of design choices. Some of the decorations around the graves are a fun commentary on what we would like to try and "take with us". You even get the opportunity to be charitable by adding extra for a poor customer if you like. The challenge here is in using the ground wisely, so you get the best profit for the decorations and also do not run out of land. So it is a bit more complex than it first appears. Since I am not a horror fan, I like the fact that the ghosts that come out at night do not hurt Mr. Jones, they just send him off to bed. All in all, something just a little bit different. Which is always a treat when you like the idea of gaming to keep your mind working.
November 3, 2013
Highly addictive!
An unusual theme, certainly different! This game has provided me with hours of very addictive digging, purchasing gravestuffs and getting in the cash to try to keep the impossible Mimi happy. It's great fun being able to purchase bigger and ever more outlandish grave decor, and so frustrating when the customer doesn't appreciate the funeral and refuses to pay. V entertaining, recommended!
August 2, 2012
A great little game
I got this on a whim and am glad I did. I'm not usually drawn to time management games, but this is fun. I've played it through twice now. There are a few things that could be improved, but shoudn't put people off trying it. As with the other reviews, Mimi is very annoying and I wish there is a way to bypass her phone calls. Walking from one area to another is a little tedious, especially when you unlock areas further out. There could have been a little more imagination with the more expensive decorations. Apart from that, it's a great game and one I'm sure I will play a couple more times - part of the fun is learning each time about what works well and looks nice, whilst using the space efficiently.
February 3, 2013