The Cameron Files: Secret at Loch Ness
Private Investigator Alan P. Cameron has been hired to check out strange occurrences in Devil`s Ridge Manor. Located in the peaceful and serene Scottish countryside above Loch Ness, spooky ghosts and supernatural phenomena have invaded this once tranquil home. Explore the Medieval castle, a secret laboratory, and even the troubled waters of Loch Ness to solve the mystery in the exciting Large File Adventure game, Cameron Files - Secret at Loch Ness.
Exciting gameplay
Gorgeous graphics
Solve this Cameron File!
Game System Requirements:
OS:

Windows XP/Vista/7/8

CPU:

600 Mhz

RAM:

128 MB

DirectX:

6.0

Hard Drive:

1162 MB
Game Manager System Requirements:
Browser:

Internet Explorer 7 or later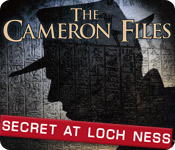 NEW299
The Big Fish Guarantee:
Quality tested and virus free.
No ads, no adware, no spyware.

Reviews at a Glance

The Cameron Files: Secret at Loch Ness
0
out of
5 (
0
Reviews
Review
)
Customer Reviews
The Cameron Files: Secret at Loch Ness
6
6
AN ALL TIME FAV ADVENTURE GAME!
Truly Shocked to see the low ratings on this Old School Adventure Game... Baffled Really Cameron Files BOTH the first and second one are Two of my All Time Favorite Adventure Games.. Not a Rubbish Game at all... I have played both of the games many times now.. Never tire of replaying them... If you want your hand held thru out gameplay Old School Adventure Games are most likely not for you... Unless you use a walkthrough.... It was only within the past Five Years or so.. that Adventure Games combined themselves with HOGS and Offer the Option to hold your hand... by giving you a Skip button on mini games... giving you tuts inside games... and allowing you to set your level of play.. easy to hard(with Exception of Nancy Drew Games) Also some folks are turned off to any graphics that are not up to the minute.. but When this game was Created.. the Graphics were Superior for that time.... If you are an Adventure Gamer and have not played the Cameron Files Games... its your loss...
January 12, 2013
One of the Greatest Mysteries Offered by Big Fish Games!
I can't thank Erwan Kergall and Wanadoo Editions enough for a totally engrossing and thoroughly engaging game. This game had everything! Suspense -- mystery -- intrigue of the highest order -- and even supernatural visitations. A detective from Chicago, with ties to Scotland, is called in to investigate a very sinister plot. And the plot is very huge and very internationally involved. He must save many lives with his brilliant deductive reasoning and logic. Although an old game -- hence the older graphics -- the game had surprisingly gorgeous cutaway scenes, and the plot thickened quite quickly. And so, Jason Cameron, the Chicago Detective, soon finds himself knee-deep in trouble both above ground -- underground -- and in the sea, itself. The many timed mini-games are reminiscent of those seen in the Nancy Drew series, and are difficult, demanding quick thinking and reflexes. The old Scottish manor, the centerpiece of the story, is exquisitely appointed, and provides much of the backdrop for the game, as the player finds himself/herself wandering about the giant edifice to see what might be garnered for an adroit investigation. This game is non-linear, and, at times, the navigation is difficult, probably due to the older techniques and graphics. I can only hope and pray that BIG FISH GAMES can resurrect the first game in the series, which dates back to 2002: "The Cameron Files: Pharaoh's Curse." I'd love to play it! This is one of the better games in the BIG FISH inventory!
April 20, 2013
The Loch Ness Monster Mystery Solved!
Just finished playing this old-time point-and-click Adventure Game. Older seems to be better with too few new Adventure games to select rather than the too numerous hidden object part adventures. A mystery to unravel with amazing artwork and graphics. Immersive plot centers on Detective Cameron from Chicago who accepts a request for help and travels to Scotland. Enjoyed the many cut scenes and enthralled by the music of bag pipes. Included are a journal, interactive map, notebook and many items to assist in solving the mystery. A walkthrough is available on the internet that assists gameplay especially through the timed puzzles. Not too long or difficult, happy to add to my BFG game collection and will play this straight forward Adventure again! Congratulations Devs and thank you, BFG! Enjoy! -Mama Mia-
July 5, 2013
Lobster Stop Haggling with my Mum
This game in a word... flawless.
May 23, 2013
Promising but flawed detective game
Playing a PI and investingating a disappeared person case in and around a Scottish castle sounds like an interesting premise for an adventure game and this game shows a fair amount of promise but unfortunately, due to various flaws, it fails to rise much above mediocreness. The best aspect of the game is the characters which are (or perhaps I should say seem to be since I did not get to see very much of them) a colorful bunch with diverse personalities. Unfortunately the game contains very little character interaction and the various non player characters almost only appear in the few cutscenes that occur at various points throughout the game. The worst aspect of the game is the navigational system. The game is played from a first person perspective where you can rotate your viewpoint in 3D with the mouse and move to a new location by clicking when the mouse cursor turns to an arrow. The problem is that you often don't end up in the location that you would have expected. This can be confusing, in particular when you are moved past a door or an object that you were hoping to interact with (many doors in the game not only can't be opened but actually can't even be approached). The fact that objects can only be interacted with from a particular location even when they are visible from more than one location and sometimes about equally far away in the different locations where they are visible doesn't make things any better. The thing that will immediately strike a modern player about the graphics is that they are of quite low resolution. However, on the positive side the visual world of the game is quite detailed. For example the castle where a fairly large amount of the gameplay takes place contains plenty of paintings, suits of armour, shields and other objects appropriate to the location. My impression was that the graphics would have been quite beautiful if displayed at a higher resolution. Unfortunately, with the low resolution that is used in the game the graphics look very grainy. The story is rather standard fare without many surprises, although it is spiced up a bit by elements from Scottish mythology that I felt were underused. The puzzles were mostly fairly easy but with a few a bit more challenging ones. Sometimes it was necessary to revisit a previously visited location to trigger some scripted event and this was not always appropriately hinted at which I found rather annoying since it led to a fair amount of aimless wandering around. In conclusion, the game shows enough potential that I am considering giving the sequel a try since I've read that some of the flaws that keep this game from being more than just barely okay have been dealt with. Unfortunately the grainy graphics, the lack of character interaction and the bad navigational system keeps the game from being good enough that I would want to recommend it.
March 16, 2012
the worst ever !!!!
utter rubbish.... lousy graphics, plastic characters, daft music all the time. go and buy a pizza for your money and get something you can enjoy for the same price.
February 14, 2012