Princess Isabella - A Witch's Curse
Princess Isabella is all set to marry the love of her dreams, Prince Adam. After returning home from a trip, however, she finds that an evil curse has been placed on her castle by a mysterious witch. The curse has placed evil in every room, and turned everyone inside the castle into mirrors! Follow a fairy friend as you piece together the clues and save your friends and family in Princess Isabella: A Witch`s Curse, a gorgeous Hidden Object Adventure game!
Unique gameplay
Tricky puzzles
Defeat the evil witch!
New Bonus Content!
Game System Requirements:
OS:

Windows XP/Vista/7/8

CPU:

800 Mhz

RAM:

256 MB

DirectX:

8.1

Hard Drive:

213 MB
Game Manager System Requirements:
Browser:

Internet Explorer 7 or later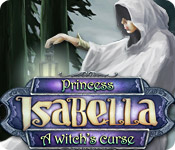 NEW299
The Big Fish Guarantee:
Quality tested and virus free.
No ads, no adware, no spyware.

Reviews at a Glance

Princess Isabella - A Witch's Curse
0
out of
5 (
0
Reviews
Review
)
Customer Reviews
Princess Isabella - A Witch's Curse
34
34
Asorbing
Right up to the end, I would have given this game 5 stars. All of a sudden you have time limits. The end itself felt just sort of slapped on. Normally the timer issue would have made me give just one star, but honestly this game was good enough, kept me interested enough to still rate 4 stars. They could have used better basic instructions on the puzzle mini games, it's not difficult though. Yes, the fairy's inane comments and voice did get very annoying since she says the same thing over and over and over....
February 16, 2012
Very nice game with a few extras!
The game's graphics are very good, the locations are pretty (once the evil is expelled), and the story is kind of good. I love the map that transports you wherever you want to go, especially since this is a pretty large "world".The fairy assistant/hint system is cute and helpful. The only complaint I have about her is that she has a little teeny-bopper voice and after you clear a room she says, "You got rid of all the evil! Yaaay!" The Yaaay kind of grates after a while. Still, there's lots of high points in this game. The music is good, the voiceover (for the most part) is good, and it's pretty long. It took me about 5 hours to play, so I feel like I got my money's worth. The puzzles were pretty easy and there was no option to increase the difficulty, but entertaining enough. I wanted to mention the bonus features. I love when a standard edition comes with bonus features! There are a few wallpapers, quite a lot of concept art, and a screensaver. You can also replay several of the puzzles. The only technical issue I encountered was after I was finished the game and was checking out the extras. I clicked on Screensaver last, curious to see what it does, and--oh, my goodness--what a crash! My PC kept jumping back an forth between the game and my desktop, making it very hard to even shut it down from the task manager. I do have an older PC, and it ran perfectly up to that point, so I won't fault it too much for that glitch. Bottom line... Nothing to really write home about, and yet I enjoyed this game enough to run out and buy the sequel. Pretty visuals and audio, decent story, good lenth, and just plain fun.
August 18, 2012
Great game!
I enjoyed this game when I first bought it and I enjoyed for a second time a few years later. It's very beautiful artwork although the people look a little odd the way they were drawn... I loved the storyline and how you could collect the diary pages that explained the backstory. I loved the timed HOS at the climax of the story. The puzzles were not difficult by any means. As always I love the diary feature and I also loved the fast travel from the map. Overall it was a great game.
September 29, 2013
A fun, cute adventure/ho game
It started off quite slowly for my liking, having played a lot of this style of game previously. Once it got going though, it was fun and engaging. I was a little disappointed when the hour ran out and I would come back to buy it at some point, but there are other games that I would buy before this one. After about half an hour, I started to piece together a theory of how the story was going to pan out, so it would interest me to complete the game to test my theory. All in all a good game, with clean, colourful graphics, nice sound effects and a decent story line. My only real gripe with it is that some of the objects were rather small, but the hint button recharged quickly enough to find them without having to stare at the screen for too long (based on playing in "normal mode"). In my opinion, I think this game would be a good starting point for people who are new to adventure/hog games. A good time killer =) .
May 20, 2013
Finished Game Review - Bought to play with granddaughters
This was a refreshing fun game. Not for hard core HO players. It is made more for children or grandma and granddaughter for an afternoon fun on a rainy day. My grandchildren love HO games and I approve. I think it makes them test their memory, eye and hand co-ordination. A fun way to learning. Good Luck Fishes!
May 19, 2013
From dark to bright
This game was quite fast and fun. It was enjoyable turning the dark rooms into the bright rooms. I found that the puzzles were relatively easy, except for one. The same type I always seem to struggle with. I didn't like how the hidden object puzzles started with dull, muted colors. At first I thought, "Oh no, not another of those games!" To my delight it turned out there were only a few of the dull ho games. The fairy may bother some folks, at least those who have not played the Legend of Zelda. If you played that game, this won't bother you at all. Overall it was a very fun game. I'm liking how they are starting to change things up a bit more for us so that every game isn't the "same old, same old"!
September 27, 2012
Cute Cute Cute!!!
In the first hour I had to mute the Fairy because I was ready to go after her with a fly swatter. An hour after that I'd gotten sucked into the game enough that up the volume went and there it stayed. It's not a difficult game thanks to all the hand holding and instructions given by Tinkerbell but it was...clever. Beautiful graphics, lovely music, easy but a good variety of mini games. (All but the "bubble shooter" one, that I finally skipped before my laptop went flying!) Lots of ground to cover with an interactive map so no plodding back and forth. It was a really enjoyable game, that is until ...the final showdown, the dun-dun-DUN music playing in the background, my mouse flying, my heart pumping and BAM!!! "Oh you WIN!!!", cries Tinkerbell. Happy, happy, joy, joy. So a rather abrupt ending, but yay I won. Would I pay full price? No. But I used a "free game" coupon and as a Daily Deal it would be a good buy too. Fun and lighthearted, you got it right here!
August 10, 2012
A really fun game
This game has pretty graphics with bold and colors. Love that! The storyline is not original but there is plenty to do and lots of fun. Long playing time Great graphics Some red herrings to confuse you Some backtracking Many many locations and you can get lost HO'S crisp All in all a good buy...go for it.
May 3, 2013
Okay But Not Enough to Purchase
I played the demo of this game, after reading some of the stellar reviews. I love fairy tales (as of this writing, there are 2 fairy tale-based TV shows I watch every week), but this one just didn't hit the mark for me. It was not particularly challenging, and I found the cartoon voice of the ever-present fairy to be annoying ~ made it feel more like a kids' game. I really wanted to like this game because I appreciate the fact that someone is offering an alternative to the doom-and-gloom games that seem to dominate the market (which is why I thought it deserved at least 3 stars). However, I just didn't care enough about it to want to pursue it past the demo. I would suggest trying the demo. If you love the demo, you will love the game. For me, it was a pass.
March 17, 2012
Won't be buying any sequels
Based on entire game. Of the approximately 300 games I own, there are 5 or 6 that I wish I hadn?t bought. This is one of them. There is a blabber mouth fairy helper that is at least among the 3 most annoying ?helpers? I?ve seen. She keeps flitting around the scene everytime you do anything or even hover over an object for at second. She comments on everything. Her voice is somewhat grating on the nerves. A map is included with 2 good points: (1) you can click on the room you want and you?ll be transported there. You find out once you've collected all mirror pieces that you can be directly transported to the mirror room and then back to where you were. I found out by error near the end as I was going round and round in circles that you can do that at anytime. (2) the rooms in which there is something to do are marked. After that, the map is useless. It keeps turning (it?s shown in upper left corner) even if you went straight because the map showed a room there. The map even shows room to the left of your present location, but you actually have to go right and maybe it was my imagination, but the rooms shown downward on the map seemed to actually be upward.
June 22, 2012
The Apple logo is a trademark of Apple Computer, Inc.