Call of Atlantis
Heed the call of Poseidon and save Atlantis with mystical crystals in this innovative Match 3 game! Explore the ancient lands surrounding the Mediterranean, uncovering hidden objects and solving cryptically challenging puzzles to appease the mighty sea god Poseidon with the power of magical artifacts. Become the true hero of Atlantis in call of Atlantis!
Unique game mechanic
Superb audio/visual effects
Explore seven ancient lands!
Game System Requirements:
OS:

10.4, 10.5 (recommended)

CPU:

1.83GHz

RAM:

512 MB
Game Manager System Requirements:
Browser:

Safari 4.0 or later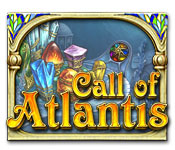 NEW299
The Big Fish Guarantee:
Quality tested and virus free.
No ads, no adware, no spyware.

Reviews at a Glance

Call of Atlantis
0
out of
5 (
0
Reviews
Review
)
Customer Reviews
Match 3 & hidden object mix
Although this game offers both match 3 and hidden object challenges its primarily a match 3 game, and an excellent one. The music and graphics really set an excellent atmosphere to play in. The game becomes quite challenging towards the end. A++ game.
December 17, 2013
Very relaxing and cute game. Match 3 + HOS.
Nice story - Atlantis, the island created by Poseidon, needs help to remove the spell placed upon it. To help, you have to break the seals and find the 7 crystals that are hidden in the cities: Rome, Greece, Carthage, Egypt, Babylon, Phoenicia and Troy. A blend of Match 3 and HOS. Each phase has a goal - for example, in Rome you have to find weapons is 8 Mars. In the match3 you will gaining objects (bombs, lightning, etc.) that help destroy tiles and earn pieces to form weapons. You can also get more time (hourglass) or more lives (heart). In HOS, you will find parts of pieces. When you find all, will put them back in place and then win one of 7 crystals. Great and colorful graphics, good sound. Challenge is increasing at each stage. Perfect to have fun and relaxing.
February 27, 2012
Match 3 hybrid
An older but still excellent Match 3. Includes FROG, and put items back game play. Definitely a thinking match 3 -- you must move items down and off the board to beat levels. Timer and lost lives for not completing levels. Gets quite challenging as you progress. Thoughtful use of power ups required. Definite replay value, with each "journey" presenting more obstacles. Graphics still hold up as attractive. There is a screen saver -- it may not function well in Leopard / Snow Leopard. Definitely worth a demo for the game play.
January 17, 2012
Oh the blasted timer again
Why can't they make games with and without the timer. I would love to have this game, but am afraid on down the line it will get hard and the time runs out then you lose and have to start over or something like that. I played it on my laptop and the swapping part of the screen was small. So it will be a no buy for me AGAIN.
April 26, 2012
Pleasantly Surpirsed
I don't usually like match 3 games, but this one was pretty good. It was mostly match 3 with some HO scenes. The graphics were pleasing and bright though not realistic. I think you should try the free version before buying, but it is overall an interesting game. If you need something simple and fun, this is it. Gameplay is pretty short too, but still worth it.
January 12, 2012
Okay.
Nice entertaning game. Not sure I like the full concept but it's a good Match 3 game. I liked it.
November 20, 2011
Fun Game
I loved playing this game and enjoyed the levels getting more and more difficult.
May 8, 2012
TOUGH ONE
This Match 3 game gets harder as you progress through the game. The Match 3 puzzles contain double frozen tiles, double locked tiles, isolated tiles, brick walls and other obstacles, with each successive game having more and more of these to overcome. The ones that gave me the most trouble were the walls at the bottom that could not be eliminated by any of the power ups. You are traveling through 7 ancient kingdoms (Babylon, Egypt, Rome, etc.) looking for 7 crystals to restore Poseidon's altar so that he will again protect and restore Atlantis to its original perfection. For each kingdom, you play approximately 8 Match 3 games to find the pieces necessary to put together 8 objects. An additional 4 objects are obtained by finding their pieces in a hidden object scene. Once all the items have been found, you are then in possession of one of Poseidon's crystals. Before you can activate it on the altar, it breaks into pieces and you must find all the pieces in a hidden object scene. For the Match 3 games, you start out with 3 lives which enable you to replay the game if you run out of time before you get all the pieces of the object off the board. You can gain more lives if there is a heart on the board that you remove by moving it off the board. There are also power ups on the board that can be brought to the bottom during play to use to help you solve the game. On the very last kingdom, I ran out of lives before I could finish the 9th Match 3 game and I had to start over at the beginning of the kingdom and replay all the Match 3 and other games. This last game was really tough and all of them towards the end required a lot of thinking and strategy. Once all 7 crystals have been restored and Atlantis saved, the game is technically over, but you can continue to play it over and over again. That is a nice touch, but with all the time and effort it took me to finally finish, I don't think I'm up to another round. Challenging game play that requires planning and strategy.
January 16, 2015
good game
This game only has 2 faults.. Cant play in relaxed mode Cant make speedy matches, you have to wait for matches to finish before making another move. I find that annoying. If those things dont bother you it is a game worth buying. But not for me
December 23, 2011
Another mistake for me
I bought Call of Atlantis hoping it was a remake/improvement. It's not. I had the older version and like the older one the more you play the faster the timer goes. I can't beat the timer. I love the new HO scenes but over all I can't play it. I am old and have a shaky hand and the timer goes to fast. I was hoping I could turn off the timer, no luck. Many of you will like this if you have a fast hand.
March 7, 2014
The Apple logo is a trademark of Apple Computer, Inc.
The Windows logo is a trademark of Microsoft, Inc.