PuppetShow: Mystery of Joyville
The puppet show in Joyville was once a wondrous attraction until the great fire. Now, rusted gears and dark mysteries lay within strange machinations and disheveled puppets. A young boy, Simon, is the most recent in a long line of missing people. In PuppetShow: Mystery of Joyville, you are tasked with solving nefarious puzzles, finding hidden clues, and uncovering the dark secrets of a town that is anything but joyful.
Beautiful, immersive world
Find hidden clues to solve puzzles
Uncover a dark mystery!
Game System Requirements:
OS:

Windows XP/Vista/7/8

CPU:

1.0 GHz

RAM:

512 MB

DirectX:

8.0

Hard Drive:

199 MB
Game Manager System Requirements:
Browser:

Internet Explorer 7 or later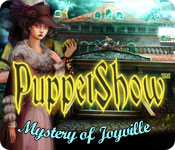 NEW299
The Big Fish Guarantee:
Quality tested and virus free.
No ads, no adware, no spyware.

Reviews at a Glance

PuppetShow: Mystery of Joyville
0
out of
5 (
0
Reviews
Review
)
Customer Reviews
PuppetShow: Mystery of Joyville
58
58
PuppetShow: Mystery of Joyville
I just downloaded the game for my free trial. So far I like the game. The problem with all of the or most of the hidden object games is that when they design the games, they put snakes in the games. I myself do not like to look at snakes or touch them. I am sure that there are other people that feel the same way. Please do not put snakes in the games. The game is fun to play and they make it easy to find most of the hidden objects.
March 8, 2012
Puppets gone mad
This game has really nice graphics and a good storyline. The HOs are pretty good, but the puzzles are very easy. To me this is your basic HO with a little adventure thrown in. I purchased this after playing the demo for the 3rd in the series as I enjoyed that one, so I wanted the whole storyline experience. Although the storyline is good and continues throughtout the sequels, this game for me is only ok. I prefer much more interaction and this just doesn't have much. Playing time was very, very short, but again it is pretty much just a HOG. Sorry can't recommend unless you really like just HOGs or you are new to HOGs.
January 22, 2012
Could be more challenging
I played also the other "Puppet Show"-games, and I find this one too easy. The game has many hidden-object scenes, but they sparkle. The "hints" work only for theses, but otherwise, you get a lot of clues. So if you are used to HOG, you should be able to finish this game in about 2 hours. Nevertheless, the graphics are very nice and the story is interesting. If you would like more challenge, I would recommend the other two "Puppet Show"-games.
December 6, 2011
Not for me
Based on the reputation of the PuppetShow series, I was enthused to play this game. I thought the graphics were nice and the story line was a great idea with the potential for a great game, but it never took off for me. To be fair, there were a couple of interesting moments and I did play it to the end, but mostly I just wanted it to be over. The main issue for me is that almost the entire game play consists of moving from one HO scene to the next. I don't think it's fibbing to say that perhaps 90% of the locations you visit have a junk pile HO scene; and at least one location had two of them. Some of the HO scenes were challenging in the way the items were hidden, but the puzzles were very easy and required almost no thought. There are no diaries, maps or journals in the game. There is basically no back tracking, and game play is forward moving and linear. Inventory is small with mostly obvious uses, and the game is full of sparkles everywhere. Gamers who love puzzles or adventure and figuring things will likely be very bored and disappointed. Once I got over my disappointment about halfway through the game and realized it was just going to be HO scenes, I relaxed with a cup of coffee and played casually and just tried to enjoy it for what it is. From that perspective, I think this is perhaps an excellent game for casual gamers who want to play a HOG with very easy puzzles and without much adventure. I've read the sequels are different and more challenging, but at this point I am quite hesitant to continue with the PuppetShow series.
April 29, 2012
I didn't believe it - but I do now !
Call me a doubting Thomas if you wish but I found it hard to believe (after reading several reviews) that there could possibly be that many HOG's. Trust me there were and I only played the demo. I battled my way through them until the last 14 minutes by which time I'd had enough. I was HOG'd out... For you HOG fans, this is the game for you. Beware if you've poor eyesight though, at times my nose was almost on the monitor. No map, no hint other than for the HOG's but I found the graphics ok and the music too.
January 26, 2014
Too many HOS
To be honest, this one in the series had too many HOS. I dont mind some HOS here and there in an adventure type game, but this had more junkpile HOS than adventure. There is no map so I found myself backtracking most of the time. There is no hint button in the main part of game, only in HOS. So if you didnt know where to go next, you have to waste time trying to find out where you need to go by backtracking to the different areas. No hints to direct you where to go. On the plus side, puzzles were pretty good. Most were easy, some were more average than easy. Graphics were really good too. Story was interesting. I recommend this game to those who like having a lot of HOS.
April 22, 2013
Very easy
I decided to try this out since I was very much enjoying the 3rd in the series. I really like the storyline, but there is almost no challenge in this one and I would imagine it would complete quite quickly. I would rate it higher if it cost less, and I would probably purchase it. I'd like to see the games priced proportionately with gameplay time, with the easier, faster ones being less money. As it stands, I guess I will miss out on the first of the storyline. Not worth the $4.99 for just the storyline.
April 21, 2013
Very good game - but feeling dated
I played this game again recently and felt that it was seemed dated compared to the two sequels that followed it. That is only to be expected as graphics have improved so much in the last 3 years. It is worth playing, though, if you want a fast, quick and easy introduction to adventure HOG games and if you want to learn the first part of the Joyville / Felicia story. And that is what redeems this older game. The story of the puppets of Joyville is creepy but actually a bit more inventive than so many other HOG adventure games out there and the story continues well with the other 2 games in the series.
November 17, 2012
Too Easy = Less Joyful - A Guy's Review
*review based on completing the full game* I read the hype about the 4th game in the series (Return to Joyville) and figured I'd start at the beginning with this game. I am sure this game has aged quite a bit, but I will have to compare it to games of today's standards. At the time of its release it is likely this game was among the better hidden object adventures, especially when looking at the graphics that seems good for an older game. Not as good as newer ones today, but still respectable on all accounts. It might be a bit cartoonish and slightly grainy, but never irritatingly so. The objects in the HO scenes are seldom small and they are more cleverly hidden than just transparent in the scene. There is some foundation for a storyline in this game, but it is only that. A foundation. You get very little story as you progress through the game, and I really miss getting to know the characters better, the places and the reasons why all this happens. The foundation is good, but it is poorly executed so to speak. Another thing that is a minus for me personally is that it all ends in a "To Be Continued" moment at the end and no real conclusion. There is very little adventuring in this game. It is basically more of a HO scene to HO scene that gets a few breaks with a few puzzles. Almost all item collecting are done through the HO scenes. It certainly does not help that it is just the HO scenes that offers any form of challenge. The puzzles are way too easy. I do not think I spent a full minute to solve any of them. This leads me to believe this game is aimed for beginners at the genre, as it offers nothing for more advanced players. It also made the game feel very short. It also has only one level of difficulty, and only offers you the chance to do or not to do a tutorial in the beginning. All HO's are marked by sparkles and basically everything you can interact with glimmers. There is no map or journal. Not that you would need any of them. There is basically no backtracking or ways to get lost. And it is not that many scenes to go to. A big positive is that you only do each HO scene once. Way too many games have you returning to the same HO scenes over and over. A slightly negative is that none of them offers much interactivity or originality. They are all cluttered scenes. All in all it is a good game for beginners and for the ones who wants the full story and play through the whole series in succession. A warning to those who have played the sequels before this: You might get disappointed. I would not know for sure as I have yet to play the sequels. I recommend to get this game on a Daily Deal or to use a Punch Card credit, mostly because of the short time it takes to get through this game. For the guys: Nothing much to say. It suits both genders IMO. TJ
November 1, 2012
Not as good as PuppetShow: Lost Town
I bought Mystery of Joyville after playing (and loving) another PuppetShow game, Lost Town. This one just wasn't as good, though. For one, I finished it in less than 3 hours--pretty paltry compared to Lost Town, which took me much longer than that--and the puzzles and hidden object sequences were just too simple to really enjoy. (I wasn't looking for anything overly complicated, but there should be at least some challenge.) The visuals were great and it was fun while it lasted, but I was pretty disappointed by this one and am sort of sorry I didn't spend my money on a different game.
March 12, 2012
The Apple logo is a trademark of Apple Computer, Inc.