Gemini Lost
While walking home with a group of friends, you discover a mysterious beam of light coming from an unexpected solar eclipse. The light leads you to an ancient astrological site that suddenly transports you all to an unfamiliar world! Stranded, you must take the lead and help your group create a new civilization. Gather resources and food, build shelter, and conduct scientific research to figure out your new environment in Gemini Lost, a fun Strategy game!
Fun puzzles and minigames
Unlockable trophies
Make it back to Earth!
Game System Requirements:
OS:

10.4, 10.5 (recommended)

CPU:

1.83GHz

RAM:

512 MB
Game Manager System Requirements:
Browser:

Safari 4.0 or later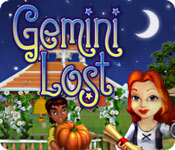 NEW299
The Big Fish Guarantee:
Quality tested and virus free.
No ads, no adware, no spyware.

Reviews at a Glance

Gemini Lost
0
out of
5 (
0
Reviews
Review
)
Customer Reviews
Love This Game!
This is such a cute, unique strategy game. The little toddlers alone crank up the cute factor for me. I love that there are several different professions in which you can put your people through school to help the village as a whole. (each person has a 'favorite work' and if they get a degree in that field, they work faster) Finding all the zodiac medallions is challenging and fun. This is just a fun game to play. There is no timer or feeling of needing to rush around.
November 21, 2011
Cute and fun sim game
I liked this game so much that when I finished playing, I immediately started a new game so I could play it through again. This is a villager/tribe sim game similar to Virtual Villagers and VERY similar to Little Folk of Faery and Buried in Time (and Artist Colony). You start off with a small population and set them to do tasks like produce food, construct buildings, gather resources or do research. Your villagers can get married and have children. Everyone ages, so your original villagers grow old and die, the children grow up and become productive members of society. That's the basic premise, but there are enough interesting added elements to make gameplay very satisfying. First, the villagers are distinct individuals. Each has a favourite skill (farming, building, etc.) that they improve at more rapidly. They each have a zodiac sign; this is important as they will only marry someone who has a compatible zodiac sign (only two other signs are compatible). The most important personalization is that as they work at a task, they get better at it. I got to know some of my villagers by name: "Hey, something needs to be built--I'll grab Abby to do it!" Another fun aspect of the game is exploration of the map. There are lots of areas to investigate as part of your quest to return home (which involves many, many steps) and different things to do at each site. The map and quests do stay the same if you start a new game though, so this does limit replayability somewhat. There is also a fun "skill tree" where you accumulate knowledge points through having villagers do research, then spend them on technological advancements, e.g. advancing a level in farming allows you to start collecting honey for food. You also unlock potion recipes which are modest to start (a haste potion that makes a villager faster for a short period of time), but quite powerful at the end (immediately max out a specific skill). There is a lot to do in this game, and there is no time pressure at all. Just take your time to explore and develop your people. Technically you could lose the game, but you'd have to make a mistake to do it (nobody farming and you run out of food, or set the game to run while you're not playing and forget about it and everyone will die of old age). The only thing I'd want to see improved in this game is to have higher resolution graphics. I actually like the cartoony art style a lot and think it works great with the game's theme, but it just doesn't compare to something like Little Folk of Faery, which is gorgeous. I have so many games that I rarely replay any of them, but I liked this one so much that I did.
May 24, 2012
Great Strategy Game
I normally stay away from these games due to it taking too long to make the buildings but not with this game. Very cute, heaps better than the villager games!! A must play
December 8, 2011
Fantastic
I usually do not play these kinds of games but this was on sale and I am so glad I purchased it.This was so much fun and a great way to pass the hours..The colors and vibrancy of the scenery was so greatly done.The characters were fun and easy to maneuver around the board.They even get to be married and produce offspring.Too cute for words.If you like these kinds of games you need to own this one too.
November 29, 2011
Yay!
I personally thought this game was absolutely freaking fantabulous. I enjoyed the casual gaming spectrum of Gemini Lost, and found it similar to, but not the same as, Virtual Villagers. I would recommend this to anyone.
November 22, 2011
LOVE LOVE LOVE Gemini Lost
This game is my favorite game on Big Fish. I hope they make a sequel for it! I have tried the 1 hr free trials for the "Villagers" games and find myself not getting into them. This game had me hooked instantly. I played it once and just went through and figured out what to do. I went back after beating it once, and used everything I had learned. Excellent game!
December 12, 2011
A Just Right Strategy Game
Gemini Lost is one of my favorite games. It is "just right" in balancing challenge with figuring out how to get things done. I have a friend who said she never plays this type of game because most are too hard to figure out or are too tedius to keep going. When I gave her Gemini Lost as a gift, she was skeptical, but ended up being pleasantly surprised. She says it provides just the right level of assistance with just enough "automatic behavior" to avoid tedium in directing the characters. This game is now one of her favorites, too. We both find it a fun, adorable, enjoyable game.
January 29, 2012
A splendid game
A great challenging game with excellent storyline and cute characters. Excellent graphics. A must have to everyone who likes strategy games.
December 31, 2011
Cute game!
It's Virtual Villagers but cuter and with better graphics! I really enjoyed this game and wish they'd make sequels.
February 29, 2012
Terribly cute little village simulator
A group of people find themselves stuck in a strange mountain valley and must do their best to acquire resources and live long enough to figure out how to get home. If you like Virtual Villagers' Tree of Life, you will probably like this a lot. It's very similar in its division of labor between adults and children, but adds a few quirks like matching villagers by horoscope sign. The graphics in Gemini are better, Gemini explains its concepts better, and it gives you a lot more to do, so I judge this the superior game. I liked how quick it was to learn. Some things are a challenge to figure out unaided, but mostly it's just an adorable Robinson-Crusoe type of simulator. Gameplay is smooth, there's a feeling of progression throughout the game, and it's consistent with other games of its genre. Plus, it's really cute.
July 3, 2012
The Apple logo is a trademark of Apple Computer, Inc.
The Windows logo is a trademark of Microsoft, Inc.