Gemini Lost
While walking home with a group of friends, you discover a mysterious beam of light coming from an unexpected solar eclipse. The light leads you to an ancient astrological site that suddenly transports you all to an unfamiliar world! Stranded, you must take the lead and help your group create a new civilization. Gather resources and food, build shelter, and conduct scientific research to figure out your new environment in Gemini Lost, a fun Strategy game!
Fun puzzles and minigames
Unlockable trophies
Make it back to Earth!
Game System Requirements:
OS:

10.4, 10.5 (recommended)

CPU:

1.83GHz

RAM:

512 MB
Game Manager System Requirements:
Browser:

Safari 4.0 or later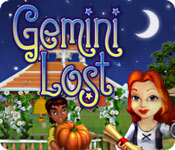 NEW299
The Big Fish Guarantee:
Quality tested and virus free.
No ads, no adware, no spyware.

Reviews at a Glance

Gemini Lost
0
out of
5 (
0
Reviews
Review
)
Customer Reviews
Cute game!
This is not the kind of game I usually play but I really, really liked it!! Long enough, cute, nice graphic, nice story. It's a hit! :-)
December 3, 2011
Really liked the game.
Enjoyable game to play. Graphics and characters were great. I liked getting folks married.
November 1, 2013
I finally finished this game
i have had this game since 2009 and i finally decided to finish playing it :) nice graphics no vo's mini puzzles not to hard did need the walkthru a few times near the end. the peeps are nicely done and easy to see and find the only thing i did not care for is in the bio it did not tell you who the spouse was...just that they were married if your peep's spouse dies u can remarry...big plus i only needed the walkthrough 2x near the end if u continuously play it about 24 hours of play...so i felt it was a bit short. not as hard as VV series still waiting for the sequel it did say to be continued... i definately think this game is a winner even with it's short comings
October 8, 2013
A laid back, fun play.
Gemini Lost is a pretty engaging "build a village" type game. In addition to nurturing the village itself, there are minigames and puzzles to figure out on your way to the goal of the game. It's not very difficult at all, you can try for all the trophies or for a quick completion. A cute game, great to kill a few hours. Decent replay value too. I recommend it.
February 21, 2012
Fun and not too complicated
As a big fan of all the Virtual Villager games I was excited when this one was recommended as it is in the same vein. Gemini lost is fun and moves at a pretty quick rate. Unlike the VV games it is a much quicker play. Over all it's fun, not too complicated and visually nice.
February 27, 2012
Such a different game!
I really enjoyed playing this game. I liked the idea of marrying people and waiting for people to mature in order to contribute to the community. I do believe they could have made this a phenomenal game with a little more effort, but as it is it is certainly one of my funnest games!
November 19, 2011
Fun strategy game
Like this game, it has nice story and i am not bored by playing it.
March 10, 2012
Fun but a little young
It's a bit like Virtual Villagers if the people who did VV did a short but well drawn game. This isn't a long drawn out game if you're an old hand at this sort of game. Even if you aren't, it doesn't take long. Though there is Some strategy, there's also a little luck involved too as matching people up to populate your little community depends almost Entirely on their Sun Signs. (Western Zodiacal to be exact) Until later in the game when you've managed to learn how to make a potion for that. The basics: The art work is lovely if cartoony. The music is nice in the background with out driving one mad. It's very light and airy with out succumbing to a Tiny Toons syndrome. The game play- simple click-n-drag that can be a pain if a lot of them are gathered in one place. The story line is okay. The ending is a bit... Confusing in a way. As in you won't be sure exactly what the ending Means. Just that it's Basically there. In Summery: It's a nice medium-on-the-mindless scaled game that might be a Little more difficult for kids and new comers but old hands and experienced players may find it too quickly beaten and young for their tastes. I would recommend it to those looking for a quick pretty game that has a Little challenge but not so much you can't play it through a headache.
July 29, 2013
Fun
This is probably the easiest of the "live" peeps games; puzzles not as hard as the virtual village series. Peeps have some personality, if they want to farm, they drag their feet chopping wood. Worth your time and money. Good game for the older kids who can't keep the peeps alive in other games. Challenging, but not difficult.
May 21, 2013
I enjoyed this game until the end. Now I wish I never played...
I don't usually play Sim-type games because I hate feeling like I have to be back at a certain time to do this task or complete this or...etc...you get the picture, but this game isn't like that. I enjoyed the game-play, that all of the characters were pretty self-sufficiant, that there was a little strategy involved in how you wanted to upgrade and what the fastest way was to upgrade BUT I have been completely done with the game for almost a week now except for the fact that I need one of every character with each of the signs of the zodiac and there seems to be no way to get the 12th sign. Let me explain. Each character is a different sign. Each character has two "mate signs" whom they are able to marry (or you can use a potion to make them marry anyone, but I digress). When you marry characters they have children. However in order to win the game (as I said) you have to have one person of every sign. Which is great. Except there doesn't seem to be a way to guarantee a sign. Like "Marry a Taurus with a Capricorn and you get a Virgo." So basically I am completely finished except I have to wait until the game decides to give me a character with the right sign. Since I have accomplished every other task there is really no reason to continue playing the game. I find this to be a pretty big flaw in the game. Not only did I do everything I was supposed to do and still can't get the satisfaction of "winning" the game, I now have no desire to re-play the game because I can't even get this first one to wrap up. So play if you want, I liked casually checking back, assigning tasks, working out a little strategy, etc. but I won't be playing it again.
October 9, 2013
The Apple logo is a trademark of Apple Computer, Inc.
The Windows logo is a trademark of Microsoft, Inc.