Vampire Saga: Pandora's Box
Tyler`s grandfather has called him with some shocking news! After confronting his grandfather, Tyler is sent back in time to experience the mysterious occurrences and moments leading up to this bizarre revelation. Explore eerie Victorian locations and discover the truth in Vampire Saga: Pandora`s Box! Scour gorgeous Hidden Object scenes and play fun minigames as you dive deep into a decades-old mystery.
Immersive atmosphere
Gripping minigames
Game System Requirements:
OS:

Windows XP/Vista/7/8

CPU:

600 Mhz

RAM:

128 MB

DirectX:

6.0

Hard Drive:

104 MB
Game Manager System Requirements:
Browser:

Internet Explorer 7 or later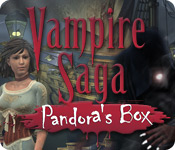 NEW299
The Big Fish Guarantee:
Quality tested and virus free.
No ads, no adware, no spyware.

Reviews at a Glance

Vampire Saga: Pandora's Box
0
out of
5 (
0
Reviews
Review
)
Customer Reviews
Vampire Saga: Pandora's Box
29
29
Vampire Saga: Pandora's Box
I did not like the way you had to transition from scene to scene in this game and it ruined the whole experience for me. The graphics were nice enough, and the story seemed alright, but every time I had to go to a different room it irritated me. I recently finished Vampire Saga:Welcome to HellLock and even though it had much different game mechanics I didn't like that one either. I don't know if I will ever finish this one, I can only play 15 minutes at a time before it gets on my nerves and I have to quit. As this game stands, it's a thumbs down from me. With a little work, though, it might be a decent game.
February 1, 2012
Pretty low quality
Not many pros to mention on this one... The story was pretty limp, graphics not so great compared to all these really great HOG games I had played right before it so due to some pixelation some items are misshapen and hard to identify. VERY little of the story even talked about vampires. Vampire Saga - Welcome To HellLock is the sequel and it is no better, so I'd steer away from that one as well.
November 25, 2011
This Vampire Saga has grown long in the tooth
This review is based on a complete playthrough. This is the first of the Vampire Saga trilogy, and playing it does help to understand the later games. On to the review: THE GOOD: The HOS were neat and filled with stuff that could conceivably be in the scene - no ice cream cones floating over tool chests in a toybox. There weren't many puzzles, but the ones they did have were fairly challenging. There were some easy jigsaw types as well. The graphics were a dim palette, which suited the game very well. Objects were clear, and the scenes were well drawn. The story was ok. It was told in true Homeric tradition: start near the end, then go back to the beginning, and finally finish at the climax. It worked, but it's been done so many times there really wasn't any suspense or surprises to it. OTOH, the character development was good enough that I started caring about the main character and one other. It took me about 4 1/2 hours, so you've got a decent length game on your hands. THE BAD: No voice overs - strictly written dialog. No map - not that you needed one for most of the game, but about the second half there were enough places you're exploing that a map would have been useful. No difficulty levels - you just play the game. That means sparklies over HOS scenes and a fairly fast hint button. The hint is nice in the HOS, outside you get the dreaded "Nothing to do here" quite a bit. The HOS are all straight lists, nothing interactive, and you visit them multiple times (several at least four times). You have a click penalty (though you can keep clicking through it) and there are quite a few ambiguous words: jar vs vase vs bottle, for instance. THE UGLY: A few misspelled words and translations (protector = fuse). But pretty clean for the most part. BOTTOM LINE: By itself I wouldn't recommend it. If you want to play the whole trilogy, they'd make some great punch card fillers, especially if you can get them on sale. You do have to be prepared for the age of the game though. This one seems to show it more than the other two. The main reason for two stars is it just doesn't hold up to all the new choices you have coming out in 2014. Since this is a review of this as a single game, I can't give it a recommendation. As a trilogy, I give it a cautious one.
July 21, 2014
based on demo
I didn't like the game, it's to slow, I was hoping this game could be my free game, but I'm not wasting it on this one
January 24, 2014
WHY EVER DID I BUY THIS GAME? GOOD IDEA AT THE TIME
Your grandfather may have killed someone, but wants your help. The guys will be glad to know they are the hero in the game, playing Tyler. I don't know why I bought this game - must have been the demo was the best part and there were plenty of positive reviews (from people who only demo'd the game, evidently). I'd like to have BF have something on the left side of the review indicating whether the review was based on the entire game or just the demo. THE PROBLEMS: There were too many problems: - color palette is very drab (I get tired of boring dull colors unless it is evident from the story that it's old and dilapidated) - too many scenes were dark - including some cutscenes and even the inside of the building after the lights were supposedly turned on - relaxing music turned to dark mood music and made me feel more and more anxious - annoying unintelligible whispering sounds - why do the developers put these in; they don't add anything but irritation of the nerves - some misnamed objects - a plate is a bowl and a jar is actually a vase - someone fluent in English should have been consulted - popup comments don't readily disappear (and it's usually right over the area you want to explore) - they should disappear when you move your cursor off of them - hint is used up for just pointing you in the right direction and saying "nothing to do here" - most games don't use a hint for this type of non-help - you have a magnifying glass, but it doesn't disappear even though there is nothing left to do There were a couple good points: In theory, you can make the cutscenes play as fast as you can read. But it didn't always work. You also get a notebook of clues found. Biggest problem was the cursor went berserk after 3 1/2 hours. I looked at the W/T and, although I don't think a W/T is a true indication of the length of a game, it appeared I was only half done. I could use Dr. Felix and send to BF for fixing, but the game was so drab and not fun that I didn't bother. Maybe when I finally catch up to playing all the games I have not yet completed, I'll send it in. But right now, the game is semi-permanently on hold. You'll have to make your own determination of whether you want to play a drab game for 5-7 hours.
October 20, 2013
i did not like this game
this game got one of my lowest reviews ever. the graphics were not that clear, the objects were misnamed, the VOs were slow, but could be skipped. the hint/skip buttom charged rather fast or i would have quit the game unfinished because i needed it a lot and i had to force myself to finish it. i liked the other games in this series, but this is at the bottom of the list. i played casual and no sound. i really didn't like it at all. the HO scenes were a common color and so it was hard to find the objects. others might like it, but i didn't. i don't recommend it.
February 25, 2013
Close Pandora's Box
This review is based off the 1-hour demo. My primary complaint is that the hidden objects listed to find aren't what you actually are supposed to find (i.e. brush --> comb; clarinet --> flute, etc). Secondly, I found the controls to be awkward and frustrating. Lastly, the game walks you through every step; telling you everything you need to do/find/view. There was no challenge if you don't count the "let me guess, could this be what I'm supposed to click" aspect of the HO scenes. Thus I am not purchasing this game and
November 29, 2011
BOR-RING!
This game was SO slow (and not because of my computer or anything like that). I found this game incredibly blah and boring and I usually really like these Hidden Object games!
April 5, 2013
Not as good as the others in this series
I really wanted to like this game because I love vampire stories but this one was a real stinker, in my opinion. As I remember, all the hidden object scenes had bluish/brown items on bluish/brown backgrounds which made looking for said items more of a challenging chore than challenging and fun. And just when you'd finish one of these drab looking scenes and gotten whatever object you had earned, you were sent right back to that VERY SAME SCENE to find other bluish/brown items in the same bluish/brown background. This was very tedious and made for very boring gameplay. Very little of the storyline was revealed during this time too, and it seemed like the devs had you going back and forth just to add some length to the already boring story. I was really disappointed because the developer of this game is one of my favorites so it was a real letdown for me to play my first game in the Vampire Saga series. I couldn't wait for the trial hour to be over because I was so annoyed by this time but I wanted to give it a fair review. I never buy a game unless I'm won over by the end of the trial period but this one lost me early on and it just got worse by the time it ended. I never learned anything more about the story at the end of the hour and I really didn't care anymore what happened to the grandfather or why. At least the devs did better with the next two games in this series. I only played the demos so far, but I really enjoyed those two and plan on purchasing both soon. They are innovative in their design and different enough in their gameplay from each other so that you have real variety when playing those two games. They also were vividly colored in their scenes so you'll notice a big difference when compared to the dull colors used in Pandora's Box. And don't be fooled into thinking that these are sequels to Pandora's Box. These are not continuing stories, so don't think you'll be missing anything if you play them out of order or only one or two from the series. Each game from the Vampire Saga series are stand-alone stories with their own characters and storylines so enjoy one, two or all three but don't feel like you have to play them all to "get" it. Each game has the vampire thing running through them but they're more prevalent in the latter two games. Pandora's Box has its share of fans and rightly so, for none of us think alike when it comes to what we appreciate in the games we play. To each his own, so try it out for yourself and see what you think!
April 28, 2013