Vampire Saga: Pandora's Box
Tyler`s grandfather has called him with some shocking news! After confronting his grandfather, Tyler is sent back in time to experience the mysterious occurrences and moments leading up to this bizarre revelation. Explore eerie Victorian locations and discover the truth in Vampire Saga: Pandora`s Box! Scour gorgeous Hidden Object scenes and play fun minigames as you dive deep into a decades-old mystery.
Immersive atmosphere
Gripping minigames
Game System Requirements:
OS:

Windows XP/Vista/7/8

CPU:

600 Mhz

RAM:

128 MB

DirectX:

6.0

Hard Drive:

104 MB
Game Manager System Requirements:
Browser:

Internet Explorer 7 or later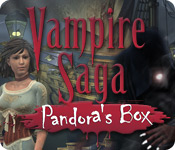 NEW299
The Big Fish Guarantee:
Quality tested and virus free.
No ads, no adware, no spyware.

Reviews at a Glance

Vampire Saga: Pandora's Box
0
out of
5 (
0
Reviews
Review
)
Customer Reviews
Vampire Saga: Pandora's Box
24
24
Regular game - 2 and a half stars
The story repeats many others already seen - find out what happened to someone! In this game, the grandfather (after a weird phone call from him) of the protagonist. The return to the past the storyline makes it a little more interesting. Many HOGs (pretty easy), and the scenes are repeated again and again. Mini games are more enjoyable...maybe the best part of the game. Elaborate atmosphere and good sound. The setting is well done, although the graphics are often a little weak. Hint fills very fast (only 1 level of difficulty). Even though not provoke MUCH curiosity and interest, is still a relaxing and entertaining game. I bought, but could have just played the demo. It would be enough!
January 25, 2012
Excellent game!!
This is definitely a case of this game and it's sequel "Vampire Saga - Welcome To HellLock" being absolutely nothing alike. I really enjoyed playing this game. It had a definite chill factor as you go through feeling very much alone waiting for something to grab you. The time transitions from present to past really nice and the story is interesting. The atmosphere is very creepy and the tension is thick. Though a fairly linear game you will feel at times like you are wandering at will. The graphics have a real style to them. They definitely give this game it's mournful feel. The music and sound effects are very well done. Lots of HOG scenes though this is primarily an inventory based game where you find things that help you advance. It has some interesting and challenging puzzles. Refillable hints and if there is nothing to do in current room it will say so and not use the hint. The length on this is really quite good. And an interesting touch is that there is even a small bar across the top of the screen that shows your progress. Demo it and you should get a fair idea how long the game will take you. Although I will say some areas are much harder than others. This has great replay value as the items will change if you play under a different name. The one negative I would mention is the translation issues with some mislabling a result. But The game was so enjoyable to me that it wasn't an issue. (original review Sept 09- updated)
November 29, 2011
Exciting Beginning! Alas! Who Is Proofreading?
Story begins with an ominous phone call from "Grandpa" which immediately drew my interest. After playing "Dracula: Origin", was looking forward to purchasing another "vampire-themed game". However, upon playing the game--HO scene objects too hazy and vauge for me to wrestle through to get on with smooth gameplay. Drat! Final straw was clicking on the "broken" stairs in "Granpa's house" and reading the stairs needed repair before "going ashore". Hmmm. Different game or wrong scene, maybe? Double Drat! I'm a bit of a stickler when it comes to proper use of the English language and correct spelling within a game that the primary purpose is making an income. Don't think it's too much to ask to proof and edit prior to final release especially when the errors are glaring. BFG, what's up with that? It's my understanding that BFG has their own Beta-testers so I'm not fully blaming the Developers. Also, why should we BFG members be expected to pay full game price with these types of errors especially when other Developers take the time to present a "finished product" for the same cost? Disappointed, mostly, especially when game has so much promise!! Recommending this game with misgivings. Enjoy! -Mama Mia-
September 10, 2012
Just misses the mark...
This game is just OK. It is fairly long, but not in a good way. It gets very tedious. There are a lot of hidden object scenes but only a few locations - you keep going back to the same one too many times. Many of the objects are poorly labeled or totally wrong. And the wash over the scenes leaves everything faded out which frankly makes some objects too hard to find. The story did have a lot of twists but the cut scenes were painfully slow and the Faster button did not seem to move it along. It is a game that should be better than it is and you want to like it but the monotony of the seemingly endless hidden object scenes takes away from the total experience. The entire game is a case of too much and too little.
January 16, 2012
Close Pandora's Box
This review is based off the 1-hour demo. My primary complaint is that the hidden objects listed to find aren't what you actually are supposed to find (i.e. brush --> comb; clarinet --> flute, etc). Secondly, I found the controls to be awkward and frustrating. Lastly, the game walks you through every step; telling you everything you need to do/find/view. There was no challenge if you don't count the "let me guess, could this be what I'm supposed to click" aspect of the HO scenes. Thus I am not purchasing this game and
November 29, 2011
Lackluster game
When I started this game, I was excited because I love all things vampiric. But my excitement quickly faded about 10 minutes into the game. To be fair, I like the overall story/plot and I liked the flashback technique used to tell the story. But . . . The graphics are just ok. The colors are bland and washed out looking for the most part. The animation is just so-so; kind of wooden and stiff. And the hidden object scenes are annoying. Everything is nearly the same bland color and its difficult to distinguish between objects. And there are way too many HO scenes. You can't progress or take a breath without an HO scene, one pile of junk after the other. This quickly lost its fun value for me and I love hidden object games.
January 31, 2012
Vampire Saga: Pandora's Box
I did not like the way you had to transition from scene to scene in this game and it ruined the whole experience for me. The graphics were nice enough, and the story seemed alright, but every time I had to go to a different room it irritated me. I recently finished Vampire Saga:Welcome to HellLock and even though it had much different game mechanics I didn't like that one either. I don't know if I will ever finish this one, I can only play 15 minutes at a time before it gets on my nerves and I have to quit. As this game stands, it's a thumbs down from me. With a little work, though, it might be a decent game.
February 1, 2012
Quite A Story, Quite a Game
PLUS SIDE: This was a long game for me, took over 4 hours to play. This game is the first game in the Vampire Saga series. The story starts in 1950 in Boston's North End, where a young man is summoned to his grandfather?s house. The grandfather begins to tell the grandson a story about a boat, a young woman, and a mysterious adventure. The game was very interactive. The HOG scenes took me a bit of time to complete, and the game had multiple locales to explore, with a lot to do, and a lot of going back and forth for items. I had to use the walkthrough several times because I was totally stuck. As for the story, all I can say is Wow, it was really good and I am not a big vampire fan. Will just say the story had twists that I did not see coming. I was surprised at the ending, and now I am eager to play the sequel. MINUS SIDE: Some of the Hidden Object scenes were very dark, I struggled and ended up using a lot of hints, which do refill fairly fast ( the cursor does a little loop de loop with too many misclicks).
January 4, 2012
Good but not great....
It is a classic point and click adventure game with hidden object scenes clearly marked by sparkles. The hidden object scenes are well done and relate directly to the storyline. The graphics are not too bad but the cut scenes are a bit strange (not animated) and very slow. The game has hints but they do recharge quite slowly which can be frustrating. The storyline is good, but doesn't have a lot about vampires as the title suggests. Overall I would give it a 3 1/2.
November 30, 2011
I'm proud I finished it!
Yeah! I played the game to the end because I paid for it... The storyline is interesting, but otherwise... The graphics are ok, but in the HOS, many objects have another name (a bottle is a jar, you click a brush but another one is the right one... and many more mistakes..). Sparkles show you where to find the HOS (and these are sometimes quite dark). The journal tells you what to do next. The navigation is very slooow. That's why it took me 3 hours. I don't think, I'll play that game ever again, sorry...
June 21, 2012