Hidden Expedition: Devils Triangle
While leading a mission to the Bermuda Triangle to find a lost member of your team, you and the Hidden Expedition Adventure Team find yourselves trapped on an uncharted island. In this electrifying Hidden Object Adventure youll solve challenging puzzles, uncover the secrets of a colorful cast of characters and unlock a 400 year old mystery. Become captivated by the islands unique beauty as you race to free yourself from the dark hold of the Devils Triangle!
Perplexing puzzles
Mysterious atmosphere
Game System Requirements:
OS:

Windows XP/Vista/7/8

CPU:

2.0 GHz

RAM:

1280 MB

DirectX:

9.0

Hard Drive:

347 MB
Game Manager System Requirements:
Browser:

Internet Explorer 7 or later
Alcohol Reference
Mild Violence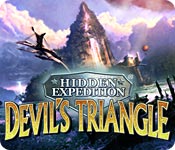 NEW299
The Big Fish Guarantee:
Quality tested and virus free.
No ads, no adware, no spyware.

Reviews at a Glance

Hidden Expedition: Devils Triangle
0
out of
5 (
0
Reviews
Review
)
Customer Reviews
Hidden Expedition: Devils Triangle
39
39
Good beginning, but becomes frustrating
This game is a welcome change from all of the dark, psychotic HO and adventure games out there. I really enjoyed the lighter, more humorous setting and characters. It is showing its age, with only one level of play, no instructions for puzzles, and no map. At the beginning, it was clear what I needed to do, and I enjoyed the change from the usual HO "junkpile" with the "match related pairs" challenge. Yes, many of them required some non-linear thinking, but that was what made them a fun challenge. Most of the puzzles However, as the game continues, actions become less and less logical and coherent. Sometimes the journal contained necessary information; other times, I just had to randomly move the cursor around, hoping for something to happen. Ultimately, I resorted to the walk through. By chapter 5, there are no HOSs, only puzzles. And tedious, drawn-out puzzles with dozens of steps at that. I admit that I got bored and quit at that point. I really wish that I could recommend this game, but it just doesn't hold up.
June 26, 2013
If you like more adventure than Hidden Objects...
than this is the game for you! I LOVE the HO genre, but find games like Hidden Expedition-Devil's Triangle to be very frustrating and not at all the relaxing experience I am looking for in a game. Let me confess that I am really a HO purist at heart and dislike all the games purporting to be HO games when they are truly adventure games with some HO scenes or element to them...this does NOT make it a HO game!!! I liked the idea, the premise, the graphics of the game. I did NOT like having to do 43 things FIRST before I could do ANYTHING. You begin with a HO scene--that was great--outside the beetle-powered sub you are taking on your classified mission to the Triangle. On board, you are directed to tune the radio into the home base frequency to download the secret coordinates and get the sub moving...BUT FIRST you have to fix the dern radio! So, you must search for the missing parts, of which only 1 involved any kind of HO scene. There were some scenes where you were to match 2 items that went together--even if HOW they went together was obscure (like a sneaker and a horse shoe or a rabbit's foot charm and clicking on the front left paw of Albrect Durer's real rabbit lithograph). So, if you WANT MORE challenge and hard work in your game, more adventure and fewer HO scenes in your HO genre, then get this game as you will enjoy it. If, like me, you are frustrated by this type of so-called HO game, try the free sample and decide if you like it.
March 12, 2012
Not so much fun
I simply kept playing this game hoping it would improve. Unfortunately, it did not. To top it off, as I was really becoming frustrated, I got the "to be continued" message at the end of the game. What a waste of time. I won't be buying the next game for fear that there still will be no closure.
June 2, 2012
Mechanical Engineering degree needed to play
Title says it all. This game is way more technical than it needed to be. Somebody said "more of an adventure game than a hidden object game." I have to disagree. I love adventure games and the half hour I played this disaster of a game was nothing like any adventure game...Just a bunch of senseless clicking and hoping you get something right. None the less, not a typical h.o.g. other than the game play is totally pointless.
May 8, 2012
Ugh, can't stand it!
A Hidden Expedition game by Big Fish Games Dive to the Bermuda Triangle and find out what's the mystery behind the team lost at the devil's triangle! Sounds good however the game turns to be a disappointment, although it's better than the usual finding objects variety. Hint is not helpful at all except in a puzzle. There is no map to see where the actions are, and clicking hint doesnt help at all, either. When you need to pick up an item, the cursor changed, but the problem is when the cursor doesnt change when an inventory item should be used in a certain area. The graphics are grainy, there is almost no music, although I have set the music volume to be quite high. HO scenes are mostly junk and puzzles have no instructions whatsoever. This turns out to be a rather bad game. VO is okay but the text and what being said don't match, so it's confusing. I tend not to read the whole conversation because they are not very helpful with the game. This game starts getting on my nerves even on the second chapter because it's not helpful at all, no map, hint doesn't show places. I have to use the blog walkthrough to guide me to the game. Turns out the game is pretty short, which is to my relief as I can't stand this type of game.
June 15, 2014
Frustrating Game
I bought this game a few years ago. Played it the first time, quit after the first chapter. Finally came back to it, and was never so frustrated. The puzzels had no instructions as to how to solve, the HO screens were confusing, when I used a hint, it would subtract, but not show me anything. Had to rely on the walkthrough as I never knew where I was going next. I was determined to finish the game this time, and after printing the walkthrough I finally got to "the big finish." What a huge disapointment, we fly off the tower, no sound at all and a big "to be continued." Hidden Expedition series are my favorite games, but I am dissapointed in this game. I will not be getting the sequal, I will wait for another new HE game to come out.
March 4, 2013
This is not a Hidden Objects game
This is the worst "hidden objects" game. I do not want to keep going to the walkthrough to see what to do next. And I definitely do not want to buy the Strategy Guide. This is a frustrating game and not relaxing at all. If you want a true hidden objects game, look for something else because this will disappoint you.
May 14, 2012
Old School online HO!
I love this topic and a good story line would make this a great game. However, I did not get 10 minutes into the game before I was frustrated. It start off with a HOG that you need a microscope to find. After struggling with my vision, I needed one last object that was as thin as hair! It was the only remaining object on the list, but I still had to click on it to tell the game what to find. At that point....nothing. You are told to pick up and object, but no instructions. Then you are left with the HOS and no where to go. Blinking lights on stairways to a pre-launched submarine made me think that was a hint to move in that direction. Instead I get a warning that I can't board until the "BIO-COIL: was installed. ??? The dock was stacked with wooden shipping boxes and I just happened to click on the right one. A close up indicated that this was the fantastic bio powered coil made from exotic "beetles" in some tropical place. I honestly have already forgotten. I thought that was illogical even for a fantasy game. The music sounded good...but not much to say since my visit was so short. This was not a CE, so there were few bells and whistles. I feel like this is an older game re-released. The beginning shows a newspaper with an article and the caption says "PRESENT DAY".....but the paper was dated 2009. I truthfully think there are some good older games out there that could be reworked and re-released as a 2nd Edition using new technology in current gaming. I am not happy to see new "cover" artwork that I don't recognize and find that a game is 4-5 years old. I would not recommend this game to even a new player because they would be lost and frustrated. Regretfully, this could have been an awesome topic.
October 13, 2013
An illogical mess.
Bought this cheap without trying it first or reading any of the reviews...BIG mistake. I like a challenge that really makes me think, but all this did was make me think, "Are you kidding me???" There was absolutely no rhyme or reason to this thing, no logical steps to get from beginning to end. When I had to consult the walk through for the 3rd time, I was done. If a game is so convoluted you have to have your hand held the whole time, that sucks all of the fun out of it for me...and this was definitely one of those. Definitely try it before you buy it, no matter how cheap it's offered.
December 22, 2012
The Apple logo is a trademark of Apple Computer, Inc.