Millennium: A New Hope
Travel back in time and learn how the city of Myst was able to overcome its humble beginnings and become a thriving kingdom in Millennium: A New Hope. Marine has decided to help her father challenge the rich of Myst, and bring on an era of change. Travel the countryside getting stronger and taking on the oppressive upper-class in this fast-paced Action game. Gather the strongest fighters you can and walk away victorious!
Unique gameplay
Quality soundtrack
Game System Requirements:
OS:

Windows XP/Windows Vista/Windows 7/8

CPU:

1.6 GHz

RAM:

128 MB

DirectX:

9.0

Hard Drive:

98 MB
Game Manager System Requirements:
Browser:

Internet Explorer 7 or later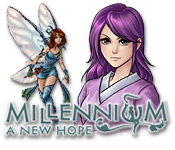 NEW299
The Big Fish Guarantee:
Quality tested and virus free.
No ads, no adware, no spyware.

Reviews at a Glance

Millennium: A New Hope
0
out of
5 (
0
Reviews
Review
)
Customer Reviews
Millennium: A New Hope
13
13
This is a MUST PLAY
As an avid RPG fan for many years now, I have played almost every one available! There is no competition out there that can compare with the games Aldorlea presents. Indinera has an innate ability to create a challenging, yet eventually, supremely rewarding experience!! I particularly love the way he creates serial episodes of games! As with Laxius Force, Millenium gradually builds upon a solid story foundation, developing the personalities of the characters, until you can't help but feel an empathy with them, as if experiencing their trials and tribulations yourself. MM does a superb job of doing just that. Our main heros are continually challenged by dangers, striving to survive as they move ever forward to fight the tyranny of their time. In order to be given a voice in the decisions of the land, and even be allowed to live in a protective city, Marine, our heroine, must come up with 12 warriors to fight in a battle which will decide the policies of the country. She therefore sets out to find the brave souls willing to do this! The numerous side quests available are compelling, and as always with Aldorlea games, there are secrets hidden slyly throughout! And, the replayability is incredible, with different levels of difficulty that offer different challenges, and new secrets to be found each time you play! Always, Marine leads her band forward to prove the common man deserves all the opportunities of those born to wealth and status. And even as the enemies watch them from afar, a certain respect and admiration for them is developing even in the foes! MM1 leaves you longing for the next installment, and eager to see what this talented creator will come up with next! Millennium is destined to become a classic, and you owe it to yourself to give it a try!! You won't be sorry!!!
December 24, 2011
Nice story, good replay value and entertaining gamplay
Nice story, challenging fights, tricky and well thought maps, secret rooms, many spell, armors and weapons, good graphic and music - Millennium: A New Hope has a lot to offer, not only for experienced RPG players but also for newbies (there are different difficulties, you can select monster encounters rate and so on). It's fun to play and I can easilly recommend it to anyone. Plus, there are more parts in the serie to play in case you like it. I should also mention that there are "jumping passages" in some parts of the game and it's really cool and unseen in majority of other similar games.
December 12, 2011
Excellent value for money
The storyline is great, the characters are detailed and gorgeous! There are 4 levels of difficulty to play on so its a game for everyone and has great replay value. The amount of hours it takes to finish the game really makes it good value.
December 14, 2011
Marine, the beginning of a legend
Millennium A New Hope have one of the most touching stories that a game can provide to the player, at least it provided that to me. It tells the story about Marine, a young and poor girl who lives in the poor village of Green Grass with her father and sister. One day her father got injured by the town of Mystrock when was trying to defend his rights and the rights of his people, after that Marine decided to take the matters into her own hands. She decided to find twelve warriors to fight alongside her and defeat the lords of mystrock in a legendary tournament. If she wins she will be the new ruler of myst and will be able to her dad and her people. But this quest won't be easy. Apart from its good story, Millennium also offers great features like secret rooms that contains amazing rewards, atributes orbs which you can change for strenght, resistance, mind and speed points depending of the orb that you collected and lots of side-quests that is not too hard but also not too easy, oh.... almost forgot the Animal Kings, optional monsters that will make you think of great battle strategies in order to defeat them. Millennium is a jewel and must not be missed!
November 10, 2011
Adventure Game!
Marine...how in the world does a young girl learn to fight and gather companions for the biggest quest of her life? You will be transported into a world of side-quests, learning skills and watch Marine grow in her determination to do something for the people. Ah...there are villians you'll need to watch out for, so it's not all smooth sailling. And why does she need these fighting companions? Play to find out.
December 12, 2011
Excellent game
Millennium has been my introduction to this type of games and I have to say this is a very polished and solid one. It can be challenging at times but nothing impossible. Exploration is usually very rewarding and made easier by the use of the mouse. The sequel is also good and lets you play with your adventurers and their equipment.
February 11, 2012
Good
Love it!! when will BF get 3 and 4???
July 19, 2012
Yes, I AM an Aldorlea Fan ;-)
Big Fish is the reason I discovered Aldorlea. I love all their games, but Marine, aka heroine of Millennium, is my girl. This game is the first in a series of 5, and it needs that kind of time. There is SO much to do, just in this part, and what you do here will indeed help you in the next chapter. The characters are wonderful (Karine is probably my fave female character), I love the music (and I know I say that often, but Aldorlea occupies a chunk of my iPod), and I would strongly urge anyone who enjoyed Skyborn to give the Millennium series a try. Best part of this game? IT ISN'T OVER YET!!! <EG>
September 21, 2012
Amazing 2D SNES-like RPG Game!
I strongly recommend the game for those who are used to deal with old-school front-viewed-fighting 2D RPG like Dragon Quest or Phantasy Star. The storyline is entertaining yet classical, and the characters are as strong-minded as funny. Particular greetings to the artworkers' job, it's quite impressive. Definitely worth the try!
October 7, 2012
This is the first of four in the series
The reason I like this game is because it makes me think of how to finish the game with the most awards. This means it has to be played more than once. This is the first of the four in a series. Big Fish doesn't have the third or fourth games yet. I still have not figured out how to find all the hidden rooms despite having a stragey guide. I like the ability to choose the level of the challenge of the game. I love the RPG games! Keep them coming.
February 6, 2013