World of Zellians
The World of Zellians has been slowly deteriorating as royal feuds divide the kingdom and bring production and building to a standstill. It's up to you to unite the kingdom and rebuild the troubled World of Zellians from the ground up! Relax and have fun while you organize your city and bring the kingdom to a new era of happiness in this detailed and delightful Strategy game.
Unique gameplay
Cute characters
Help the Zellians!
Game System Requirements:
OS:

10.4, 10.5 (recommended)

CPU:

1.83GHz

RAM:

512 MB
Game Manager System Requirements:
Browser:

Safari 4.0 or later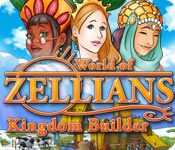 NEW299
The Big Fish Guarantee:
Quality tested and virus free.
No ads, no adware, no spyware.

Reviews at a Glance

World of Zellians
0
out of
5 (
0
Reviews
Review
)
Customer Reviews
LOVE
There's nothing more to say. I just love this game.
February 18, 2012
When is the next Zellian World released?
This is my favorite game of all time. You can count on me as a buyer to whatever number of games you release with this same concept. I have played and replayed this quite a number of times and keep visiting bigfish looking for the next one. Please commission the developers so they can do the next one.
December 8, 2014
Need More Games Like This
I haven't played a game like this since Caeser 3. It is so fun to build a town and watch to see how your people reacts. Bigfish needs to have more games like this.
June 11, 2014
Best game to relax with
I am not one to write reviews of good or bad games but this one received so many bad reviews that I thought I should speak. This is not Hotel Mongrel and is not a tm game. It is a layed back strategy game. You cannot rotate your buildings (I don't know of many building games where you can rotate) but there is plenty of space to build if you use wisely. LOL I am 40+ yrs old and I have had this game for a month and have played it start to finish 4x!!! It is fun and relaxing. The story line is great & silly. All in all my fav game from BF and I hope there is a #2 (to finish the story). so yeah, my first comment / review
May 1, 2014
World Of Zellians: Kingdom Builder
I noticed that the title of this game is trademarked. That leads me to wonder, WHY is there not a sequel yet?? I was leery of trying it due to its strategy qualities, but based on the reviews mentioning its lack of any real "time management," decided to give it a try. This is probably the most fun I've had with a game in years! Plot: The World of Zellians is divided into various kingdoms whose monarchs don't always see eye to eye. In fact, commerce--and diplomacy--are falling apart. Enter city-planner Zorm, who accompanies you through the kingdoms, teaching you to rebuild everything from the ground up. You have as much time as you need. Sound easy? At first it is, but things get more complicated when you have to fit the required buildings into some tight spaces, plus, somebody is intent on sabotaging your kingdom-rebuilding efforts! As time goes on you have to deal with not only the monarchs' individual demands, but random fires, madmen, and thieves as well, in order to prepare for a royal wedding. There are nine kingdoms, each with individual landscape challenges #forest, desert, etc.# and five levels/towns you must travel through. The monarch of each kingdom tells you at the start what you need to do. Some levels are far easier than others, with lots of room and fewer buildings needed, but a few get really tricky #I had to tear down and rebuild almost an entire level to fit in a certain structure#; so it's a good thing that destroying and rebuilding, as well as building roads, are free! #Though the initial building costs money.# You can't rotate buildings, all must be connected to the main road, and some must be built in particular locations, so you have to either plan very well, or be ready to tear it down and build it up again--once you find a decent spot! An added complication is many buildings depend on other, simpler buildings--Building D can't be built until you have Building C, and you can't build C without having Buildings A and B first--so it's also a good thing that the requirements for each structure are clearly listed onscreen. Other complications are having the required materials and funds, the required population, and oh yes, those pesky fires #which destroy buildings#, madmen #who damage the infrastructure#, and thieves #who steal said materials and funds!#, which show up with increasing frequency in later levels. You can't handle them without emergency buildings. Yet you can't build those without having other buildings first. So, you'll often find yourself scrambling to build a dozen things while thieves and crazy people and fires are running rampant, undermining your efforts... When I found out that these problems were DELIBERATE, as well as the cause behind them, I was so steamed I wanted to hit someone! I guess that means I was really into the game, ha. Only a few levels were so challenging that I almost wanted to tear out my hair, such as the level mentioned above, as well as a few levels where thieves robbed me blind. ;_; A thief kept running in and out, robbing a building so quickly I couldn't click on him to arrest him #it wasn't that I was too slow, I LITERALLY could not click on him#; he kept popping in and out nonstop even when there was no more money left to steal, so I had to restart the level just to be rid of him, and I wonder if perhaps that was a game bug. :/ I was robbed again the next time #grr# but managed to work through it. So, yes, there's an amount of frustration and difficulty involved, and I often dreaded what attack might come next, but it wasn't enough to keep me from persevering till the end! And I'm so glad I did, because it was just so satisfying. :# In addition to the five regular levels per kingdom, there's an OPTIONAL timed bonus level for each; I wasn't aware of these until about halfway through the game. I haven't played them yet since timed gameplay stresses me out, but supposedly the requirements in each aren't as strict; perhaps those levels would be more satisfying for those who dislike the lack of time management in "Zellians." You can revisit levels you've already played, but only to look at them. Also, there's a "free mode," where a sort of "sandbox" of each kingdom is unlocked as you play, and you can go in there and build whatever you want without any goals; I haven't used this yet, but each ruler greets you politely when you enter. Every king and queen in the game is distinct in appearance and personality, and all have their individual quirks; the artwork and animation, while cartoony #in a vaguely anime/manga style#, is simply gorgeous. When you finish a kingdom, each ruler gives you a lovely trophy, and you learn about them in a Zellians history book. I experienced some buggy screen flickering for a moment or two each time I started the game but it would soon cease and this didn't interfere with gameplay. I will most likely play this again sometime in the future, and need to check out the free mode and maybe the timed levels a bit more. Alas though, no sequel! :# Seeing as this game focuses mostly on commerce, materials production, and emergency services, a followup game that focuses more on, say, sports, arts/entertainment, and Zellian history/culture would be wonderful. As well, more options for the free mode, such as randomized landscapes and randomized instructions from the rulers, would be fantastic. #As long as it's all kept untimed!# The end of the game makes it obvious the developers at least hoped to create a sequel at some point, so...are you listening, game developers? Sequel, please please please! Is it too obvious that I recommend this game...? I obtained my copy of "World Of Zellians: Kingdom Builder" directly through Big Fish Games. The game folder takes up 210MB on my hard drive. I ran this game on Windows 7 with one bug/error #the glitchy screen flickers, mentioned above# but no other problems.
April 22, 2014
Great game
I really enjoyed this game -- I like building games, but tire of the click-click frantic part of them. This has no time limits, but it's still challenging, because you have to fit the structures into a limited space. I wish the game would let you "preview" the ultimate structures, because it's frustrating to get to the last structure of a complicated level and then discover it just won't fit anywhere. But that didn't diminish my enjoyment of the game overall.
January 21, 2014
Ambushed by the Awesomeness!
I have always been a fan of kingdom building games - Pharaoh, Zeus, and Emperor were awesome. That type of game is difficult to come by, however, so I was especially pleased to find World of Zellians. Unlike the kingdom builders I was familiar with, however, the challenge of Zellians comes from being able to fit everything in, given terrain constraints and the shape of the buildings. Now that I've finished it, all I can say is I love this game! The storyline is cute, and had a twist in it that I didn't expect. Game play is simple to learn (but challenging to master, of course). The game provides all the information you need to accomplish your goals, so if you forget building requirements or have a problem, the game will give you that info in a non-patronizing fashion. The graphics are adorable. I found the sounds to be so helpful that game play was difficult for me with them off. The music wasn't so good that I'd listen to it casually, but I didn't hate it, either. Some levels were a real challenge, but many of the levels I would have like to be just a little bit tougher (but just a little!). Because there's no clock, you can take as long as you want to solve the puzzle of how to fit everything together. I would absolutely love to see a sequel to this game.
October 6, 2013
Very Fun Not Boring at All
this was a different kind of building game than I have played before. Instead of being told where to build something you have to figure out where it fits and put it there and after that you have to build what that first building needs. Its really fun. The only complaint that I have is you have to move the screen around to see it all but even with that I highly recommend this game to those that have time to waste and want a fun way to waste it.....well isnt wasting time what we all do while playing games LOL
July 6, 2013
One of the best builder games!
I am always coming back to this game as my favourite time building game. What really sets it apart from other building games is the puzzle element. Getting your cities laid out right is critical and the free placement makes it really fun and innovative. On the last few levels I have gone back to find out if there are any other solutions than the layout I managed to complete.
May 3, 2013
Happy Memories
I bought this way back in 2009 and recently played it again, reminding myself just how good it is. There is no running around like a demented chicken trying to gather resources and beat the clock. You actually have to use your brain with this one and build wisely and well. I loved the teacher who kept popping up in indignation at the success of his pupil (you!) and trying to stymy progress. Just loads and loads of fun. Wish I had replayed it sooner than this!
April 7, 2013
The Apple logo is a trademark of Apple Computer, Inc.
The Windows logo is a trademark of Microsoft, Inc.