Drawn: The Painted Tower
Enter the world of Drawn, the newest adventure from Big Fish Games Studios. Unravel the secrets of the Painted Tower while overcoming challenging puzzles on your quest to save Iris. A curse has locked each floor of the tower, and only the most creative adventurer can find a way through. Enter lush painted worlds and meet fantastic characters who will help youand sometimes try to stop you, on your quest through the dream world of The Painted Tower.
Beware! Darkness approaches the tower. Can you save her in time?
A cinematic adventure
Explore enchanted worlds
Solve elaborate and cunning puzzles!
Game System Requirements:
OS:

10.5/OSX_10_4

CPU:

1.0 GHz

RAM:

512 MB

Hard Drive:

227 MB
Game Manager System Requirements:
Browser:

Safari 4.0 or later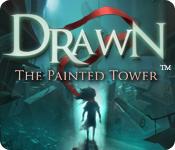 NEW299
The Big Fish Guarantee:
Quality tested and virus free.
No ads, no adware, no spyware.

Reviews at a Glance

Drawn: The Painted Tower
0
out of
5 (
0
Reviews
Review
)
Customer Reviews
Drawn: The Painted Tower
148
148
I say, like in a dream.
Me and my wife are great fans of Adventure games and we always play them together. Here's what we thought about this one... I give you... the Good and the Bad and the Conclusion: + Magical visuals, something different for a change + The Narrator + Overall, music works well with the game + Challenging puzzles + Family friendly - Sparkles here, sparkles there, sparkles everywhere - Lack of... thrill. THE CONCLUSION: Alright now, there's probably some folks who just adore this game with all of it's aspects, but unfortunately, it just wasn't THAT perfect for us. Let's go into details, shall we? It was refreshing to have these beautifully drawn visuals for a change. We mostly play the HOG Adventure games and they tend to often have quite similar visuals. We both are like big kids, we love cartoons, children stories and being all around goofy. So we loved the whole kiddie feel in it. The narrator of the game - a character in the game - makes the game so much more believable and immersive. It sets that mystic tone to the whole journey. Makes it deeper. The whole core idea of using drawings for the whole look and for interacting was a great and unique idea. The puzzles are surprisingly challenging! In a good way. The story... well it's sorta straightforward and ends quite abruptly, even though the journey is full of lovable details and characters. I was aware of the fact that this is only the first part of Drawn and that the story will go on, but my wife didn't. She hated the way the story was cut in the end, like she usually hates that sorta endings. I'm not that bothered by it, since I knew that there's gonna be more and had my mind set to that. Personally, one of my complains sorta reside in the ending too. Only in the ending I had that feeling of "Ooh, things are gonna get interesting now!" and then... it ended. I wish there were more of those moments in the actual journey that had the sense of danger, peril and surprising thrills. At least the story and narrator's speech along the way made it sound so much more dangerous situation. To me, it didn't get fully delivered. Oh I mentioned the sparkles! There are sparkling all over. Even if you have done all you needed in that spot, it might still sparkle and confuse you: "There's still something I'm suppose to do here?" If you take it as a way of making you think in more complicated manner and to purposely bluff you, then yeah I can get that. In the end, I'm not quite sure what to think of that. Also, be prepared to look carefully for all scattered items, or you'll be pacing around the levels of the tower constantly, finding that missing item you missed. So this pretty much now means that we must pick up the next part to see if things start to get more interesting. In the end, we both enjoyed the game very much. The raw drawn visuals, speech parts, the puzzles, the children's book story, it all was really nice and fun. It just had those slight problems which didn't make it an excellent game for us.
December 1, 2011
Drawn: Painted Tower
very nice graphics my computer couldn't handle the mirrors (windows xp)--it started flashing I downloaded the game again, still had the same problem. I eventually got through the game with the flashes, only to go blank at the very end of the game. I went through the game a third time and got through it. Overall,it was a nice game and it wasn't dark, which I liked.
November 11, 2011
Could have been so much better
I am at the end of a long line of reviewers for this game, so am in no doubt that this review will go unseen. No matter, I'll still put it out there. First tried this game a long time ago - couldn't get out of the main room. At that time I was a match-3 player and just could not get my head around what the game was about. Things have changed a bit since then, guess you'd say I've graduated. Moved from match-3 to HO but after a while that just gets so TEDIOUS! Constantly looking for badly drawn junk in junk piles. Then moved to straight adventure and that was why Drawn - Painted Tower was so appealing. No HOs! Drawn is indeed well drawn - pun intended, but it could have been so much better. The fact that you have to wait for each and every scene to "load", even though you have been there before, gives a clunky quality to the game which surely could have been avoided. Have never experienced that before. The mini games are good, but again, fall just short of the mark. For goodness sake, is it so hard to give us directions about the puzzle?? That is so annoying! You look at it and have no clue about how to approach solving it. Franklin is not really helpful either. He has "set" responses when you hit the Hint button, it's like he is not really "looking" at your game play so see where you really are. Grr. For saying all that bad stuff though, I did enjoy the game - it's just that it could have been so much better. Will probably use a game credit to get the next Drawn in the series, hope it's a little better than this one though.
June 4, 2012
Too much area loading and backtracking make this a slower game
Perhaps it was because it was Big Fish's first effort at this series, but I could not give this a full 5 (I have to be honest.) The music and characters are cute and this adventure is for a family with children. I hope future "Drawn" series eliminate some of the game lag of backtracking at least.
November 15, 2012
Wow Great Game
The story line was excellent. The graphics were crystal clear. The challenge of it was tricky but not to hard. The length was decent. I love feeling like a little kid again. Going into drawings and discovering new worlds.
March 30, 2012
Wonderfully Imaginative Game
Nine months ago I couldn't even attempt to play a game like this but tried it again and did well and loved it. It just shows me that experience playing games increases my abilities. I did have problems knowing what to do next but there are hints that help. I absolutely loved the voice of the narrator, who is also a character in the game. Now I can't wait to start the second in the series.
December 22, 2011
The sequel is better
The main reason I'm not giving this a 5 star rating is because I think the sequel is so much better. + Graphics + Music + Atmosphere + Puzzles - Voice acting (Franklin) +- The overall story idea is really good but it fails to engage me.
February 19, 2012
Visually engaging, pretty fun
I like this game but I think I have technical issues. I don't really care for all the waiting between scenes and navigating the world. I like more responsive games. I can't say anything bad about the game, it delivers, but I've had some technical issues where I had to restart my computer because it has some kind of glitches. That's me or my computer, doubtful it's the game but there could be a compatibility issue, not sure. I'd recommend it if you like slower, more thoughtful games. Not crazy difficult, have to use the guy only a few times when I'm not sure what goes with what, but that's not a big deal.
October 20, 2013
Gorgeous Game Series
The Drawn Series are Adventure Games which remind me of the gameplay in The Tiny Bang Story... They Differ from Hopas and From your average Adventure Game If you favor animation you are sure to like this game the only draw back is the mini games are really not great...
August 26, 2013
AWESOME GAME!
I love this game so much. At least there's more Drawn games! Thank you Big Fish Studios!
May 10, 2013
The Apple logo is a trademark of Apple Computer, Inc.
The Windows logo is a trademark of Microsoft, Inc.