Drawn: The Painted Tower
Enter the world of Drawn, the newest adventure from Big Fish Games Studios. Unravel the secrets of the Painted Tower while overcoming challenging puzzles on your quest to save Iris. A curse has locked each floor of the tower, and only the most creative adventurer can find a way through. Enter lush painted worlds and meet fantastic characters who will help youand sometimes try to stop you, on your quest through the dream world of The Painted Tower.
Beware! Darkness approaches the tower. Can you save her in time?
A cinematic adventure
Explore enchanted worlds
Solve elaborate and cunning puzzles!
Game System Requirements:
OS:

10.5/OSX_10_4

CPU:

1.0 GHz

RAM:

512 MB

Hard Drive:

227 MB
Game Manager System Requirements:
Browser:

Safari 4.0 or later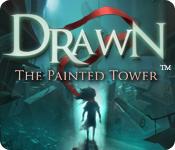 NEW299
The Big Fish Guarantee:
Quality tested and virus free.
No ads, no adware, no spyware.

Reviews at a Glance

Drawn: The Painted Tower
0
out of
5 (
0
Reviews
Review
)
Customer Reviews
Drawn: The Painted Tower
159
159
Beautiful game
The artwork alone is enough reason to enjoy playing this game. The characters were beautiful and fantastical. I played this with my ten year old daughter and she recommends it "to everybody in the universe". The only thing that kept it from the full five stars was the difficulty finding and using the exits and the hint feature, which wasn't always very helpful.
November 25, 2011
The sequel is better
The main reason I'm not giving this a 5 star rating is because I think the sequel is so much better. + Graphics + Music + Atmosphere + Puzzles - Voice acting (Franklin) +- The overall story idea is really good but it fails to engage me.
February 19, 2012
Unique game but arachnophobes beware
I've heard about Drawn: The Painted Tower since its pre-production stages and it always intrigued me but I never got around to playing it until now. I'm very glad I got the opportunity (and time) to play this because it is a very unique and stylish game. It's an adventure game rather than an hidden-object game so if you're looking for an HOG, you might want to pass this by. The story goes that a girl named Iris possesses a magical ability to bring to life anything she paints. An evil king wants to wield this power so he has kidnapped and imprisoned Iris in a tall tower where you must save her. Most of the gameplay consists of the typical fashion of using and/or combining objects in your inventory to solve puzzles. These puzzles aren't terribly difficult but you do need to look at everything around you and use a bit of logic to solve some of them. You will also be able to enter paintings (similar to visiting different areas) and need to revisit these paintings to acquire objects needed for puzzles elsewhere. It's a rather linear game which is a good thing because each scene visited unfolds the story a little at a time, which keeps the mystery and magic alive. The visual style for the game takes the form of a semi-abstract, surreal painting, which is appropriate given the nature of the story. Most of the game is in a depressing turquoise shade which is very effective in making you feel you've entered a bleak and sad world devoid of hope and happiness (which only makes you want to save Iris more!). The only warm, vibrant colors are in Iris' paintings symbolizing the "ray of light and hope" that she represents but also that of any child's visions, where imagination and dreams can come true. I have no real complaints about the game (although loading from each painting to each painting did cause my screen to flicker between the game and my desktop at one point) but the only reason why I did give it 4 out of 5 stars is because of a rather inconsiderate puzzle involving a giant albino spider hidden in a tree. After discovering this spider, clicking on it brings you to a puzzle where you must click on it's eyes to close each one of them in order to kill it. I use no spoilers in order to warn other arachnophobic gamers to watch out if they are interested in playing this game. I luckily didn't have to witness this horrible scene because after discovering the spider (which made my heart skip), I had a bad feeling so I asked my sister to find out what happens next and she skipped the puzzle for me. I am quite aware that other games use spiders/giant spiders as "obstacles" or during hidden-object scenes but while these gives me chills, I know that it's something I just have to "destroy" or find and that's that. But to create a puzzle around spider eyes where you have to stare at the screen to solve (which may take some time if you don't want to skip it) just really infuriates me. Regardless, I still find this game and the story enjoyable so it's a huge plus for me. I just wish the team at BFG had more consideration for their gamers during the development of this game. I hope the other two games will have no nasty surprises like this because I am looking forward to playing them and hope I will enjoy those as much as I enjoyed The Painted Tower.
August 17, 2012
Nice
Pretty good game from what I played in the demo. It makes you think outside of box. The graphics are nice and storyline makes sense!
August 4, 2012
A bit too child oriented for my taste
My initial perception of the game was that it would have a feel like the movies Labyrinth or Return to Oz. But as you go on you find that is not so. The art is nice in an interesting stylized way but the story definitely geared slightly too much towards a younger crowd for me. It should also be noted that this game is more of a story puzzle game than a hidden object game. You don't have the jumbled screens in which you have to identify listed items. You just have to go around the game looking for items that you have to use elsewhere. And this part is just me, but something about the Drawn games felt a bit tedious and boring too. I played a bit of one other one to see if it was different, but definitely the same. I know many other people love these games and justly so, just thought I'd put this out there for people who might be a bit more like me.
November 24, 2011
It is an ok game
I got tired fast. It was a little slow and lots of time going back and forth between parts. The hint button was slow and the hints were not that good. Not really and HO but that is ok just puzzles that are vague to figure out at times. I only played 60 min and decided to try another one.
August 15, 2012
Only if you are patient!
This game has awesome graphics, story line, music and I love the narrators voice. But I have played a lot of these games and this is one of the slowest, most frustrating games I have played. There is so much that they don't tell you how to do so you have to use the hint button or skip most of the puzzles. The hint button is very slow to recharge and only gives you a little info at a time and has to recharge between each one. I consider myself relatively good at these kinds of games but wow, this one is only for the very patient and for those who have a lot of time. I recommend it simply because it is a great game in other ways but I found it very frustrating and thus not a lot of fun.
February 22, 2012
Maybe it was just too sophisticated for me?
I purchased this game for me MAC and then shortly after starting it realized I'd played it to completion already on my iPad. The story is beautiful. The graphics, are, at times, stunning. The VO was wonderful: it reminded of Edward Everett Horton who was the VO actor for several cartoons that had a "moral to the story." There's something very find about this game. Consequently, I'd recommend it, just not for someone seeking what I seek. I really to like the darkness of the games I play and this is not that....it's almost a fight between good and evil and you believe that good will win the whole time. This is, in part, because of the calming tones of the narrator. It's a wonderful story but it's not a HOG/Puzzle/Adventure in the normal mode. It's what makes it special, but just not for me. Ironically, I will recommend it highly for other who are, perhaps, just more open to change/different ways of doing things than I am. Please don't let this review hinder you from getting it. IT IS GREAT....It's just not my cup of tea. I liked Cinderstone Orphanage and Nick Chase: Detective and Infected: The Twin Vaccine. This is very different and still very good.
July 30, 2012
Just not to my tastes...
The graphics on this game are stunning - no need to belabor that more than it already has been. A caution, though - if you prefer more realistic graphics as opposed to stylized "painted" cartoons, this isn't for you. I prefer adult themes, although this child friendly game was a nice change. If I had children, I could definitely see many happily shared hours playing this game. For me, much of the play was a bit boring. The puzzles held my interest, but directions could have been clearer (or at least reasonably apparent). Overall a nice game, well put together and highly original. I recommend this game for those who want a lighter mood for their adventure games or want family oriented themes.
December 26, 2012
Did not fulfill my expectations
To be honest, everyone's been raving about it. So in faith, I got both this, and the sequel in faith. Sure, the graphics are stunning, and the gameplay challenging.. But often times, the instructions weren't clear and it did not engage me. It just made me want to quickly get the game over and done with and the ending was like, What..? I guess that's why there is a sequel, but .. Srsly? -.-
December 11, 2011
The Apple logo is a trademark of Apple Computer, Inc.
The Windows logo is a trademark of Microsoft, Inc.