Hidden Magic
Two mages have moved to the edge of the forest, and are living happily in a small house. One night, while one of the mages was away, a dark and sinister force breaks into the house and whisks away one of the mages. With no other options, the other mage goes on a search for the love of his life! Explore a dark and mysterious forest and find the evil kidnappers in Hidden Magic, an exciting Hidden Object game!
Multiple minigames
Fun gameplay
Find the other mage!
Game System Requirements:
OS:

Windows XP/Vista/7/8

CPU:

800 Mhz

RAM:

256 MB

DirectX:

8.0

Hard Drive:

63 MB
Game Manager System Requirements:
Browser:

Internet Explorer 7 or later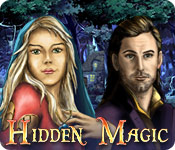 NEW299
The Big Fish Guarantee:
Quality tested and virus free.
No ads, no adware, no spyware.

Reviews at a Glance

Hidden Magic
0
out of
5 (
0
Reviews
Review
)
Customer Reviews
Speed and Accuracy are Key!
If there were ever a hidden object game where time was of the essence, this would be it. Your love was kidnapped and now you must travel through the realm to the castle to save him/her (depending on which gender you chose). There are normal hidden object scenes with pieces of objects you must use to get one key item in that scene. Most of the scenes are "battles" with consistently more powerful dark creatures in forests, caves, etc. Use the beginning battles to get acquainted with the items and which magics will be super effective on certain creatures. You can replay any scene you've already passed. Don't click on an item if you're not sure of what it is! Every wrong click is a penalty that can be avoided if you just hover your mouse over the item and memorize the name. The time restrictions make the game challenging and fun! I played a few of the scenes over just to get a perfect score. All in all, the game is worth buying and playing!
October 2, 2012
Everything
this game has the important thrill factor every game should have. it's also a rare game that isnt like any other game. it won't disappoint anyone. Moreover, its not an essential to download huge file games of 300 and 400 MB. this game has very small capacity and is much better than all the others. its been my favorite for a long time and i don't think any other game will dethrone it from my game list. more that 5 stars.
January 13, 2012
my first review
this game is great fun! at first, i didnt think it was going to be able to hold my interest, but i enjoyed the game so much, that i have replayed it a couple of times. it's not the typical hog. it is a seek and find, but it's unique. and the storyline is good, too. there are battles you have to win, and spells you cast. overall, it is a very good way to unwind after a hard day's work!
November 5, 2012
...and now for something completely different
I can't remember how I stumbled onto this little gem, but I'm so pleased I have. As others have said before me, at first I really wasn't sure it was going to keep my interest, and then all of a sudden the hour was up and I was reaching for a punch card credit to purchase and carry on. It's really quite different to anything else I've played on Big Fish, and brilliant in it's simplicity. The music is perfect for the game and not at all intrusive. The graphics are pretty simple, but it doesn't need 900MG of stunning graphics, special effects and cut scenes like my usual fare, as it's just all about simple game play. Basically look for objects and spells in fragmented object scenes (not my favourite but I forgive this game), so that you can fight enemies in an RPG style battle. The only thing is you have to find all the items on screen of whatever potion you want to use, before the enemy gets you! Totally addictive. In between there are also other puzzles to complete, such as match 3, jigsaw, and 'find the pairs'. None are particularly challenging, which is another thing I usually go for, but it just all adds up to a really lovely, 'unputdownable' rounded little bundle of fun. I really would recommend you to give it a go, whatever your usual game preference is. Must dash, have foes to vanquish and potions to make!
January 25, 2013
Addictive hidden object
Nice idea of combining RPG with hidden object. Though the intermediate puzzle games are not great, the main 'fight' scenes are utterly addictive and can be played again and again.
January 11, 2013
Old School HO, Classic, Relaxing, and FUN
The basic adventure is solid. The HO scenes challenging (but in relax mode the hint refills quickly) the music is awesome, and the use of 'find a series of objects' to cast a spell is surprisingly challenging yet doable, since you soon come to learn what each object looks like. Since they are in an array that changes with every spell cast (new objects layered over the existing objects) I never got bored. After you finish the adventure, you have even more fun awaiting when you can attempt duels with various creatures OR spend some lovely relaxing time working jigsaws of gorgeous locations, still with that great music. Great value, and a game I return to again and again.
December 25, 2012
miss this good game.
i love to play this game so much. but i have to stop playing it, b/c my pc was broken...i bought a mac, and i though i could play it with my mac,...but it's too bad is doesn't have a mac version...please make one with the mac, so whoever own a mac could play it too... i miss it so bad....please.....
September 21, 2013
interesting mix!
"Hidden Magic" is an unusual game, since it is not the simple "find hidden objects" game with different locations or scenes you have to search. Your task is to find your partner who has been abducted. For this, you have to collect specific items in fragmented object scenes and travel down a long road (different levels) to follow your partner. Along the road, you have to combat different opponents by finding objects from a list to create spells and poisons. Very creative idea! The life points of your opponents increase along the way, so it gets more and more difficult to achieve victory, and if you take too long to find all objects for a spell, you might be attacked by your opponent and lose live points yourself. The downside is that it gets somewhat repetitious: In these "fighting scenes", the objects you have to find repeat often, and the background is (at least during the demo version) a kind of storage rack - more alteration might be nice. Overall, this is a nice change though from the typical hidden object game. I only played the demo version of this game. I might buy it with a coupon.
March 8, 2012
I DON'T KNOW HOW TO FEEL ABOUT THIS GAME
I have to say that I DID like the different play methodology BUT yellow mushroom, brown mushroom, honey mushroom not to mention violet bottle, violet, lilac bottle (that looked pink) and coffee beans looking the same as mud also looking the same as brown stone. In addition to that, the objects sometimes overlapped each other making it difficult to pick one item over the other. Also the "silence" potion is supposed to stop SERIOUS attacks for 5 minutes; REALLY?? It appears that someone forgot to tell the demons that. The GOOD news is that you can change from "normal" play (where the good guy can die) to "easy" (where the good guy NEVER dies, no matter how long it takes you to complete the level) and then go the the Menu Options and change back to "normal" play. While I do recommend this game, I do so with reservation.
January 24, 2013
Horrible Game
I am soooo sorry to say...this is the worst game I have ever played. I have over 100 Big Fish games...and I spent $10.00 on this goofy game. SAVE YOUR MONEY!!! I love these Fish games, but this one should be taken off the shelf. I am sorry to give such a bad review...and I'm very sad about it. Horrible story line begins this trek thru Lala land to find your true love who has been taken by goblins. Ain't no quaint story at all...it is terribly boring.
February 1, 2013