Nancy Drew: Treasure in the Royal Tower
Join legendary detective, Nancy Drew, as she follows ancient clues to find the mysterious Wickford Castle`s legendary secret in this Large File Adventure game! The castle is a riddle, full of dead-ends and detours that hint at a legend left behind by Marie Antoinette! Solve baffling puzzles, search concealed rooms, interview evasive suspects, and sidestep danger on the hunt for a secret that the doomed Queen was desperate to hide, in Nancy Drew: Treasure in a Royal Tower!
Explore the depths of a castle
Solve a historical mystery
Find the treasure!
Game System Requirements:
OS:

Windows XP/Vista/7/8

CPU:

600 Mhz

RAM:

128 MB

DirectX:

9.0

Hard Drive:

596 MB
Game Manager System Requirements:
Browser:

Internet Explorer 7 or later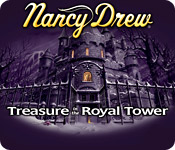 NEW299
The Big Fish Guarantee:
Quality tested and virus free.
No ads, no adware, no spyware.

Reviews at a Glance

Nancy Drew: Treasure in the Royal Tower
0
out of
5 (
0
Reviews
Review
)
Customer Reviews
Nancy Drew: Treasure in the Royal Tower
11
11
Another blast from the past
I got this one for my 10th birthday, nearly 10 years ago, and to this day, I still love playing it. This was the second Nancy Drew game I got. I still get nostalgic playing it, and listening to the soundtrack.
March 29, 2012
One of the best
This is one of the best of the old style Nancy Drew games, and IMO "Royal Tower" even beats some of the newer games in many ways. Unlike "Castle Malloy", you have a free run around the castle and you're able to snoop and explore everywhere.as you like. I miss this feature in the newer games. Also unlike many newer games, the puzzles you solve are mostly connected to the plot and help you move forward. Moving outside in the snow reminded me of "White Wolf", but it's done much better here. You can move on naturally, with no awkward walking motion and waiting for the scene to change. The characters are interesting enough, and the storyline about Marie Antoinette is very well done. You don't have to sleep in this game, but sometimes it's a good idea to move the clock forward, and you'll know when because you're given a cue. "Tower" doesn't have nearly as many puzzles as some other ND games, so in that way it's a little easier, also you don't have to take a lot of notes. Still you'll need your wits about you to move forward in every turn!
August 29, 2013
Loved it!
One of the best ND games ever was and always will be. I love learning about French revolution and Marie Antoinette in this game and the castle have quite a lot of places to explore. The length of the game is quite short but the storyline is great and you will surely find yourself replaying the game over and over.
May 10, 2012
My First Nancy Drew game
The first ever Nancy Drew game I played was "Treasure in the Royal Tower." I got stuck, played other Nancy Drew games then came back and finished it! This has some parts you might freak out at, puzzles that?ll confuse your brain, and lots of funny dialog. But all in all it's a great game!
October 29, 2012
Great game
I played this a long time ago and was thrilled with it. I would say get this for anyone who likes puzzles and mystery games.
February 28, 2012
This game is in a beautiful setting, with difficult puzzles
While I had trouble getting through some of the puzzles (I'm not ashamed to use a walkthrough after I've tried everything else I could think of) I thought the game looked amazing. I felt like I got my money's worth and then some. I loved finding my way through the corridors, and working out how to use all the elevators and secret spaces. While my favorite Nancy Drew game is the Phantom of Venice, I wouldn't mind playing this one a second time. I appreciate all the reviews on the games here. It helps me make the decision of which N.D. game I want to try next.
January 28, 2012
Good game - can be very challenging
"All riddles are hard - they require you to think like the riddler." This game requires you to think like the game designers. Specifics: First off - use your phone, even if you don't ask for clues. There are certain 'clues' that you get from the normal conversations with George and Bess. I found this out after finally succumbing and looking for an answer on the forums, only to have it answered the next time I picked up the phone. Graphically: The user interface takes up most of the screen. It was hideous then, it's hideous now. But it is what it is. On a big screen monitor there's enough to see what's going on. Not exactly netbook friendly though. Characters: Flat, one dimensional. This is one part they really could have done better with. Ok, Egan (the hotel caretaker) has some backstory, but the rest (all three of them) are pretty straightforward. Setting: Once you get used to the castle it's actually not that hard. Think of it like an 'H' layout. most of the branches are dead-ends, so there's only a few ways you need to learn to move around. There's a little bit of play outside the castle - very little actually. Movement: This they failed at. The spots on the screen you have to touch to move are almost random and aren't consistent through the game. It gets annoying pretty quickly. The same goes for 'finding' a few things - very small area you need to mouse over to find them. On the flip side you'll find a sofa cushion you can move that just screams "I'll be hiding something later". The castle 'story' was interesting - the sort of thing based off crazy things people have done (moving buildings stone by stone from one place to another). The take on Marie Antoinette is a good one - and you'll recognize some books if you played the previous game. My main gripe goes back to where my review started - in order to advance the 'plot' you need to do certain things. But they aren't things you can really puzzle out (at least not all of them) you either get them, or you don't. And if you don't you'll be stuck a long time running around the halls or hitting a walkthrough. I did play as a senior detective, so junior may be a bit more forgiving in this aspect. Bottom line: if you like Nancy Drew games, it's not a bad title (personally I've picked up all the ones they have here, using free credits and sales and whatnot). It's a nice break from the HOPA's if nothing else.
April 5, 2013
Good but lots of back and forth
Characters had personality and animation was o.k,, and the storyline was nice. The challenges varied from simple to difficult (nice range). Most of it was intuitive with only a few small exceptions such as the controls for the compass which were to the very far left and right. Also, unless I'm suddenly going color blind, the clue for the medallion arrangement is backwards. Overall, good game and length is good even if you took out all the time spent running back and forth.
August 20, 2013
One of the early nancy drew games
This is the fourth in the series and it's over 10yrs old, and if you've played any of the recent games and then play this then it does show. As they have improved on all aspects and if you want a snowed in, stuck in a place mystery game I recommend the white wolf of icicle creek over this one. It's still worth playing it's just that there are quite a few better ND games. This has the old interface that takes up half the screen, it's 99% set inside this old hotel you are staying at. While I found the bigger plot of Marie Antoinette really interesting and I did learn a lot the smaller plot,/objective/mystery wasn't quite as crystal clear, concise as other games. Once you get past the deliberate maze type, where am I initial gameplay, then it is quite interesting. I found I had to get a pen and paper and literally draw a map and for the first few hours it's purely exploring and getting bearings. So it depends on your taste if you like that or not. If you haven't played any ND it's not a 360 game, you have to manually save (which naming the saves is fiddly). To advance game play here you have to put your bedroom clock alarm forward. Like a lot of ND games, there are only four people in it and they all are in the same places but only at certain times. There is something in ND called second chance which means you can die but don't worry if you haven't saved the game as you just hit the second chance button! You can't skip any puzzles, and here there are no achievements unlike later games(which you don't know what they are until after you finish unless you search online for them.) There are two modes of gameplay junior and senior. On both levels you can phone a friend for hints but on senior the hints aren't as easy or clear. On later games, the junior mode you get a task list which you can tick when you have finished each 'to do' item. Here there is no list on junior level. Usually the difference between the two modes is the hardness on puzzles. If you hate puzzles and are worried that this has a lot of puzzles/minigames in it, it doesn't. It has a jigsaw (click on upper left corner to rotate the piece), safe combination (click on triangle to enter each number), click on one move others, and move 'item' around a board to go in a hole. This game has a lot of back and forth within the hotel and you need a good memory to remember where everything is and what floor it's on. If you are only going to be playing a couple of ND games then this wouldn't be the one I recommend to you but if you don't mind that it's old and not one of the best then it's still an enjoyable game.
December 6, 2012
cool location, but can be frustrating
I enjoyed this game because it's a Nancy Drew game and I love castles, but the navigation could be a little annoying. After playing many of the more recent ND games, this seemed more cumbersome to navigate; if your mouse isn't on the very center of the screen in one specific location, you can't move around. It was better once I got used to it. Another difference was that the game wasn't as free flowing as some others...well it was, but then it didn't make sense. I played it very out of order from the walkthrough (which I needed to be able to finish the game) and some of the dialogue didn't make sense. The characters would talk about things they shouldn't know about and then after I found a different "trigger" then they would have the initial discussion that was missed, it was a little odd. This game had a lot of triggers where you can't do something else unless something specific is done first. I still liked it, but have enjoyed some of the later games more.
June 3, 2012