The Secrets of Da Vinci
After Leonardo Da Vinci`s death, many of his notes and sketches were left to Francesco Melzi, his friend and heir. When a very important codex goes missing, a mysterious patron of the arts hires Valdo, a former apprentice of Melzi`s, to find The Secrets of Da Vinci! Explore the mysterious Cloux Manor in this fun Large File Adventure game and discover some of the art world and history`s greatest secrets!
Immersive atmosphere
Gorgeous graphics
Find the missing codex!
Game System Requirements:
OS:

Windows XP/Vista/7/8

CPU:

1.0 GHz

RAM:

256 MB

DirectX:

9.0

Hard Drive:

1307 MB
Game Manager System Requirements:
Browser:

Internet Explorer 7 or later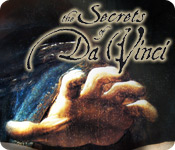 NEW299
The Big Fish Guarantee:
Quality tested and virus free.
No ads, no adware, no spyware.

Reviews at a Glance

The Secrets of Da Vinci
0
out of
5 (
0
Reviews
Review
)
Customer Reviews
The Secrets of Da Vinci
13
13
Been waiting for this!
So, I've played all the Nancy Drew games (my fav#, Sherlock Holmes, Agatha Christie, and many other of the large-file adventure games. I'm super sick of so many hidden object games being released ("cheap cheap") and not enough of games like this available! Anyway, I went back to see if I've missed any good ones. The one comment about not having a lot of places to explore worried me a little, but I decided to try it and I'm SO glad I did! There are plenty of places to explore and the story is so fun. My only disappointment was with one of the puzzles because the picture #MonaLisa) was too blurry to really be able to do the puzzle so I had to use a walkthrough hint. But don't let that stop you!! I love this game, want MORE like this. Seriously, because I'm out of games I like right now on Big Fish.
August 21, 2012
Great Point and Click Adventure
I wanted a break from HOG's so I bought this and I am so glad I took a chance. I loved the unusual storyline. Even though you stay in one location, there is so much to explore and so many objects to find. The puzzles were just challenging enough. There are different ways of completing an action and based on your answers to questions, there are different endings. Even my seven year old enjoyed playing with me. If you want a break from HOG's I highly recommend this game.
February 24, 2012
Great Adventure!
My family loved this game! Every age group is represented and was able to play together and individually. We all loved the possibilities of the the different outcomes! Great game. Family friendly, very important!
December 19, 2011
A Masterpiece of Multi-Studio Collaboration!
The great Kheops Studio, the developer of this game, in conjunction with Nobilis Games, who did the marketing and publishing, and cooperating also with Mzone Studios (3D rendering), Electrogames (distribution), and Totem Studio (design) has come up with another winner! "The Secrets of Da Vinci" was the "most mature" BIG FISH game I have ever played. It features a "conscience meter" that permits Valdo, the Hero of the saga, to do either good or evil acts, which could take him in different directions. And so, there are different avenues the gamer may pursue to continue through, and end the game. Yes, and there is even romance! Valdo has a sort of "fling" with the beautiful Babou, who lives at the huge manor, which is at the center of the entire game. Some of the puzzles are diabolical in their difficulty, and the game is replete with secret passages, underground tunnels, villains, and so many of Da Vinci's glorious creations, including a flying machine, a functional cannon, a sophisticated telescope, the super-famous "Mona Lisa," and much more. Alchemy plays a large role, too. I can't say enough about this highly unusual game, and I thank Kheops and the other wonderful studios who put this marvelous adventure together. What an ending! BRAVO, BIG FISH GAMES!
October 4, 2012
fun, extremely long game play, challenging
You definitely need the walkthrough and the video tutorials and it was still challenging. It took me almost 4 weeks of starting and stopping almost every day, even had to get my husband involved to help me get through it. I loved that the game changed depending on the answers I chose for my character. I love this style of adventure, where can I find more? Very interactive!
March 22, 2013
One of the Great Games
The Secrets of Da Vinci is one of the truly great games. It is a pleasure to play from beginning to end. Graphically beautiful, the story, and how it unfolds, is deeply immersive. Puzzles are challenging and satisfying, and they always fit in the storyline; they are very much part of it. There are no 'geez, that was stupid' places in the game at all which contributes greatly to the wonderful immersive factor. This game is right up there with Dire Grove and the Ravenhearst series. It's not fluffy at all. The Secrets of Da Vinci is the kind of game I wish I could find more often. Highly recommended. Absolute five stars!
August 10, 2013
A really fun adventure game!
I like games that are "only" adventure and not adventure/hidden object, a story that takes different paths depending on your choises along the way, have a lot of mysteries to solve and an interesting story line. And this game has it all!
January 23, 2013
Very fun but very difficult
great plot, beautiful graphics, but without the walk-through, we would have been completely frustrated and would have never been able to get through the game. puzzles are very hard!
January 5, 2012
good game
This is a good game. Fun to play and not hard. There are now excellent games out there so I would say play the trial versions first.
August 23, 2012
If Only I Could Recommend It.
But I can't. I believe Secrets of DaVinci is by the same company as Nostadamus. This being said, as much as I tried not to, I could not help but compare Secrets of DaVinci to Nostradamus: The Last Prophecy. I am sad to report, Secrets of DaVinci definitely was the less enjoyable of the two. The puzzles were much less interesting and in-depth than I was expecting. They were also themed around machines and science more versus astrology and potion making, like they were in Nostradamus. You were still mixing things, but they were mostly rather mundane, such as ink, brandy, perfume etc. This is a matter of taste, but the quality of the game is not. The whole game seems rather confused, and though the complexity of the plot is excellent (though behind Nostradamus, I am still afraid) the execution of it is not. Possibly because I related less to the main character, Valdo, than I would have liked. His motive, which becomes your motive, for doing everything you do in the game just is not very good. He is a thieving, rather selfish sort, but not as clever as I would have liked him to be. I often figured things out long before Valdo did, which became very irritating. The minigames were also simple, conventional and few. Now that I think of it, he just was not really a character I would like to become, which is a major problem in a first person adventure. I did not have to suffer long, as this game is not very long. Secrets was maybe six hours, maximum. There are a few features that are unique, but they do not benefit the game much as a whole. For example, there is a ?conscience?: two meters in the inventory screen, one being demonic and one being angelic, which sounds interesting, right? You need to keep them balanced, which I fortunately did, but from what I?ve read on walkthroughs, if you don?t then your conscience can prevent you from doing something necessary for the plot to progress. There is also, if you can believe it, a bit of a dating sim in this game. This is destined to either be ridiculously well laid-out and potentially start a craze among adventure games, or to fail horribly and serve as a severe distraction from more interesting things. Sadly, it was the latter of these two results. The romantic aspect just did not work. At the end of the game, there was a cutscene with text on the bottom, that implied there was replay value, but there were only two changeable features that I am aware of, and both are rather obvious, and would not change the result much. There were some cutscenes, which were probably the highlight of the game, and the voice acting was good, but not great. The animation was excellent. In conclusion the whole game seems to have an identity crisis. Is it a strategic game, or a stat-based, an alternate ending , an adventure, or a dating simulation game? A few days after completeing it, I still really don?t know. As much as I tried to love this game, it is miserably disjointed and despite the plot?s potential to be enchanting, it just never is achieved because of so many other distractions.
April 29, 2012
The Apple logo is a trademark of Apple Computer, Inc.