Valerie Porter and the Scarlet Scandal
Exclusive
Murder, scandal and your first big break! You`re a young, aspiring reporter, hungry for your first big scoop in the male-dominated world of 1920's journalism in this epic Hidden Object Adventure game. Not settling for your role as secretary, you soon stumble upon a high-profile murder, a scandalous cover up, and the framing of an innocent man in Valerie Porter and the Scarlet Scandal. Do you have what it takes to crack the story and finally be recognized as a top investigative reporter?
Word-based minigames
Beautiful scenes
Crack the case!
Game System Requirements:
OS:

10.4

CPU:

800 Mhz

RAM:

256 MB

Hard Drive:

88 MB
Game Manager System Requirements:
Browser:

Safari 4.0 or later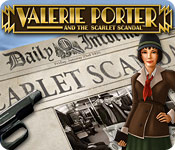 NEW299
The Big Fish Guarantee:
Quality tested and virus free.
No ads, no adware, no spyware.

Reviews at a Glance

Valerie Porter and the Scarlet Scandal
0
out of
5 (
0
Reviews
Review
)
Customer Reviews
Valerie Porter and the Scarlet Scandal
10
10
Really enjoyable HOS + mini-games.
Very cute story about a novice reporter, who begins to work and will help later to uncover the murder of a famous actress. Several interactive HOS (sometimes objects are tiny), and a lot of new mini games, others well known, but very entertaining and provide lot of fun. Excellent graphics, very good VO, as well as the sound of the whole game. Basically a game of HOS and mini games, but the story is well done and encourages you to continue. In each scene, besides the requested items, you have to find two batteries (which help to fill hint) and 5 bells (totaling 100). Relaxing and pleasant game.
February 27, 2012
I most certainly give this a smile for the fun I had playing it !
Enjoyed this game quite a bit. The story line was great and definitly made me keep going. The graphics were quite clear and crisp. No darkness, no blurring. The music and soundtrack in general I really enjoyed. Definitely appropriate to the time frame. The "mini-games" were totally related to the storyline and gave the feel you were just continuing the plot. Very entertaining. The variations on the HOGs were great. So much to do in each scene. I found the chain action made otherwise simple scenes very challenging and fun. On the whole I was very pleased with this one. The time frame is not one used very often and was such a great concept. Hope this becomes a series at some point.
November 26, 2011
Very good Murder HOG
Review after finishing the game: The Good: + Good crime story. + While the HOG scenes are kinda junk pile the rooms look a lot more believable than comparable games. + Most items you have to find have something to do with the storyline (e.g. find all parts of a typewriter that you have to prepare, or dress Valerie up so she can go to the newspaper) + achievement system (medals), although there could be more than just "finished chapter XX" + Back then when I played I haven't seen some of the minigames in other games yet. + Voices! YAY! :-) + Linkage system makes some clues easy to find... The Bad: - ...maybe even too easy - Now that they got the voices nailed, next stop: Mimics and lip-synced talking. The Nancy Drew programmers got that down, so developers, check out the ND Games. ;-) Bottom Line: When IHOGs and HOPAs weren't common this game shook up the straight HOGs. Definitely check it out.
December 17, 2011
Engaging and fun
Excellent game with the player as a journalist writing about a scandal. Travel to many areas via subway, meeting and interviewing people to uncover the real story behind the scandal. Overall, the storyline is great, keeps the player engaged in a variety of activities--hidden object, creating articles, mini-games, puzzles and interactive scenes. No lags in this game. Well done in capturing the spirit of the era.
December 4, 2011
five star ratings misguided
first off i read the rave reviews of this game and bought it because of those ratings. Some were written by credible experts. First off the game is not full screen making the HOs VERY hard to find as well as the 2 batteries you need to power up hints. You also can find bells in every scene to get added bonus. I didn't mind the voice overs except for Valerie, who sounds like she's from the 80's. All others got into an accent aind attitude. mini games are not challenging at all, most common are circle words. I would recommend this game toward younger players who do not need glasses. I really had a hard time finding items hidden behind objects or too small.
May 24, 2012
Enjoyed playing this game
The story was good, logical and fun to follow. I really like the additional challenge of finding your own points for hints in every HOS. The graphics were excellent and I enjoyed the music. I had a great time playing this game.
March 11, 2012
Fun game with well thought out plot. :)
I enjoyed this game. :) The characters are good, and are not crippled with stupidity like the characters in many games! :D I also really like the era it's set in. :) And I heartily approve of the game's message of gender equality. :) The hidden object scenes are broken up nicely with other activities, which keeps them from getting monotonous. There's a feature where you can collect 'batteries' to instantly recharge the hints, if you want to. I should think a lot of people will like that. :) For me, though, the best feature (out of many good ones) is the plot. You could tell that the makers had really taken trouble over it. Once it gets going, it's unusually complex (in a good way!) for this sort of game, and I found it quite engrossing. It kept you guessing about "whodunnit". There's also an above average level logic to the plot, although within the constraints of a game, that's never going to flawless. I particularly enjoyed it, as I've been losing patience lately with the games where there's virtually no plot at all, and what there is makes little sense. This game made a welcome and refreshing change! :) I'd advise exercising parental guidance for your kids, as some of the plot deals with adult themes (though it's by no means explicit), and the body count is pretty high by the end. I only really have 3 niggles: 1) It would have been nice if the game had been a bit longer. But that's really a complement to the makers, since it was so enjoyable that I wanted to go on playing. :) 2) I found it a little confusing that so many of the characters had similar face shapes. I sometimes had difficulty telling them apart and remembering who was who. 3) I often found myself squinting at the hidden object scenes, as the graphics didn't seem quite as clear as they might have been. However, this last may be down to my computer, which is getting a bit long in the tooth. :D It may work better on more up-to-date computers, with better graphics options. Anyway, those minor issues aside - I found this a well thought out and very enjoyable game. :) I'm hoping for sequels! :)
January 14, 2013
not easy to see items
This sounded like a great game and looked cute BUT. The screen in not full and I could not even see most of the items to find. Very had to keep focused. Has voice and really looked good but I quit real soon because of the screen size.
February 21, 2013
An Older Game With Some Fun Features
First, I have to say that I am tired of the typical hidden object adventure game. This game was so much fun! The storyline kept me wondering and I was actually scared at times that I (or Valerie) would get caught snooping around. I enjoyed trying to link like hidden objects as quickly as possible--especially the one minute subway challenges. I also liked mixing chemicals to develop film. Even though that part was easy, I liked the interaction with the game. This game reminded me a little of the first Murder She Wrote game that I also really enjoyed. Sometimes old is better. I would like to play more games like this one.
March 14, 2013
Encore Please!!!
Oh how I wish there were more HOGs like this one!! There were no dark scenes, no monsters, no scary stuff, but it was totally engrossing! The time frame was what first drew me to the game as it isn't one I've encountered before and it was kept true through the entire game...by that I mean the clothes, the language, the backgrounds, everything was done true to the time. Valerie Porter is a novice to the newspaper business but she moves up very quickly as the story unfolds. She faces some difficult scenes as she learns her craft but handles them very well. I found the storyline engrossing as were the characters she becomes involved with. The mini games were fun and some of them were totally new to me. The VO's were excellent, the music was totally in the background and didn't become annoying to me at any time. The scenes were clear, not fuzzy or dark. I didn't find the game truly "challenging", but I've only had it a week and have already played it 3x! lo! Don't want to burn out on it, so took it off my play list for a while. Try it, you may find it a really pleasant break from the usual HOG's we've been getting.
May 4, 2013
The Apple logo is a trademark of Apple Computer, Inc.
The Windows logo is a trademark of Microsoft, Inc.