Picket Fences™
Compete with the neighbors for the highest score in a variety of home-themed card games! Play furnish your home, remodel the kitchen, landscape the yard, plan a party, and other wacky games. Achieve a Full House for a big bonus, or shoot for the risky, but rewarding high-end sets. Use bonus cards to make special plays and gain additional points. Earn medals, awards, and badges in Picket Fences!
Multiple card games
Earn medals, awards, and badges
Trump the neighbors!
Game System Requirements:
OS:

Windows XP/Vista/7/8

CPU:

600 Mhz

RAM:

128 MB

DirectX:

7.1

Hard Drive:

18 MB
Game Manager System Requirements:
Browser:

Internet Explorer 7 or later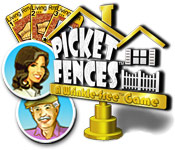 NEW299
The Big Fish Guarantee:
Quality tested and virus free.
No ads, no adware, no spyware.

Reviews at a Glance

Picket Fences™
0
out of
5 (
0
Reviews
Review
)
Customer Reviews
I Play This Every Single DAY
For a couple of years, my "go-to" game was Fairway Solitaire when I wanted to spend 10 minutes to a couple hours playing something fun and just challenging enough without having to keep track of a storyline. Picket Fences has been my new "go-to" game since it came out, and it never disappoints. The music is well done, the games are fun, varied and often challenging, and you find yourself learning strategies for each one. (You also find yourself calling the other players various rude names when they steal your cards or force you to skip a turn!) Can't recommend enough!
July 4, 2012
This Game Has Rethinkable Validity!
When I downloaded the free trial, I found this game rather confusing as far as game play & the mechanism of accomplishing the required goals to progress to the next level at first appearance, convoluted at best. It appeared unapproachable regarding the "rules," as they are vague & seemingly inaccessible. The "help" context at first seemed so general that I could not figure out the game play. But after several "hands" it became clear that the process for each "level" was available by clicking the menu tab. Each level has its own data. There was a general description & rules for the game: but as I progressed, each succeeding level presented its own "requirements" through this tab. Once I discovered the basic rudiments of game play, it afforded me the most intriguing & profound complexity of card games. It is a wonderful blend of Rummy & Poker, requiring matching "sets." It does require a bit of "card counting" in order to keep track of which cards have been played, & what is available to complete your sets. Keeping track of what your opponents are "collecting" is also invaluable for deciding what to discard. Some levels have a "screw your neighbor" environment which presents an additional element of "chance, (& delectable fun!)" For instance, your opponents can select your cards to be put in a "yard sale" to be selected, thus what you may have been working on to build & complete would be for naught if they are chosen. Or you can choose a particular opponent to lose a turn, put their cards up for selection, etc. All in all, this card game presents an ultimate blend of chance & strategy, a little "concentration" focus because you really have to pay attention to what's going on, & a delightful mix of mess with your neighbors & work with them to accomplish a mutual goal. Once I got over the "learning curve" this has become one of my favorite & [unfortunately or positively depending on your definition] addictive games.
June 18, 2012
LOVE IT
I just love this game. I've replayed it a million times and I always go back to it. It's very different from other card games because you're putting various rooms in your house together using the cards. It's fun because the three other computer characters you play against can really frustrate you!! I WANT A PICKET FENCES PART 2!!!!!!!!!!!!!!!!!!!!!!!!!!!!!!!!!!! AND MANY OTHER CARD GAMES LIKE THIS ONE.
December 10, 2011
Unique! Excellent Replay Value!
This is an excellent game! I come back to this one over and over again. With so many repetitive game themes, this one is really unique. It's a great game for the whole family. I would give this one six stars if that were an option. Why aren't developers putting out more like this one?
December 3, 2011
Great to Replay
For a casual game, it has a lot of replay value. I go back to it all the time. It has several different styles of card game, and I think that really keeps it feeling fresh and interesting.
November 12, 2011
One of my top replayable games
This game is a great card game with lots of challenge. There are 10 levels and each one is a little different. You can play on either easy or regular play mode. It is similar to rummy where you are trying to create sets, but instead of numbers or suits you are matching rooms or items. You play against 3 computer players in each level. This game is a must have!
March 15, 2012
Great twist on a card game.
Absolutly loved this game. It is very easy to learn, extremly hard to master. It's a type of rummy with different rules for each level and the overall theme is to collect sets to earn points in building a house or project. The cards are very random so every time you play it is different. I found it very easy to finish the game but almost impossible to complete all the challenges. Great gameplay.
March 17, 2012
Need more games like this!!!!!!!!
This Gin Rummy type game is so much fun and so addictive!! There are a million HO games and yet no other game like this one!! Music is so relaxing and yet draws you in at the same time. I agree with the other reviews for this game :). Would love a Picket Fences 2!!!!!!!!!
April 3, 2013
Minor flaws don't spoil the fun
In Picket Fences, you compete against three computer "neighbors" to fulfill various homemaking and neighborhood goals. The gameplay is based on set-making, sometimes collecting any two or three of a generic set, sometimes collecting each card in a numbered set. Goals, rules, and cards change in each of 10 levels, including various bonus and penalty cards. The Awesome: The goals and cards are different on each level - like ten games in one. Achievement awards give the game extra replay value. I like that this is a unique computer card game that really wouldn't work well in real life with real cards; that way I don't feel like I'm playing a card game on the computer simply because I lack friends. ;-) Finally, the layout makes it easy to track all the information you need - points, cards left, etc. It's a fairly "busy" game, and they did a good job of simplifying it visually. The Good: There are two levels of play, which gives kids a fighting chance while they pick up the rules. The music and effects fit the theme, and they aren't annoying. The visuals are fairly simple, but pleasing and appropriate. Improvements for Picket Fences 2, please: There is no undo button, which means if you accidentally select the wrong card, that's too durn bad. The great thing about this game is that it requires some strategy, so if you've set up a good play only to have it ruined by a missed click...gah! The AI isn't horrible, but it isn't great, either. Even on the standard level, your opponents will occasionally make inexplicable strategic decisions, which makes you feel like you're only winning because the computer is dumb. You can't select or rename your computer opponents. This doesn't affect gameplay at all, but it would be a nice touch, don't you think? OVERALL: Definitely buy. The flaws have annoyed me slightly from the beginning, but I've played the whole ten levels, plus achievements, on three different profiles. There's just nothing else like it that I've seen, and it's quite fun. Enjoy!!
November 12, 2012
PICKET FENCES
WHY DOESNT WHOEVER INVENTED THIS MAKE ANOTHER I HAVE PLAYED MINE AT LEAST 20 TIMES. WE NEED ANOTHER LIKE IT PLEASE IT IS THE BEST. I KEEP CHECKING ON LINE
June 15, 2013